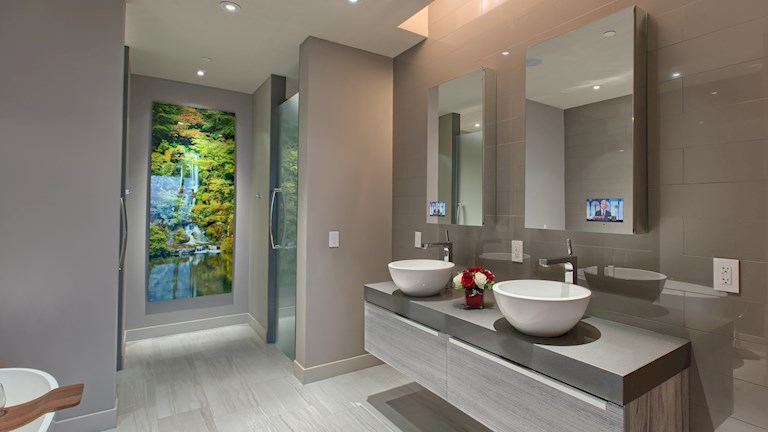 Smart Features
ROBERN products include features as inspiring as their looks. Engineered to make everyday routines more comfortable and convenient, optional features extend way beyond mere storage. Built-in outlets for electrical appliances. Lock boxes to safeguard valuable or personal items. TV integrated into the door of your cabinet allowing you to keep up-to-date on news, weather, and sports. Speakers to create a spa-like experience or to listen to your favorite song while getting ready for the day.  Mirror defoggers so you can begin grooming as soon as you step out of the shower. And even night lights to illuminate midnight footsteps. With Robern, beauty is more than skin deep.
Thoughtful Solutions
The simplest ideas often mark the difference between products that are average and those that are extraordinary. With this in mind, ROBERN has pioneered a number of industry-leading cabinet features including night lights, interior electrical outlets, mirror defoggers, safety lock boxes, 170 degree hinges, upward-opening cabinet doors, and even patented technology that keeps dirt and moisture out of the cabinet. Robern has a history of identifying consumer needs, providing innovative solutions, and ensuring that its products work together to elevate the daily grooming experience.
---
View our smart feature products:
---