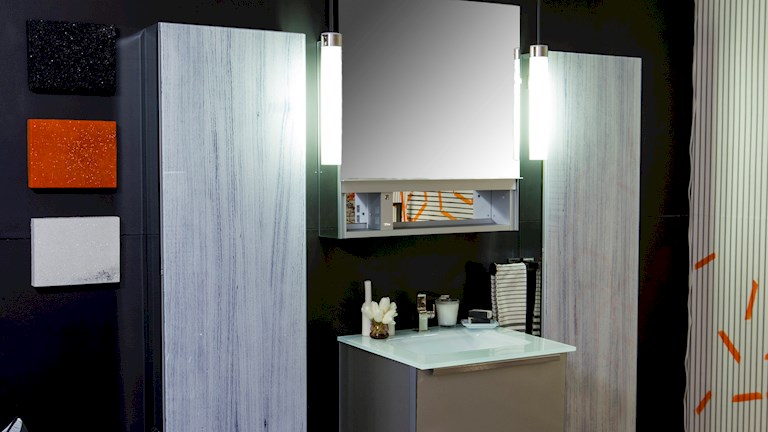 Robern Featured in Design on a Dime Showcase to Support New York's Housing Works Charity Event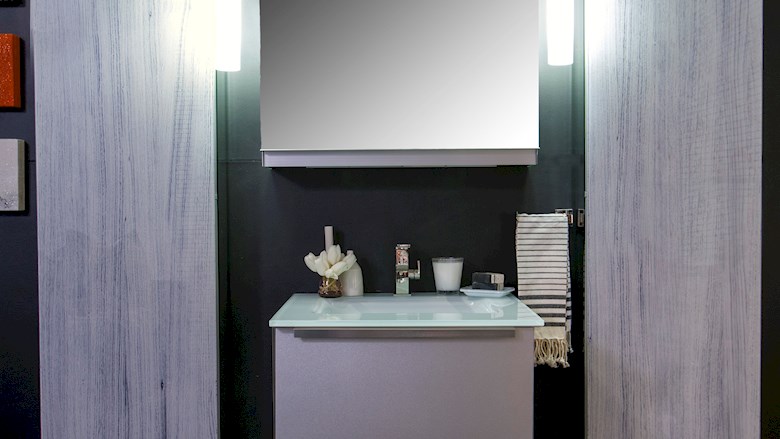 BRISTOL, PA. – May 4, 2015 – Robern, the leader in exceptional styling spaces, was thrilled to support the 2015 Design on a Dime showcase, an event that supports New York's Housing Works. Designers Byron James and Bonnie Steves featured Robern products in two innovative vignettes. The funds from this year's event will support the organization's Hull Street Residence, a housing development project that will transform a vacant lot, into beautiful residences for 26 single, formerly homeless adults living with or affected by HIV/AIDS.
Bonnie Steves
Designer Bonnie Steves from BJS-Assoc. Interior designed a thematic vignette she called Sunset Over The Hudson, incorporating shades of black and white interspersed with a vibrant electric orange that lend a bit of a jolt to the room. Of the design, Steves says, "I derived the theme to give reflection to the light, darkness and vibrancy of ultimately the beauty of the City." Steves built the room around several Robern products, including a 24" V14 Vanity in Silver Screen and coordinating white glass vanity top. The vanity is flanked by two 6" deep electric M-Series cabinets in Digital Wood™ bleached oak and completed with the Uplift mirror with built-in electric, night lights and defogger. Uplift Pendant lighting completes the space.
Byron James
Designer Byron C. James-Rodrigues, from the House of Oasis, entitled his edgy theme: The Men's Lounge - 50 Shades of Byron. He has created an oasis of luxe proportions that is meant to tickle the senses and dazzle the soul. From hard corners to soft edges, James-Rodrigues says, "I wanted to create an environment that juxtaposes dark and light, with gray holding the contradictions together." The focal point of the room is a black and white Neptune bathtub. The tub is flanked by a pair of Robern Adorn II Vanities in black and two Robern PL Series Cabinets with black interior.
---
About Robern
Robern is an independently operated subsidiary of Kohler Co. based in Bristol, Pennsylvania. Founded in 1968 and a leader in exceptional styling spaces, Robern combines functional design with quality craftsmanship, and personalization.
Founded in 1873 and headquartered in Kohler, Wisconsin, Kohler Co. is one of America's oldest and largest privately held companies comprised of more than 30,000 associates. With more than 50 manufacturing locations worldwide, Kohler is a global leader in the manufacture of kitchen and bath products; engines and power systems; premier furniture, cabinetry and tile; and owner/operator of two of the world's finest five-star hospitality and golf resort destinations in Kohler, and St Andrews, Scotland.
For additional information on Robern products, customers may call 1 (800) 877-2376 or visit the Robern website at www.robern.com.
---