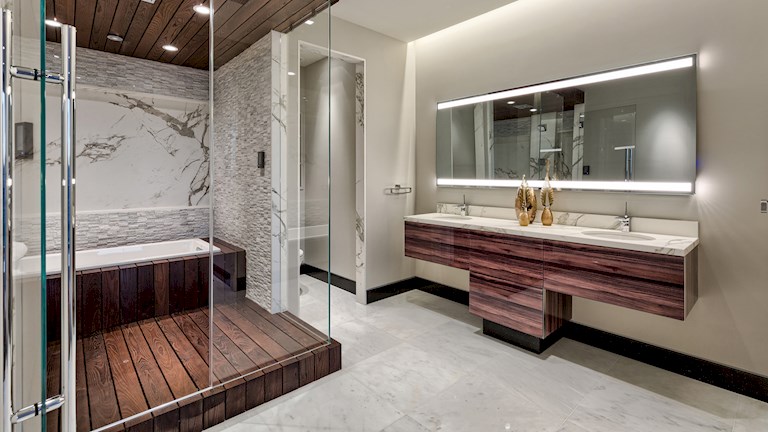 Robern Debuts Innovative Custom Lighted Wall Mirrors
Reflect your vision with Robern's Custom Lighted Wall Mirrors, a new initiative that lets you think beyond the product line while still enjoying the personalized luxury and exquisite craftsmanship of a Robern product.
"Robern is focused on creating innovative solutions for commercial specification, and we recognize that some spaces call for a more customized design," says Devon George, Director of Marketing for Robern. "With our Custom Lighted Wall Mirrors, you're no longer limited by what you find in a catalog. Our design and engineering team will work with you to create the ideal mirror for any hotel, condo or other commercial project."
From custom sizes and shapes to decorative etching and beveling, Robern Custom Lighted Wall Mirrors can be designed to perfectly complement your space. Our team will work with your sketches, provide shop drawings, build mock-ups and ensure you receive the finished product you envisioned.
Custom Lighted Wall Mirrors can also be equipped with our popular Robern Experience Enhancers™ to elevate the everyday routine:
Subtle night light and wall glow
Dimmable lighting technology and color tuning capability
Mirror defogging
USB charging ports
Automation technology, including motion sensors
Code compliance
Robern will be accepting custom lighted mirror project inquiries beginning on January 10, 2017. Call 866-632-5976 or visit us online at www.robern.com/custom and discover what our Bristol, PA-based design team can do for you.
---
About Robern
Robern is an independently operated subsidiary of Kohler Co. based in Bristol, Pennsylvania. Founded in 1968 and a leader in exceptional styling spaces, Robern combines functional design with quality craftsmanship, and personalization.
Founded in 1873 and headquartered in Kohler, Wisconsin, Kohler Co. is one of America's oldest and largest privately held companies comprised of more than 30,000 associates. With more than 50 manufacturing locations worldwide, Kohler is a global leader in the manufacture of kitchen and bath products; engines and power systems; premier furniture, cabinetry and tile; and owner/operator of two of the world's finest five-star hospitality and golf resort destinations in Kohler, and St Andrews, Scotland.
For additional information on Robern products, customers may call 1 (800) 877-2376 or visit the Robern website at www.robern.com.
---