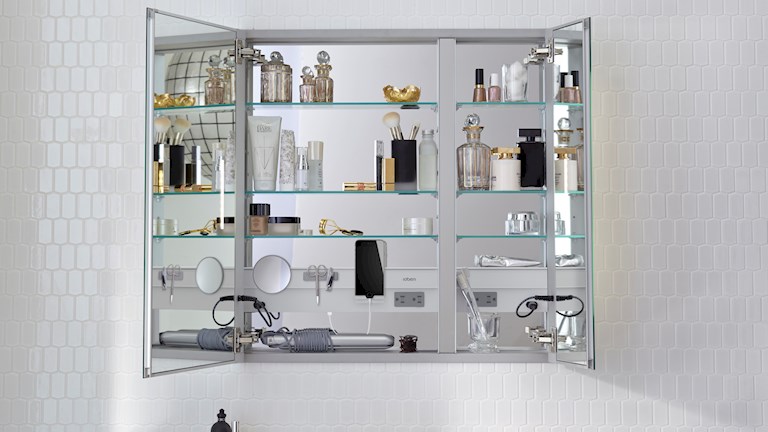 Robern Expands AiO® Collection of Feature-Rich Wall Mirrors and Medicine Cabinets
Renowned for its thin-profile, minimalist design and state-of-the-art features, Robern's AiO collection is now available in an expanded selection of sizes to create the ultimate impact in your styling space.
The new 70-inch AiO Wall Mirror brings the bright and beautiful look of LUM™ Lighting to a full length mirror that illuminates your look from head to toe, while the new 40-inch AiO Medicine Cabinet adds 10 additional inches of task lighting and seamless storage space to enhance your daily routine.
"Robern's newly expanded collection allows us to offer our most popular features — like one-touch lighting, high-quality audio, and personalized storage solutions — in sizes that make a bold statement in your styling space," says Devon George, Director of Marketing for Robern. "With more possibilities than ever before, our AiO collection can add luxury and convenience to any styling space, from a master bathroom to a high-end spa or hotel."
Robern's AiO Collection features:
LUM Lighting — high-efficiency task lighting with on-mirror, capacitive-touch dimming for the perfect intensity
OM™ Audio — embedded, invisible speakers transform your entire mirror into an audio system for fuller, richer sound
Integrated USB charging ports for convenient connectivity
Medicine cabinets also include magnetic storage strips, accessory trays, adjustable shelving, a magnification mirror, and integrated electrical outlets
Visit our booth at KBIS 2017 at W2000 to see how Robern's AiO collection can bring personalized luxury to your styling space and transform the everyday routine.
---
About Robern
Robern is an independently operated subsidiary of Kohler Co. based in Bristol, Pennsylvania. Founded in 1968 and a leader in exceptional styling spaces, Robern combines functional design with quality craftsmanship, and personalization.
Founded in 1873 and headquartered in Kohler, Wisconsin, Kohler Co. is one of America's oldest and largest privately held companies comprised of more than 30,000 associates. With more than 50 manufacturing locations worldwide, Kohler is a global leader in the manufacture of kitchen and bath products; engines and power systems; premier furniture, cabinetry and tile; and owner/operator of two of the world's finest five-star hospitality and golf resort destinations in Kohler, and St Andrews, Scotland.
For additional information on Robern products, customers may call 1 (800) 877-2376 or visit the Robern website at www.robern.com.
---