Robern Introduces a Statement-Making Design for its Newest Vanity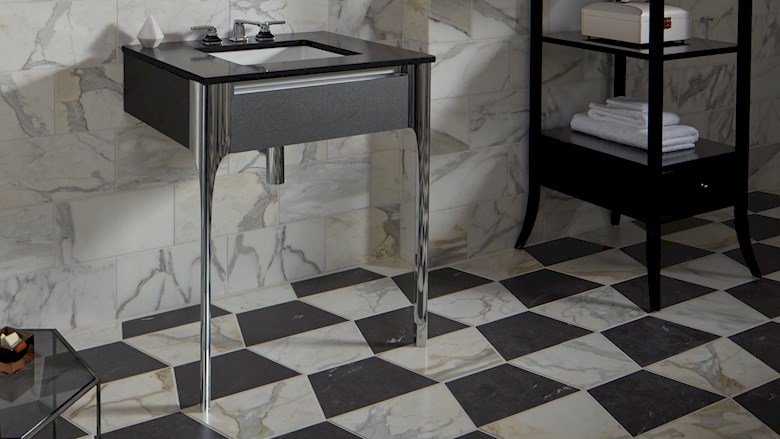 BRISTOL, PA. – January 19, 2016 – Robern, the leader in exceptional styling spaces, introduces its newest vanity line. Capturing the legs and pointe work of a ballerina, the Balletto vanity translates that grace and precision into the legs of this vanity.  The long slender needle-like points of the legs are reminiscent of a stiletto, demonstrating balance, symmetry and sophistication.
"The Balletto vanity is distinctive in that it conveys a sense of style that is both transitional and contemporary," said Devon George, Director of Marketing.
It is crafted to create balance of comfort, functionality and elegance in a timeless, minimalist design. It features a one-of-a-kind hidden side storage drawer offering a discreet, yet convenient storage solution for an array of small items while minimizing space
The Balletto features:
Unsurpassed organization: featuring a hidden side storage drawer capable of housing an array of items; such as, hand towels, tissues, waste, magazines and other small items.
Convenient access:

A tip out drawer keeps makeup and small items right at the fingertips.
A smart-design plumbing drawer separates personal articles from plumbing, maximizing storage space.

Illumination:  The Balletto's night light provides a soft light within the drawer interiors to help locate items and provide way finding light in the middle of the night.
Power: Convenient 110-volt in-drawer electrical outlet supplies power to electric razors and curling irons. This outlet can even be paired with an optional hair dryer organizer.
Personalized Finishes: For the first time, individuals can choose from leg finishes available in chrome, brushed nickel and brushed black, coordinating with other elements in their styling space.
Additionally, Robern offers 13 decorative glass finishes, vanity tops and sinks to truly personalize each styling space. "The Balletto captures the essence of Robern's commitment to quality craftsmanship, functional design and unparalleled aesthetics." said George, "we couldn't be prouder to debut this stunning piece."
---
About Robern
Robern is an independently operated subsidiary of Kohler Co. based in Bristol, Pennsylvania. Founded in 1968 and a leader in exceptional styling spaces, Robern combines functional design with quality craftsmanship, and personalization.
Founded in 1873 and headquartered in Kohler, Wisconsin, Kohler Co. is one of America's oldest and largest privately held companies comprised of more than 30,000 associates. With more than 50 manufacturing locations worldwide, Kohler is a global leader in the manufacture of kitchen and bath products; engines and power systems; premier furniture, cabinetry and tile; and owner/operator of two of the world's finest five-star hospitality and golf resort destinations in Kohler, and St Andrews, Scotland.
For additional information on Robern products, customers may call 1 (800) 877-2376 or visit the Robern website at www.robern.com.
---