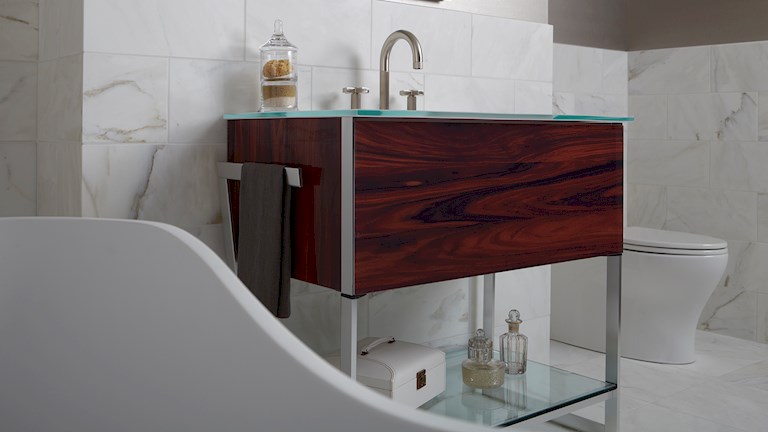 Robern Introduces Adorn Vanity and Adds Two New Digital Wood Patterns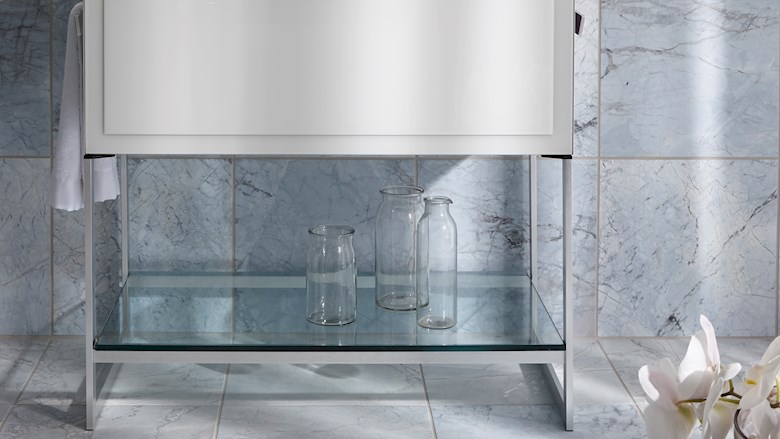 BRISTOL, PA. – Feb. 4, 2014 – Adding to a wide collection of elegant vanity and storage options for the styling space, Robern introduces its first ever freestanding vanity – the Adorn Vanity - at the 2014 Kitchen & Bath Industry Show.
"Most homeowners strive to find the proper balance of form and function. The Adorn Vanity exemplifies both beautiful design and exceptional functionality," says Robern's marketing director Andrew Lippman. "A wide range of options and accessories allow users to configure a vanity that is both beautiful and exceptionally functional, to meet their individual needs.

"By nature, the freestanding design will allow for much easier installation and a wider variety of configuration options for the entire bathroom space. The design also provides added storage and accessibility with an open glass shelf. Details like optional towel bars and drawers equipped with electric outlets and hair dryer organizers help to place the most frequently used items within easy reach. Even with full hands, the drawer's contents are easy to access with a push-to-open feature.

Glass and aluminum are paired seamlessly in the design of the Adorn Vanity. The coupling of these two materials provides aesthetic differentiation and construction that is durable in a moist environment. It also ensures smooth drawer operation for long-term use.

Robern Freestanding Vanity Features:
Vanity widths: 24, 30, and 36 inches
Push-to-open drawer
Drawer options: plumbing access, full-width, storage dividers
Towel bars (optional)
Built-in night light (optional)
Heat- and scratch-resistant electric and hair appliance organizer (optional)
Colors:
Stock colors: Tinted Gray Mirror, Black, White, Beach
Special order colors: Satin Bronze, Satin White, Ocean, Silver Screen, Smoke Screen
Digital Wood colors: Rosewood Santos, Indian Rosewood, Smooth Leaved Elm, European Ash, Charcoal Ash, Bleached Oak
New Digital Wood Finishes
Robern also expands the Digital Wood collection with the debut of two new finishes at KBIS 2014 – Charcoal Ash and Bleached Oak. Digital Wood showcases the beauty of natural wood through modern, contemporary design in a way that is easy to care for. These new finishes match the versatility of the existing Digital Wood collection, yet provide a warmer, softer feel.

All Digital Wood finishes are available on Robern's Adorn Vanity, V14 Vanity, M Series Decorative Cabinet, Decorative Framed Cabinet and Full-Length Bath Cabinets. 
---
About Robern
Robern is an independently operated subsidiary of Kohler Co. based in Bristol, Pennsylvania. Founded in 1968 and a leader in exceptional styling spaces, Robern combines functional design with quality craftsmanship, and personalization.
Founded in 1873 and headquartered in Kohler, Wisconsin, Kohler Co. is one of America's oldest and largest privately held companies comprised of more than 30,000 associates. With more than 50 manufacturing locations worldwide, Kohler is a global leader in the manufacture of kitchen and bath products; engines and power systems; premier furniture, cabinetry and tile; and owner/operator of two of the world's finest five-star hospitality and golf resort destinations in Kohler, and St Andrews, Scotland.
For additional information on Robern products, customers may call 1 (800) 877-2376 or visit the Robern website at www.robern.com.
---