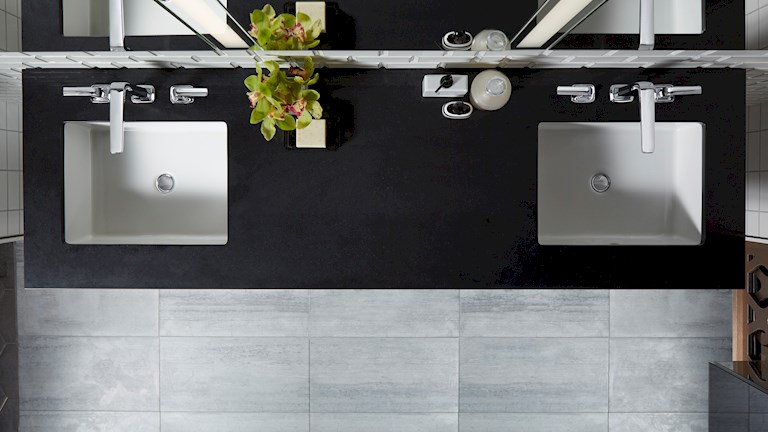 Robern Introduces Vanity Top Program Featuring Silestone® Quartz Surfaces
Robern, the leader in luxury styling spaces, now offers a curated collection of vanity tops that provide the perfect finishing touch to its elegant and award-winning vanities.
Engineered stone vanity tops are available in a wide range of colors and precut sizes, designed to precisely fit your Robern vanity.  "Finding the perfect vanity top shouldn't be a guessing game," said Devon George, Director of Marketing for Robern. "Our vanity tops are hand-selected to complement the clean lines and contemporary aesthetic of our Robern vanities, while ensuring an effortless fit and superior craftsmanship."
Robern's engineered stone collection exclusively features Silestone® Quartz vanity tops, combining the beauty of natural stone with the superior durability of quartz. Robern offers Silestone® in two new colors — Lyra and White Zeus — in addition to its traditional white, gray, and black stone options.  For a pure, polished finish, Robern also offers a glass vanity top with an integrated sink bowl for easy maintenance. Low-iron glass provides exceptional clarity for brighter, whiter tones in your styling space.
With multiple options for sink configuration and a wide array of sizes available, customers can choose from 280 options for a one-stop shopping experience that streamlines the selection process. Visit www.robern.com/vanitytops to see how our expanded collection of vanity tops can enhance your space. 
---
About Robern
Robern is an independently operated subsidiary of Kohler Co. based in Bristol, Pennsylvania. Founded in 1968 and a leader in exceptional styling spaces, Robern combines functional design with quality craftsmanship, and personalization.
Founded in 1873 and headquartered in Kohler, Wisconsin, Kohler Co. is one of America's oldest and largest privately held companies comprised of more than 30,000 associates. With more than 50 manufacturing locations worldwide, Kohler is a global leader in the manufacture of kitchen and bath products; engines and power systems; premier furniture, cabinetry and tile; and owner/operator of two of the world's finest five-star hospitality and golf resort destinations in Kohler, and St Andrews, Scotland.
For additional information on Robern products, customers may call 1 (800) 877-2376 or visit the Robern website at www.robern.com.
---