Take the guesswork out of vanity design. Robern's Curated Cartesian vanity collection streamlines the decision-making proces with a handpicked selection of vanities to ensure a flawless fit that complements any design. Simply choose from three popular sizes, three stunning color combinations, and an optional night light to create a personalized vanity that transforms the everyday routine.
All Curated Cartesian Collection Products
Round and Round We Go

Round and Round We Go

Vitality 40" diameter circle lighted mirror with inset light pattern, 4000 kelvin temperature, dimmable and defogger; Cartesian 30" x 30" x 21" vanity in tinted gray mirror with tip out, plumbing and full drawers and night light in 2700K/4000K color temperature; Engineered Stone 31" x 22" quartz vanity top in lyra

https://kohlerrobern.blob.core.windows.net/media/174658/vitality_install_6.jpg

https://www.robern.com/inspiration/inspiration-gallery/#/inspiration/3883/
Vanities
Vanity Tops and Sinks

Each vanity is paired with a Silestone Quartz Stone top and sink to ensure effortless fit. Available with three hole 8" widespread faucet drillings.

Integrated Night Lights

The night light provides a soft light that illuminates the drawer interiors to help locate items and provides way finding light in the middle of the night. One outlet will accomodate two night lights and are required for installation.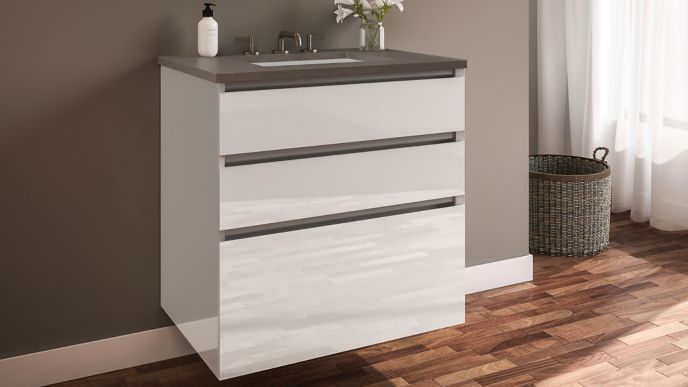 Streamline the design making process with a handpicked selection of vanities designed to ensure every piece will fit together flawlessly and complement any design.
Vanities
Add-on Accessories
Vanities
Specifications
Curated Cartesian Vanity, 24" x 15" x 21", Single Drawer, Quartz Stone 25" x 22" Vanity Top

Curated Cartesian Vanities

Curated Cartesian Vanity, 24" x 30" x 21", Three Drawer, Quartz Stone 25" x 22" Vanity Top

Curated Cartesian Vanities

Curated Cartesian Vanity, 24" x 30" x 21", Two Drawer, Quartz Stone 25" x 22" Vanity Top

Curated Cartesian Vanities

Curated Cartesian Vanity, 30" x 15" x 21", Single Drawer, Quartz Stone 31" x 22" Vanity Top

Curated Cartesian Vanities

Curated Cartesian Vanity, 30" x 30" x 21", Three Drawer, Quartz Stone 31" x 22" Vanity Top

Curated Cartesian Vanities

Curated Cartesian Vanity, 30" x 30" x 21", Two Drawer, Quartz Stone 31" x 22" Vanity Top

Curated Cartesian Vanities

Curated Cartesian Vanity, 36" x 15" x 21", Single Drawer, Quartz Stone 37" x 22" Vanity Top

Curated Cartesian Vanities

Curated Cartesian Vanity, 36" x 30" x 21", Three Drawer, Quartz Stone 37" x 22" Vanity Top

Curated Cartesian Vanities

Curated Cartesian Vanity, 36" x 30" x 21", Two Drawer, Quartz Stone 37" x 22" Vanity Top

Curated Cartesian Vanities
CAD Files
Curated Cartesian Vanity, 24" x 15" x 21", Single Drawer, Quartz Stone 25" x 22" Vanity Top

Curated Cartesian Vanities FRONT

Curated Cartesian Vanity, 24" x 30" x 21", Three Drawer, Quartz Stone 25" x 22" Vanity Top

Curated Cartesian Vanities FRONT

Curated Cartesian Vanity, 24" x 30" x 21", Two Drawer, Quartz Stone 25" x 22" Vanity Top

Curated Cartesian Vanities FRONT

Curated Cartesian Vanity, 30" x 15" x 21", Single Drawer, Quartz Stone 31" x 22" Vanity Top

Curated Cartesian Vanities FRONT

Curated Cartesian Vanity, 30" x 30" x 21", Three Drawer, Quartz Stone 31" x 22" Vanity Top

Curated Cartesian Vanities FRONT

Curated Cartesian Vanity, 30" x 30" x 21", Two Drawer, Quartz Stone 31" x 22" Vanity Top

Curated Cartesian Vanities FRONT

Curated Cartesian Vanity, 36" x 15" x 21", Single Drawer, Quartz Stone 37" x 22" Vanity Top

Curated Cartesian Vanities FRONT

Curated Cartesian Vanity, 36" x 30" x 21", Three Drawer, Quartz Stone 37" x 22" Vanity Top

Curated Cartesian Vanities FRONT

Curated Cartesian Vanity, 36" x 30" x 21", Two Drawer, Quartz Stone 37" x 22" Vanity Top

Curated Cartesian Vanities FRONT