Take the guesswork out of vanity design. Robern's Curated Cartesian vanity collection streamlines the decision-making proces with a handpicked selection of vanities to ensure a flawless fit that complements any design. Simply choose from three popular sizes, three stunning color combinations, and an optional night light to create a personalized vanity that transforms the everyday routine.
All Curated Cartesian Collection Products
Round and Round We Go

Round and Round We Go

Vitality 40" diameter circle lighted mirror with inset light pattern, 4000 kelvin temperature, dimmable and defogger; Cartesian 30" x 30" x 21" vanity in tinted gray mirror with tip out, plumbing and full drawers and night light in 2700K/4000K color temperature; Engineered Stone 31" x 22" quartz vanity top in lyra

https://kohlerrobern.blob.core.windows.net/media/174658/vitality_install_6.jpg

https://www.robern.com/inspiration/inspiration-gallery/#/inspiration/3883/
Vanities
Durable Glass and Aluminum Construction

The durable rust-free anodized aluminum frame and glass construction resists intense moisture and ensures long-lasting beauty.

Slow-Close Drawers

Slow-close full-extension slides combined with the durability of aluminum construction ensure smooth operation of the vanity drawers that will last a lifetime. Available in plumbing, full and tip out drawers for concealed storage to keep all of your essentials close at hand.

Ergonomic Handle

Uniquely designed handle area allows for a comfortable feel and effortless operation.

White Glass Bottom Drawers

This shatter-proof bottom will not degrade or show wear. With the glass and aluminum construction of the drawers, when done with a hair dryer or curling iron, put directly into the drawer and know it will not burn or leave heat marks.

Organization Kit

Adjustable drawer dividers provide storage right where you need it and prevent items from moving or sliding in the drawer.

Vanity Tops and Sinks

Each vanity is paired with a Silestone Quartz Stone top and sink to ensure effortless fit. Available with three hole 8" widespread faucet drillings.

Integrated Night Lights

The night light provides a soft light that illuminates the drawer interiors to help locate items and provides way finding light in the middle of the night. A night light accessory is available to add a night light to your drawers as desired. One outlet will accomodate two night lights and are required for installation.

Drawer Insert

Drawer within a drawer keeps makeup and small items where you need them most - right at your fingertips.

Hair Styling Organizer

Reduce clutter and safely store hot tools while keeping frequently needed accessories close at hand. The hair styling organizer fits all 15" vanity drawers except 24" plumbing drawer and cannot be used in combination with slim drawer insert. Fits most hair dryers and curling irons.

In-Drawer Electrical Outlet

Convenient 110-volt in-drawer electrical outlet supplies power to items such as electric razors, hair dryers and curling irons. This accessory features three plugs and a switch that turns off power to the entire unit to allow appliances to be left safely plugged in. To be used in the 15" plumbing or full drawer.

Glass Bin Storage

Glass bins are designed specifically for quick access to small items.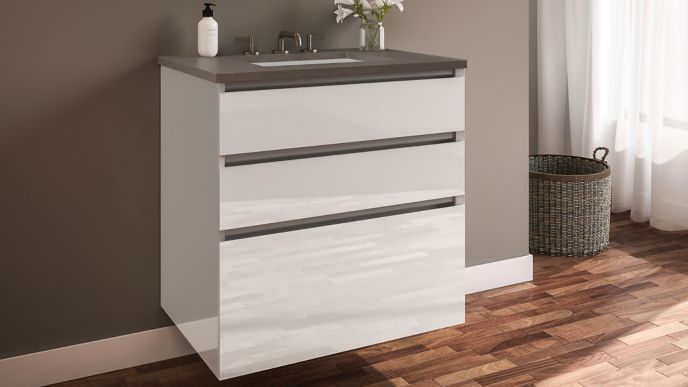 Streamline the design making process with a handpicked selection of vanities designed to ensure every piece will fit together flawlessly and complement any design.
Vanities
Add-on Accessories
Vanities
Specifications
Curated Cartesian Vanity, 24" x 15" x 21", Single Drawer, Quartz Stone 25" x 22" Vanity Top

Curated Cartesian Vanities

Curated Cartesian Vanity, 24" x 30" x 21", Three Drawer, Quartz Stone 25" x 22" Vanity Top

Curated Cartesian Vanities

Curated Cartesian Vanity, 24" x 30" x 21", Two Drawer, Quartz Stone 25" x 22" Vanity Top

Curated Cartesian Vanities

Curated Cartesian Vanity, 30" x 15" x 21", Single Drawer, Quartz Stone 31" x 22" Vanity Top

Curated Cartesian Vanities

Curated Cartesian Vanity, 30" x 30" x 21", Three Drawer, Quartz Stone 31" x 22" Vanity Top

Curated Cartesian Vanities

Curated Cartesian Vanity, 30" x 30" x 21", Two Drawer, Quartz Stone 31" x 22" Vanity Top

Curated Cartesian Vanities

Curated Cartesian Vanity, 36" x 15" x 21", Single Drawer, Quartz Stone 37" x 22" Vanity Top

Curated Cartesian Vanities

Curated Cartesian Vanity, 36" x 30" x 21", Three Drawer, Quartz Stone 37" x 22" Vanity Top

Curated Cartesian Vanities

Curated Cartesian Vanity, 36" x 30" x 21", Two Drawer, Quartz Stone 37" x 22" Vanity Top

Curated Cartesian Vanities
CAD Files
Curated Cartesian Vanity, 24" x 15" x 21", Single Drawer, Quartz Stone 25" x 22" Vanity Top

Curated Cartesian Vanities FRONT

Curated Cartesian Vanity, 24" x 30" x 21", Three Drawer, Quartz Stone 25" x 22" Vanity Top

Curated Cartesian Vanities FRONT

Curated Cartesian Vanity, 24" x 30" x 21", Two Drawer, Quartz Stone 25" x 22" Vanity Top

Curated Cartesian Vanities FRONT

Curated Cartesian Vanity, 30" x 15" x 21", Single Drawer, Quartz Stone 31" x 22" Vanity Top

Curated Cartesian Vanities FRONT

Curated Cartesian Vanity, 30" x 30" x 21", Three Drawer, Quartz Stone 31" x 22" Vanity Top

Curated Cartesian Vanities FRONT

Curated Cartesian Vanity, 30" x 30" x 21", Two Drawer, Quartz Stone 31" x 22" Vanity Top

Curated Cartesian Vanities FRONT

Curated Cartesian Vanity, 36" x 15" x 21", Single Drawer, Quartz Stone 37" x 22" Vanity Top

Curated Cartesian Vanities FRONT

Curated Cartesian Vanity, 36" x 30" x 21", Three Drawer, Quartz Stone 37" x 22" Vanity Top

Curated Cartesian Vanities FRONT

Curated Cartesian Vanity, 36" x 30" x 21", Two Drawer, Quartz Stone 37" x 22" Vanity Top

Curated Cartesian Vanities FRONT