4 Kitchen Design Principles to Inspire Your Bathroom Remodel
In the average home, the kitchen is so much more than a functional space for meal preparation. Whether you're enjoying a cup of coffee in the morning, sharing a meal with family, or socializing with friends over a glass of wine, the kitchen serves as the social hub of your home.
It's no surprise, then, that homeowners are passionate about kitchen design — and that goes beyond the aesthetics of the space. Homeowners have endless options for smart storage solutions to keep their kitchens organized and highly functional.
The bathroom, meanwhile, is often thought of as a purely utilitarian space — and while a luxuriously updated bathroom is often near the top of any homebuyer's wish list, bathroom storage can sometimes be an afterthought.
However, the bathroom is where you prepare for the morning ahead and unwind at the end of a long day. Put simply, the bathroom deserves more credit as the other heart of the home. And by drawing inspiration from kitchen design principles, you can create a bathroom space that's modern, clutter-free, and highly functional. Here are four principles to consider when designing the ideal bathroom.
---
From warm interiors to natural materials, current home design trends share a common thread — a focus on design principles that promote wellness. And one simple way to create a sense of wellbeing within the home is by designing an ergonomic space that makes your daily routine less stressful.
Ergonomics are already integral to kitchen design. Kitchens are typically designed around the "work triangle" — the path between your sink, stove, and refrigerator — and designers and architects carefully plan the layout of the kitchen to maximize productivity and ensure a smooth workflow.
In the bathroom, however, storage solutions are often focused on "putting away," without much consideration for how the space will be used day to day. But ease of retrieval is crucial to ergonomic bathroom design.
Picture the typical off-the-shelf vanity: It likely consists of a false drawer front with two cabinet doors below. While that may provide plenty of physical space for storage, it makes retrieval difficult. If you've ever found yourself sitting on the floor, rummaging through a cavernous space for a missing curling iron, you've experienced the importance of easy retrieval.
When designing an ergonomic bathroom, look for a vanity with drawers instead of doors. Drawer storage can make retrieval infinitely easier — your essentials are instantly visible and within arm's reach. Likewise, consider replacing the bathroom mirror with a deep, well-lit medicine cabinet that keeps everyday essentials at eye level.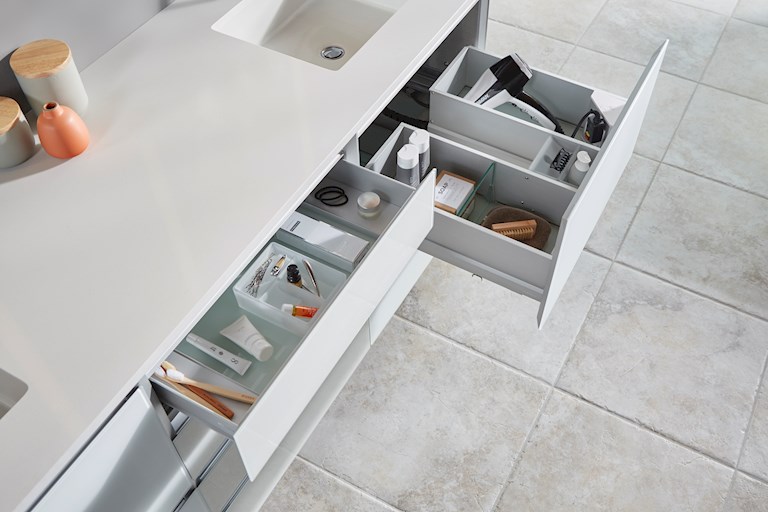 ---
The items you store in your home — in any room — can generally be categorized as active, intermediate, or archival.
Active storage refers to items you use every day but may not want on display.
Intermediate storage refers to items you may not use daily, but still need to access frequently.
Archival storage refers to those items that are used rarely, but still necessary to keep nearby.
This categorization is inspired by Herman Miller's office storage solutions, but many homeowners instinctively employ these principles in their kitchen. Envision your own kitchen: Your silverware is likely within easy reach in a drawer organizer, while that turkey roaster you only pull out once a year may be tucked in the deepest part of your lower cabinets.
Bathroom storage, however, is often treated as one-size-fits-all. Everyday grooming tools and bath essentials are often buried in deep cabinets with all the other supplies. Sometimes storage is nixed altogether in favor of a trendy mirror or pedestal sink, and bath essentials are stored down the hall in a linen closet.
When designing your bathroom, consider which tools you use most often, and create a storage solution that puts them within easy reach. That way, you won't have to rummage through items you only use occasionally — like hair clippers and cleaning supplies — to access the cosmetics and grooming tools you use every day.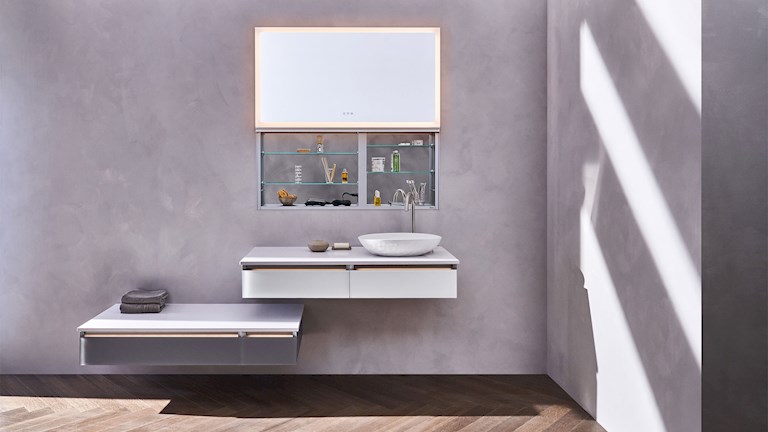 ---
Custom storage solutions are common in kitchen design — even when planning a kitchen update through a big-box store, customers will typically sit down with a consultant to create a personalized layout that reflects their everyday needs and habits.
Bathroom design, on the other hand, is often viewed as a simple checklist: vanity, sink, mirror.
But personalized solutions can transform the everyday experience in the bathroom in the same way they simplify workflow in the kitchen. Modular vanity collections and gangable medicine cabinets allow designers and homeowners to envision a seamlessly functional space — and then make it a reality. (Click here to read more about the benefits of custom and configurable solutions.)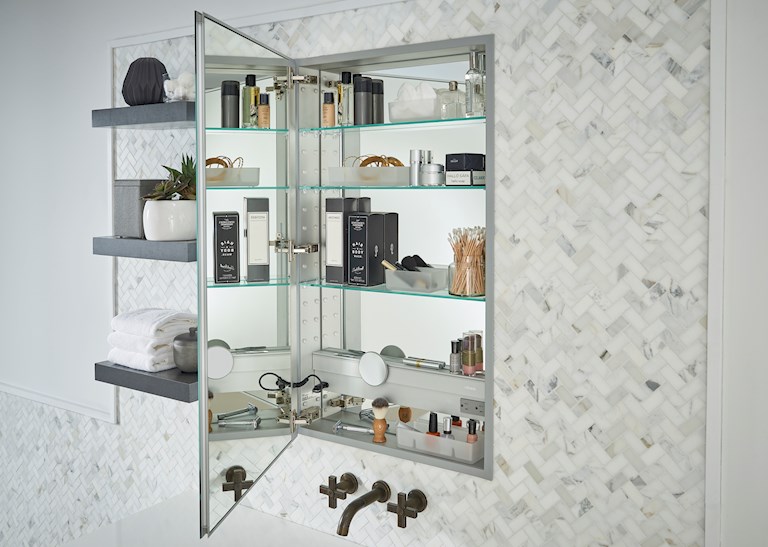 ---
From smart appliances to engineered countertops to soft-closing drawers, kitchen design incorporates high-tech touches that make everyday tasks more efficient.
Innovative features can also elevate the everyday routine in the bathroom. Instead of installing a basic lamp above the bathroom mirror, designers can now choose a lighted mirror with one-touch dimming and tunable color temperature. The medicine cabinet — usually thought of as a no-frills necessity — is now a thoroughly modern appliance with embedded audio in the door and integrated USB charging hidden inside.
While the bathroom was once considered a strictly utilitarian space, it's increasingly becoming a second hub in the home. And by incorporating design principles from the original heart of the home, the bathroom can be transformed into a seamlessly functional space where homeowners can relax and prepare for the day ahead.