If you're expecting overnight guests during the holiday season, a warm and welcoming guest bathroom will help them feel right at home.
When you're readying your home for the holidays, the guest bathroom can be easy to overlook. But this is the space where your loved ones will decompress from the stresses of holiday travel, go through their morning routine, and unwind after a full day of festivities. With just a few simple updates, you can turn your guest bathroom into a relaxing retreat they'll remember long after they return home.
Here's how to create a cozy, clutter-free space with all the comforts of home — and then some.
---
1. Clean and de-clutter the counters.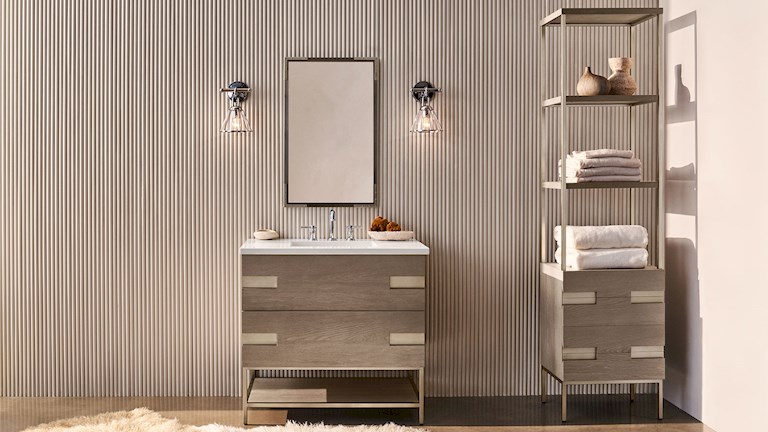 First and foremost, take the time to deep clean your bathroom so your guests are greeted with a fresh, sparkling space. Make space in your medicine cabinet or vanity for your guests to store their grooming tools and toiletries within easy reach, while keeping the countertop blissfully free of clutter.
The M Series Reserve is an ideal medicine cabinet for a guest bathroom. This feature-rich cabinet offers ample storage space, adjustable shelving to accommodate your guests' essentials, integrated outlets where your guests can charge their devices, and more.
For vanity storage, the Craft Series will add instant warmth to a guest bathroom with the organic beauty of wood construction, unique metalwork, and textural elements. To maximize storage in a smaller guest bathroom, the Cartesian Collection can be easily configured to fit the available space.
---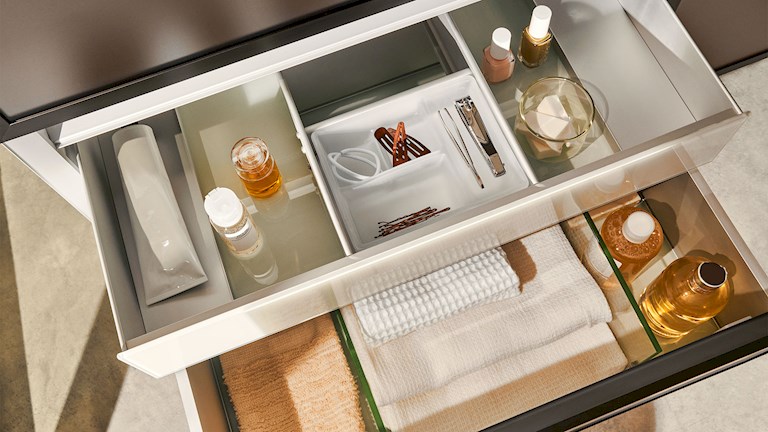 Ensure your guest bathroom is well-stocked with essentials such as bath towels, tissues, and cotton swabs so your guests don't need to rummage around for the items they need. Add a few luxurious extras, such as fluffy slippers or artisan hand soaps, to make guests feel pampered.
Use vanity drawer inserts, glass bins, or a swing-out storage caddy to neatly organize any must-have products your guests may have forgotten to pack. Keep a supply of toothbrushes, toothpaste, shampoo, soap, and shaving cream easily accessible in your medicine cabinet or vanity — these small amenities can go a long way in creating a sense of luxurious hospitality.  
---
3. Make their grooming routine easier.
Getting ready in an unfamiliar space can add an element of stress to the morning routine. But a highly functional guest bathroom can eliminate this stress and make daily grooming tasks feel effortless — so your guests start each day on the right note.
Precision task lighting can make a remarkable difference in the functionality of your guest bathroom. Consider a Vitality lighted mirror or InLine vertical lighting solution to provide bright, perfectly-positioned task lighting and a space-saving alternative to overhead lamps or sconces. A lighted magnification mirror can help with close-up grooming tasks.
---
4. Offer a sense of security.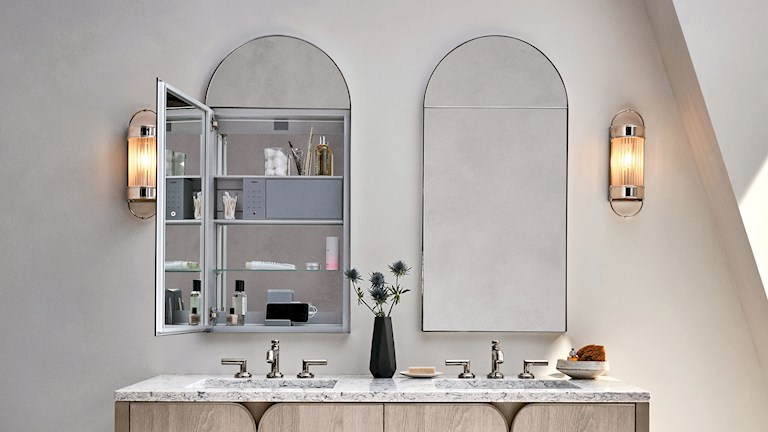 Navigating an unfamiliar house in the middle of the night can be tricky. Adding soft night lighting in the guest bathroom ensures your guests can safely find their way in the dark without disrupting their sleep cycle. The Cartesian vanity and M Series medicine cabinet both provide gentle LED illumination without the need for a plug-in night light.
Another simple way to help your guests feel secure during their stay: The IQ Digital Lock Box provides smart, safe storage for important items such as prescription medications, passports, and jewelry, so you and your guests can have complete peace of mind.
---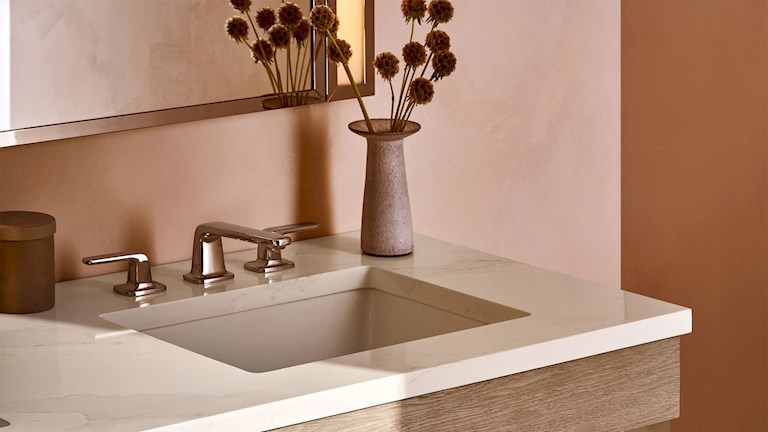 Personal touches will make your guest bathroom feel instantly cozy and hospitable. Aromatherapy can evoke the season and add a spa-like ambiance to your guest bathroom, so consider adding candles or soaps in holiday scents such as pine, balsam, cinnamon, or clove. Complete your guest bathroom touch-up with tasteful seasonal décor like fresh evergreen garland or framed photos of your favorite holiday memories.
---