Relax, Rejuvenate, Repeat: creating the ideal spa-like bathroom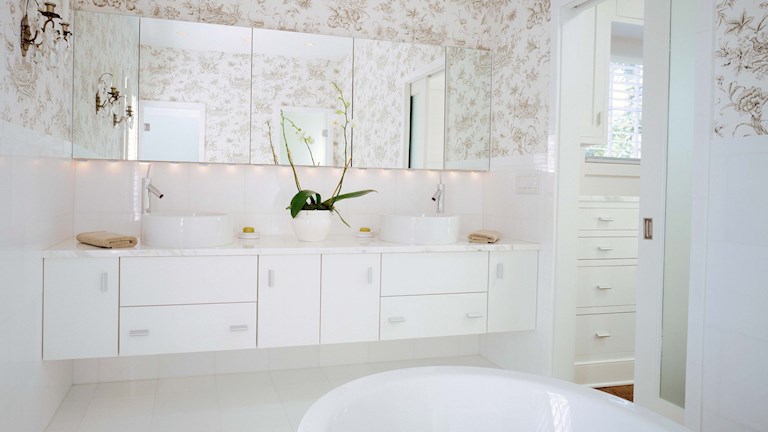 Busy lives and packed schedules are leaving us exhausted at the end of the day. Now more than ever individuals are seeking an escape -- a retreat where they can unwind and break away. Thankfully the ultimate getaway need be no more than a few steps away.
We chatted with design experts on how they transform everyday grooming spaces into decadent true spa-like sanctuaries. With the right features and accents, virtually any bathroom space can be modified into the relaxation haven of your dreams.
Now, sit back, relax, and learn how to begin making your personal spa dreams a reality.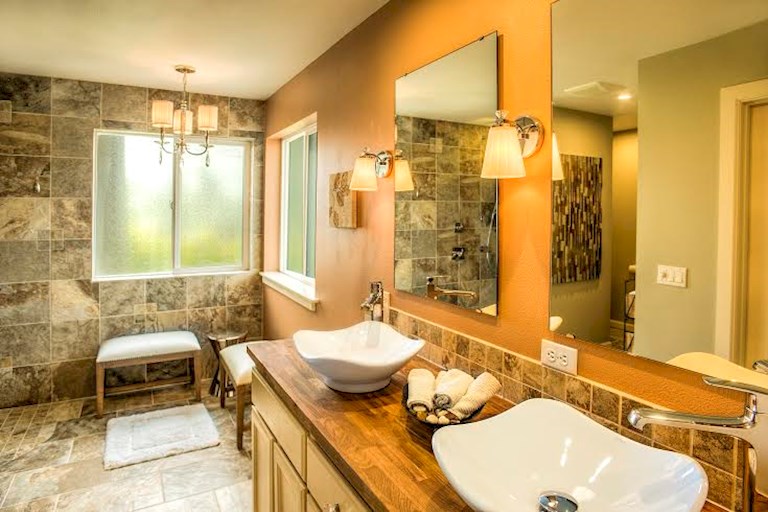 Declutter and Reorganize
The ultimate home spa experience begins with a simple mantra: get organized. As Corinne Gail Sadowsky, CAPS, says, the first step to a spa-like bathroom is decluttering the space.
"Since clutter creates chaos, it's important to maintain a well-organized, uncluttered bathroom space in order to exude serenity and to create a relaxing retreat for rejuvenation." Corinne says. "One of the best ways to control clutter is by keeping personal grooming items out of sight by placing them inside vanity drawers."
Corinne suggests implementing drawer dividers, like those available with our Balletto vanity, to keep grooming items organized, easily accessible, and untangled. To finish the space, she also suggests adding a couple luxurious white towels gently rolled on a bench or countertop, along with a well-organized selection of aromatherapy essential like lavender or peppermint to help relax and invigorate.
Toni Sabatino: Appeal to the Senses
For Toni Sabatino, a spa-like bathroom is akin to a mental "happy place"—a source of calm when one needs to simply decompress. "The key to creating a spa-like bath is the personal nature of a special environment that makes you feel pampered, beautiful and ready to face the day," Toni says.
To achieve this, Toni recommends features that immerse all the senses: Soft music from hidden speakers to soothe the ears; a favorite fragrant candle, or even a steam shower with essential oils for aromatherapy to appeal to the sense of smell; wall treatments to please the eye; and shower and bath fixtures with rain heads and air features to please the sense of touch.
Toni also says choosing a theme that reflects the environment in which one feels most at peace can go a long way toward completing one's personal spa. 
"A woodland theme could include soft earth tones and pale greens to get in touch with nature can be very relaxing to some, while a beach lover may want the tactile feel of sea glass and be inspired by a recycled glass counter that invokes that feeling of relaxing at the shore." She says. "Taking cues from your favorite relaxation destinations can help creating that spa-like bath that is truly your happy place to relax and rejuvenate."
Michele Alfano: Tranquility of Nature
The original spas were built around natural mineral springs said to have health-giving waters. Michele Alfano harkens back to these roots in her spa-like designs. Michele recently transformed a 1986 bathroom into an earthy space of relaxation with a basis of stone and wood textures with warm tones.
"The flow of water was a key factor in creating this small, yet luxurious, bathroom space," she says. Keeping with the natural theme, she incorporated a rain-simulating showerhead, as well as a waterfall vessel faucet evoking the sounds of rippling water over pebbles.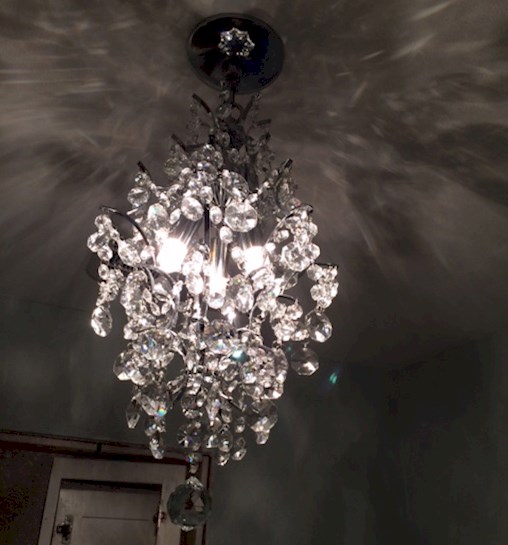 Sharon Flatley: The Works
Sharon Flatley's insights to creating a personal spa come from experience renovating her own home recently, which involved the complete gutting of a guest bathroom. "I envisioned a unique, calming and timeless space that would function for both my family and for guests," she said.
For her own spa-like space, Sharon included abundant counter space in the sink area to make it as functional as possible, as well as open shelving for storage of their personal toiletries to make her guest feel more at home. With storage for extra fluffy guest towels and extra toilet tissue being a must have, she installed floor-to-ceiling open shelving at the end of a deep soaking tub. The vanity and shelving are painted in a soothing soft-gray tone, complemented by luxurious marble countertops and floor tiles.
Sharon finds that lighting is critical the spa ambiance of a space, which is why she installed wall sconces with overhead supplemental lighting, complemented with chrome fixtures selected to produce a little sparkle under the new LED lights. As a last bit of indulgence, she installed a mini crystal chandelier in the middle of the room to give it some understated sophistication.
---
Products for Spa Inspired Bathrooms