Design Masters Who Create Personal Sanctuaries For Pampering
Since 2016, Florida-based HW Interiors has been creating elevated, highly functional spaces throughout the U.S. and Puerto Rico, earning a reputation for their efficiency and attention to beautiful detail.
Principal Designer Heather Weisz cultivated her unique aesthetic while traveling the world with her husband, a professional polo player, before pursuing her passion at the Art Institute in Miami; while Director of Operations Lisa Hynes honed her meticulous organizational skills and business savvy during her prior career in management. The close friends realized the synergy of their skill sets while collaborating on the design of Lisa's new home construction in 2015. HW Interiors was incorporated the following year, and the rest was history.
We spoke with Heather to learn how HW Interiors creates luxuriously comfortable retreats within the home — and why Robern is at the top of her wish list.
---
"At the top of my personal wish list were Robern medicine cabinets. The sleek design is executed to perfection… I tell everyone they truly are the Rolls-Royces of medicine cabinets!" Heather Weisz, HW Interiors
---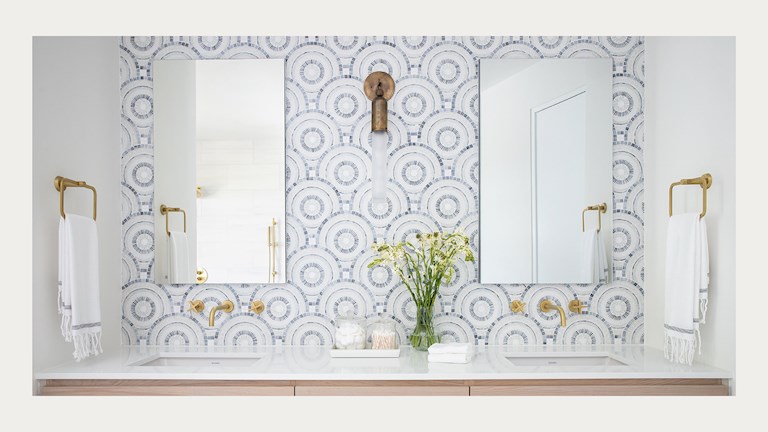 Q: Your respective backgrounds in design and business management have proved integral for the success of HW Interiors. Can you tell us a little bit about how your business partnership began, and how your individual strengths and backgrounds complement each other?
A: HW Interiors began after Lisa enlisted my help on the design of her own new construction. The success of that project let to a National Campaign for Capitol Lighting and many inquires.
We are yin and yang in every sense and truly complement one another perfectly! While I focus on the design aspect of our projects, Lisa is extremely organized and efficient in seeing that HW runs like a well-oiled machine, providing our clients with beautiful turnkey spaces as well as a stress-free and enjoyable process. We are truly blessed by both our partnership and incredible friendship.
Q: How would you define the HW Interiors brand? How did you work together to develop your signature style?
A: HW brings an elevated aesthetic that is both luxurious and livable. We design clean, light-filled spaces with organic elements and curated pieces. Our style is continually evolving but always stays true to the aesthetic that we hope is evident in each of our interiors.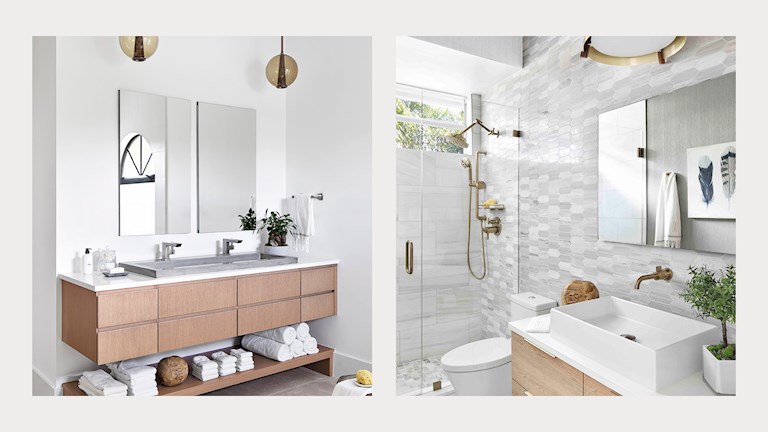 Q: Can you elaborate on your design process when working with clients? When providing your signature turnkey project management service, how are you able to marry your vision with the client's vision?
A: Our design process begins by getting to know our clients and how they will live in the home. We love to learn about their families, children, pets, and how they all use the spaces we are designing.
After getting to know our clients and learning what their vision is for the home, we present mood boards to learn what speaks to our clients visually. Throughout this process, we learn what they are passionate about.
We then move into the creative process of designing the entire space — from hard materials, millwork, lighting, soft furnishing, and window treatments, right down to the last accessory! This, of course, is a long process, and we are happy to say that many of our clients are now working with us on their second or third homes.
Q: What are the most important services or solutions you provide for your clients?
A: We strive to provide our clients with an enjoyable and extremely communicative design process. We provide very detailed documentation with extreme attention to detail. We hope that our love and passion for what we do and the people we design for set us apart.
Q: You create gorgeous spaces where luxurious design and functionality go hand in hand. Why is this balance important?
A: Only when a design is functional is it truly luxurious. When form meets function — and significantly improves the mundane tasks and how our clients live on the daily — is when they feel they are living in luxury.
Q: What role does lighting play in your bathroom designs? What are the benefits of customizable bathroom lighting?
A: Lighting in a bathroom is key. It is the first space you wake up to and the last space you spend time in before going to bed. Lighting needs to be versatile to set the mood for a soak in the tub or to apply makeup for different occasions.
Customizable lighting takes the possibilities to a whole new level. To have lighting control at your fingertips — controlling color, temperature, and dimming — is something that should be incorporated into every bathroom! The personalized presets are also an incredible feature that we cannot wait to share with our clients.
Q: As Creators, you deliver elegant spaces that exceed client expectations and stay true to your own personal design flare. What inspires the HW team when working on a design project? What concepts, elements, or products are the main pillars of an HW Interiors project?
A: We are inspired by so many different things! We are inspired personally by travel, art, food, and other creatives.  We are almost always inspired by our diverse and interesting clientele. Beautiful materials and well-designed lighting are pillars for every design. 
Q: When planning a dream bathroom with wellness in mind, what design features do you prioritize to create a personal wellness retreat?
A: We consider bathrooms, above all else, to be our personal sanctuaries. It is where young mothers or fathers go for a moment of peace, or where you escape at the end of a long workday for a relaxing soak in the tub. It's one of the few places we feel pampered and pay attention to self-care.
We prioritize beautiful, natural materials and adaptable lighting. We also prioritize organized storage. To start and finish the day with ease of use is essential as we get away to our private sanctuaries!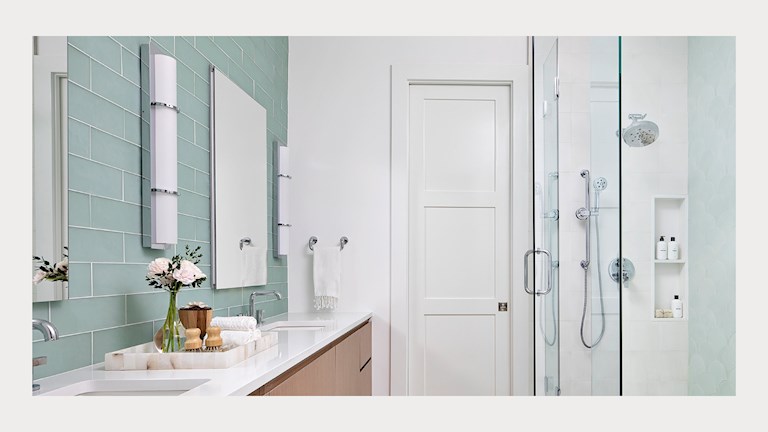 Q: One of your current projects, Heather, is your personal master bath. Can you tell us a bit about your inspiration for the space?
A: Since I am in the design business, I see so much that is exciting and visually stimulating. While I thrive on this stimulation, I needed my bathroom to be a serene and calming space. I love natural and timeless materials, so I chose natural stone and marble in creamy whites with earthy variations. I am also a neat freak — other than design, organization brings me the most joy!
At the top of my personal wish list for our primary bath were Robern medicine cabinets. The easy access, lighting, interior outlets, and magnifying mirrors truly make the morning and evening routines a pleasure. The sleek design is executed to perfection with emphasis on quality. I tell everyone they truly are the Rolls-Royces of medicine cabinets! 
Q: Your bath design includes Robern M Series Reserve medicine cabinets and modular mirrors — how do these products help you achieve your overall goal for the space, in terms of both visual impact and day-to-day functionality?
A: Waking up and having everything neatly lined up and so easy to access is critical, and the ease of use makes getting ready truly enjoyable. No more digging for anything, as everything is illuminated and displayed beautifully. It makes me feel pampered! The modular mirrors allowed me to created the overall size I needed while customizing where I wanted the hidden storage. The finish, details, and quality are unsurpassed!
---