In August 2015, Robern invited me to participate in their Designing Spaces Campaign, allowing me the opportunity to design a space featuring the newest products being launched at KBIS 2016 in January.
For my vignette, which I titled "Hexes and Oh's", I aimed to create a unique and livable space for two that was soft on color but strong on impact, using Main Line cabinets and Cartesian vanities as centerpieces. I strove to create true balance of beauty and function by incorporating pieces with interior lighting and electric, making sure that all needs could be accommodated in the space—from television to toothbrushes. The end result was a bathroom space that delivers both a masculine and feminine vibe that is casually Californian.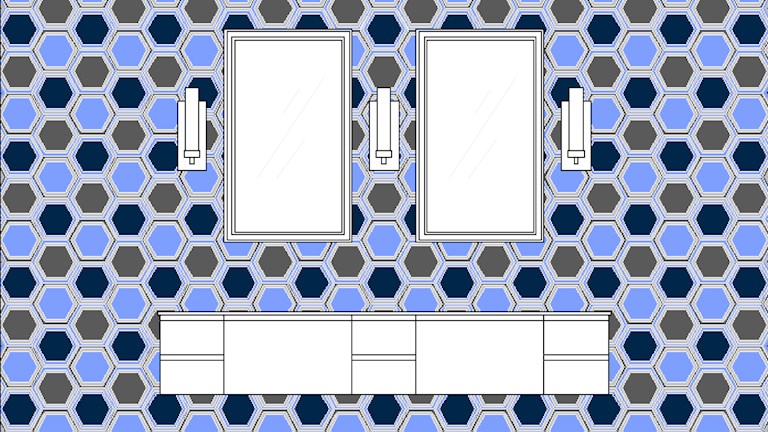 The vignette's central visual feature is its signature Paccha Hexagon tiles from ANN SACKS. Because Robern products are so sleek, yet versatile, we wanted to bring in a complex yet low-maintenance pattern to balance the look. The honeycomb pattern formed by the tiling is intricate and repetitive, instantly heightening the more simple design elements around it. This pattern is traditionally seen as symmetrical and contrasting, but recently has evolved into a symbol of retro-whimsy and high-fashion design—a style that we love for any space.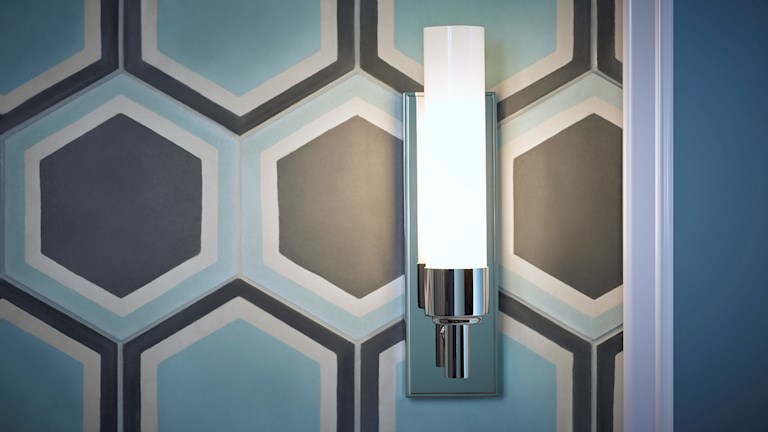 Playing off the hexagonal patterning in this vignette was a strong blue color motif. Our design team is very fond of blue because it's the color of some of our favorite things: denim jeans, a classic blue blazer, the lake of the pier and the ocean off of California. It is an inspiring color that we have always been drawn to. Specifically, we are fully behind the idea that navy blue is the color of the decade because of its contrast, versatility, and worldwide appeal, which is why it became the primary color for this vignette, particularly in the Cartesian vanity's finish.
Because we chose to use navy blue and hexagon patterns as core visuals in our design, we wanted to keep one element simple and sleek outside of the Robern products, which is why we chose a white vanity top. A clean and simple countertop is a great way to start your morning or end your day, visually cleansing your palette before you head to work or go to sleep at night. A white vanity top allows dreary eyes to feel renewed for the day ahead while allowing one to find all that is needed to wind-down again in the wee-hours. The vanity top is Thassos Extra marble slabs from ANN SACKS.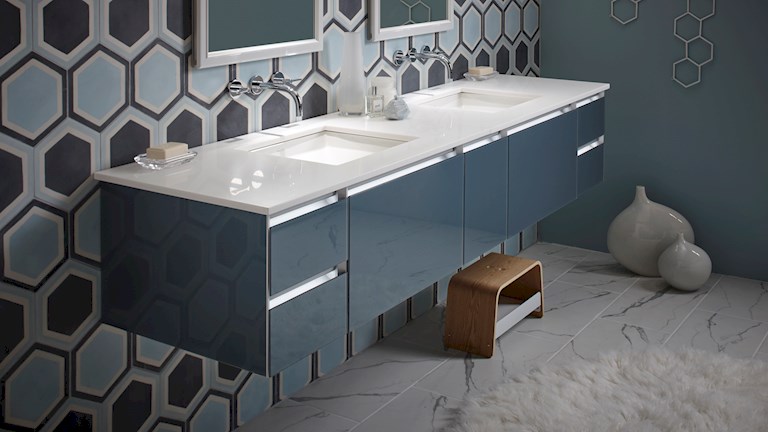 For the faucet, we chose KALLISTA's One, which injected just the right amount of shine to a more geometric, masculine aesthetic. The Original by Barbara Barry For Him basin is all about the details. The subtle X sink bottom has just the right amount of subtle detail and polish, perfectly complementing our overall aesthetic while giving a "wink" to our vignette name. 
For lighting, the Main Line Sconces in chrome. In these elements, the on-point finish and design elements really helped to provide something extra special for the space.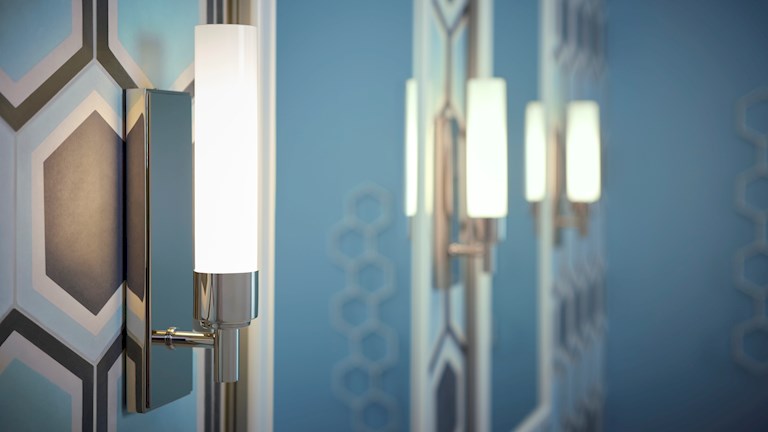 Finishing out the space, we chose subtler, quieter accents to allow the Robern pieces to have center stage, along with the ANN SACKS and Kallista pieces in supporting roles. With so many bold colors and unique patterns in the background of this vignette, we wanted to assure customers would see the products as they were intended.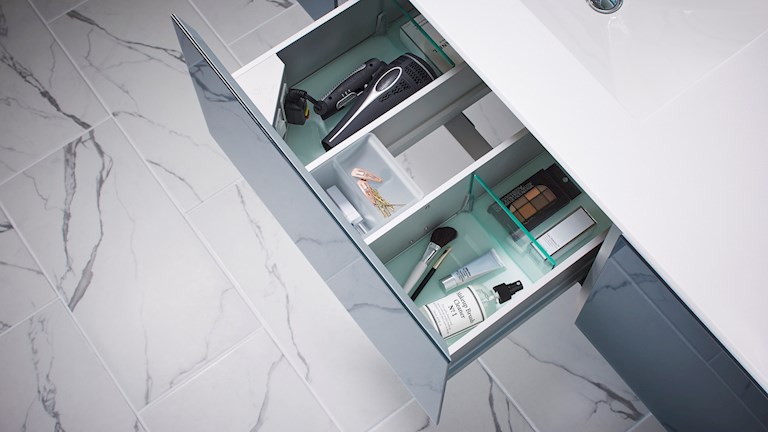 We absolutely loved the reactions of those who viewed the final vignette. We were able to watch as the initial 'wow' factor lead into understanding how functional the space is with its layered lighting, hidden storage, and thoughtful organization. On a similar level, this project really showed my team and I that our continued love affair with Robern is definitely warranted. Classic in its styling, the selections from Robern can be effortlessly layered on for simple or dramatic designs with complete efficiency and unmatched beauty. Versatility makes Robern one of our favorite brands to incorporate in our everyday client projects.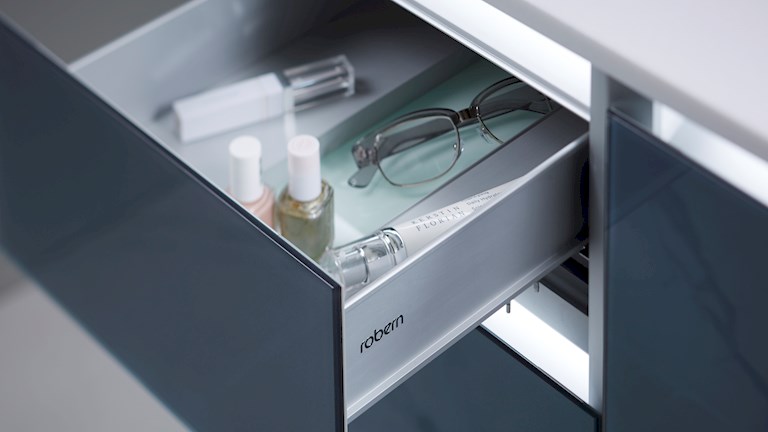 ---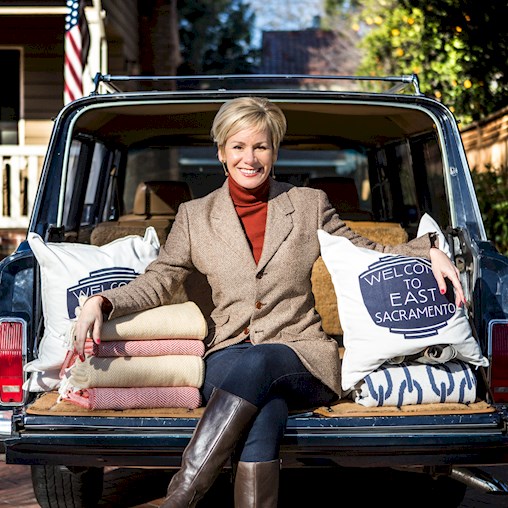 Northern California interior designer Kerrie Kelly founded Kerrie Kelly Design Lab in 1995. She is an award-winning interior designer, author and multi-media consultant, helping national brands reach the interior design market. She is a certified interior designer with an Interior Design degree from Cal Poly, San Luis Obispo and has a Master's in Business Administration from the University of Phoenix.
She is a Member of ASID (American Society of Interior Designers), NKBA (National Kitchen and Bath Association) and IIDA (International Interior Design Association). She is a Certified Aging in Place Specialist (CAPS), sitting on the Advisory Board for Eskaton's Livable Design and is an avid representative and speaker for Livable Design's initiatives. She has authored two books: Home Decor: A Sunset Design Guide and My Interior Design Kit, with Pearson Professional and Career Education. This year she will add California Style: A Wine + Design Tour to her authored library and complement it with a series of webisodes on the subject.
Kerrie is currently partnering with top industry brands like Robern, Zeev Lighting, Guildery (now Minted), and Feizy to produce collaborative products, collections, and ambassador relationships. She and her team will be launching a rug line in Spring 2016 and a lighting collection in January 2017.