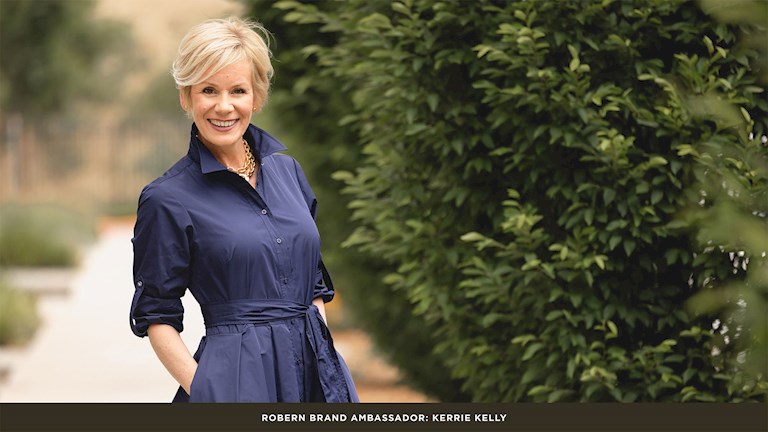 Robern Brand Ambassador Kerrie Kelly shares her tips for creating a highly personalized home — during the holidays, and all year long.
For more than 25 years, Kerrie Kelly Design Lab has been providing interior and exterior design services for large-scale home renovations and new construction projects. Guided by the company motto — "Designed to Elevate" — CEO and creative director Kerrie Kelly connects with her clients to create a space that not only reflects their vision, but also enhances every aspect of their everyday life.
"While we thoughtfully interview our clients to understand their lifestyle and vision for their space, we have found ourselves going deeper," Kerrie says. That may include designing a custom product to put the finishing touch on their renovation, or sharing recommendations that go beyond interior design.
---
"We like to encourage a timeless, classic aesthetic...we want to introduce our clients to products that will last a lifetime while supporting the day-to-day activities of those who live there." Kerrie Kelly
---
"Often, we are recommending recipes, cookware, travel destinations, must-try restaurants, and playlists that go beyond the typical job description of an interior designer, elevating our client's experience along the way," Kerrie says.
Whether you're looking to add spa-like ambiance, clutter-free storage, or holiday cheer to your home, Kerrie shares her tips for creating a space that's truly designed around you.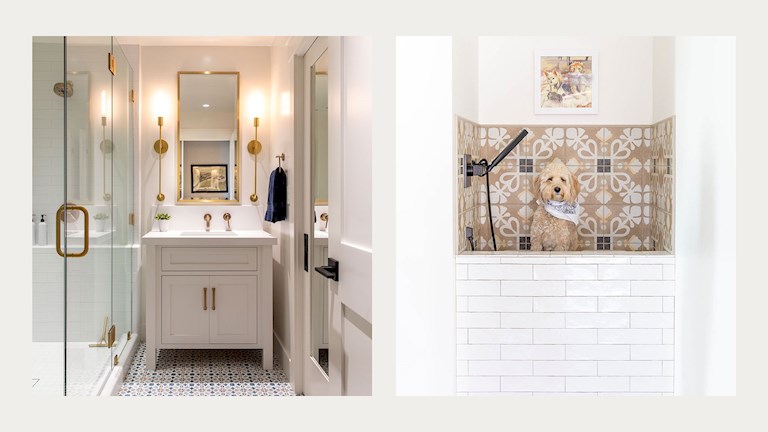 Q: Your firm provides interior design solutions for full renovations, new construction, and model home projects. How do you tailor your creative process to these different types of projects to offer bespoke solutions?
A: Every project is unique for our team due to our interview process and needs assessment. Showroom visits — to look, touch, and feel the products we specify — are important in our process so our clients know exactly what to expect upon installation.
While we often get to test the latest trends in our model home projects due to their aspirational nature, we like to encourage a timeless, classic aesthetic when working with our new construction and full renovation clientele.
These projects can be costly, so we want to introduce our clients to products that will last a lifetime while supporting the day-to-day activities of those who live there.
Q: What are three key design components you keep at the forefront when crafting a bathroom space that's both luxurious and livable?
A: Lighting, storage, and ventilation — although, in my home, I would have to include a great playlist, too!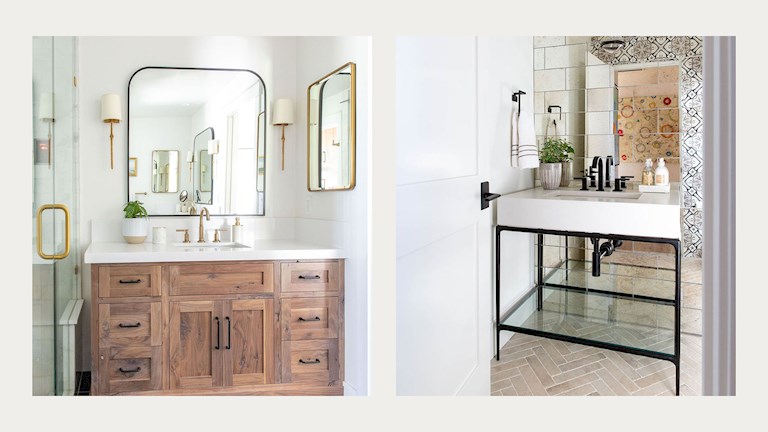 Q: Whether you're navigating a hectic morning or unwinding in the evening, bathroom lighting is paramount in portraying the best version of "you." How do you use lighting solutions to complement the surrounding elements and to create proper synergy within a bathroom design?
A: Lighting can make or break a beautiful bathroom space. Natural lighting is the key to making a bathroom feel bright and airy. A natural lighting scheme around the mirror gives a true representation of color and skin tone, allowing one to see what they'll look like when they step outside. Incorporating plenty of windows and even a skylight (for light and ventilation) into our designs is key.
When selecting bathroom light fixtures, we think in terms of layers. Recessed LEDs on dimmers can provide ambient light, but can also cast shadows on the face. For this reason, we layer in soft vanity lighting at head height. We love Vesper Lighting's sleek appearance and versatility — it not only gives you a clean, flush cabinet aesthetic, but also provides ambient lighting with the option to dim and be used as a night light for those late-night bathroom trips or slow, early mornings.
Adequate lighting in the shower area is also a common specification for our team, and a decorative chandelier to read in the tub (if the building code allows). Cabinet toe-kick lighting strips on a sensor can also illuminate late-night trips to the bathroom without waking others.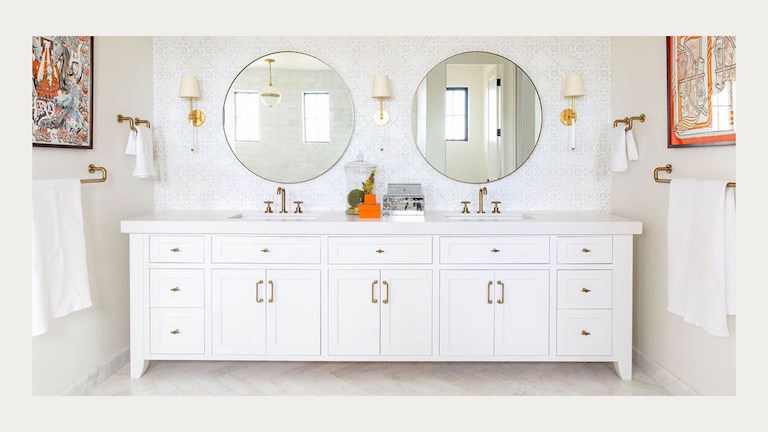 Q: With a growing emphasis on wellness at home, homeowners are craving spa-like bathrooms with premium features. What does a safe, serene, stress-free space look like to you? What products or pieces are essential to creating a true home sanctuary?
A: Bathrooms are revealing larger layouts; clean, minimal styles; and sensors and controls that create smart, spa-like retreats.
Clients are taking down walls and removing bathtubs to create wet rooms with smart temperature controls for floors and showers. Motion sensors for lighting are being requested to support daily routines, while light-colored quartz countertops remain popular for low-maintenance surfacing.
Cleanliness and livability are also top of mind. Since I am an "everything in its place" kind of gal, I personally love the Robern AiO Medicine Cabinet
due to its function and beauty. The mirror uses a touch-control dimming switch to control the built-in LED lighting, making it easy to adjust lighting for any task. The long lifespan and efficiency of LED lighting also helps reduce energy expenses.
These medicine cabinets also come equipped with invisible OM audio speakers that deliver uniform sound in 2-channel stereo. With Bluetooth connectivity, you can connect your smartphone to the mirror so you can listen to your favorite songs as you go through your daily routines. You can even charge your phone with the cabinet'sUSB outlet.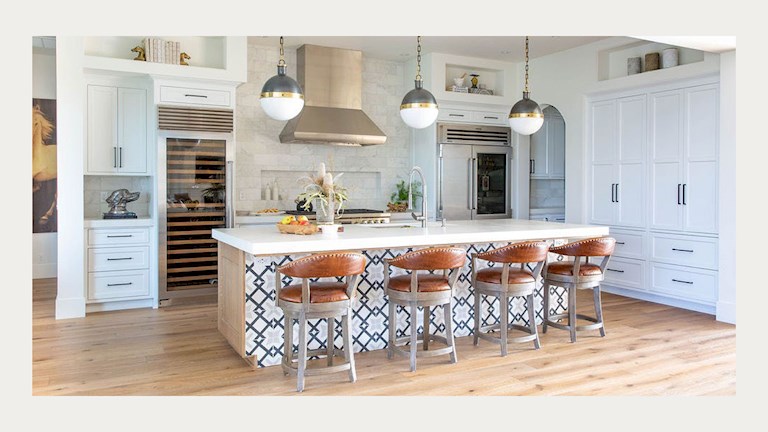 Q: The holidays are an ideal time to elevate the home with personal touches and meaningful traditions. As the season approaches, how do you help clients prepare? What are your favorite ways to bring thewarmth of the holidays into your own home?
A: The holiday months are a time to get cozy. However, we often find that the chaos of the season can create some clutter. We often recommend our families start their holiday decorating by taking a minute to edit their interior and put things in their place before layering on decorations and family heirlooms.
Once there has been a "clean sweep," you will find you have the perfect foundation to celebrate family heirlooms, holiday garland, and twinkle lights, along with throw blankets and pillows for movie nights with friends and family.
In my own home, the holidays are about cooking and entertaining. I bring in natural elements from our backyard like pine, magnolia, and berries to create simple, organic arrangements. I also set our table to reflect dishes, silver, and glassware passed down through our family. Fresh baked cookies and hot chocolate or cider served upon Grandma Mary's dessert plate and in her mugs always gives cue that the holidays are here!
---