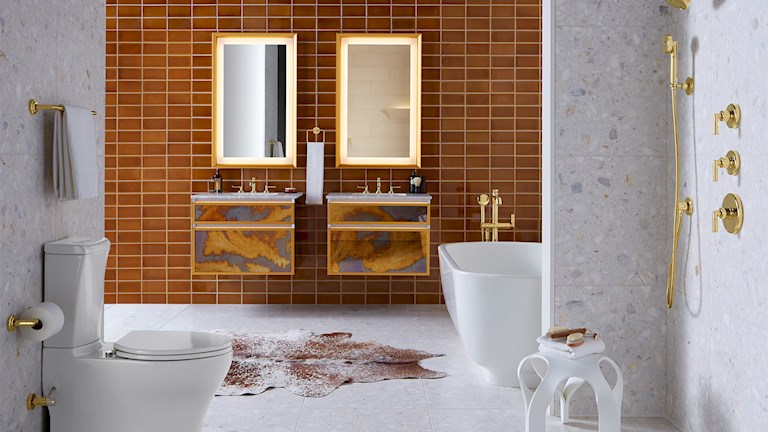 As temperatures gradually drop and daylight diminishes, we spend more time indoors. Autumn invokes change and change can be contagious. This Fall just might be the perfect time to embark on some long-awaited home renovations.
We spoke with a few designers regarding their insights on fall remodels. Here's what they urge you to consider when recreating your space.
---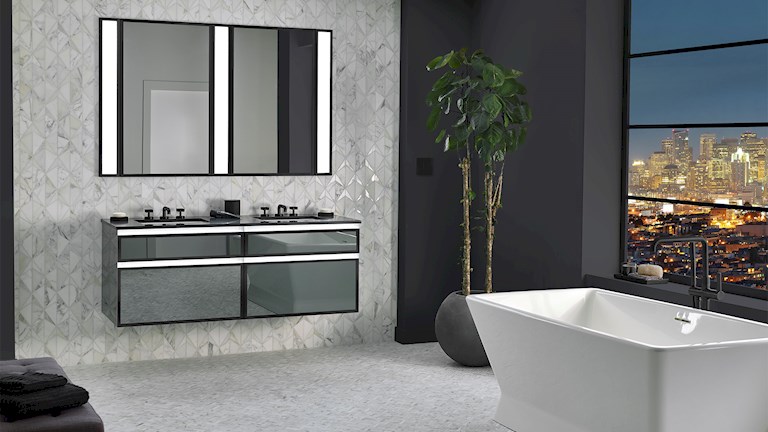 Holiday gatherings with family and friends often drive Fall remodels: more room, better space, simple upgrades and long-awaited repairs. Of course, clients typically focus on budget first, so we're always on the delicate balance between quality and value. But it's also important to remember the little details that make for that happy moment: the pleasure of interacting with their new space in a more personal way – be it lighting of a favorite painting or the convenience of a relaxing morning routine.
With all of the choices out there, designer Jonas Carnemark likes to remind homeowners to focus on the small details that make them feel good every day. Whatever those are. Time and again, clients find great value when they put the money where the smiles are. 
---
Forever Style: The Timeless Look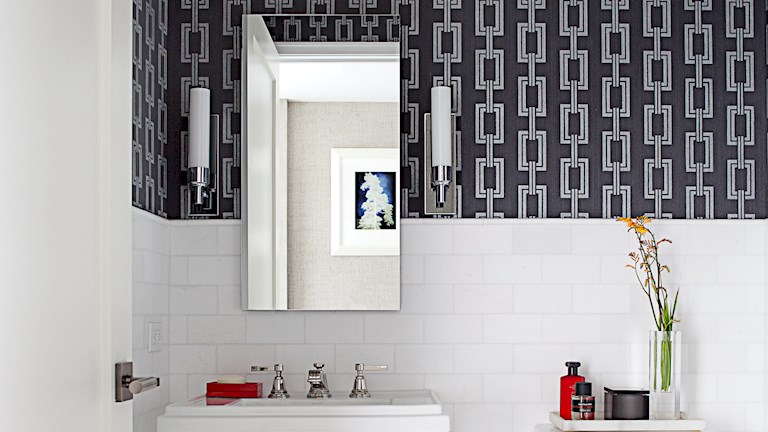 Just as the best pieces work in any space, so too are they often proven to fit in any period of time. These are the design ideas and products that have survived for decades and feel right, even now.
In her designs, designer Kerrie Kelly incorporates timelessness with classic color schemes like elegant black-and-white or stark, masculine navy tones. She also looks to products that complement a sleek and modern interior style just as well as one that keeps things traditional.
Sophisticated decorative pieces like colorful poufs, upholstered ottomans and nail head trimmed armchairs add an elevated look that is both of-the-moment and forever in style. Keeping your look classic, mix and match your favorite contemporary art with more traditional pieces to balance the entire look.
---
The Dynamic Duo: Opposites Attract
Often, it is the most unlikely of pairings that make a room come together. When chosen carefully and tastefully, unexpected juxtapositions become the cornerstone of design that goes above and beyond the ordinary.
Designer Terry Strandemo has long been attracted to the marrying of styles and incorporating unexpected furnishings and architectural details into a room. A very contemporary furnished room becomes softened and romantic with the addition of an antique chest or console, or the atmosphere in the room immediately changes when natural elements are incorporated. Likewise, the opposite is also often true, as in the case of a very traditional bathroom space softening and relaxing when contemporary elements like M Series cabinets and Cartesian vanity are added.
---
High Style: Stylish Utility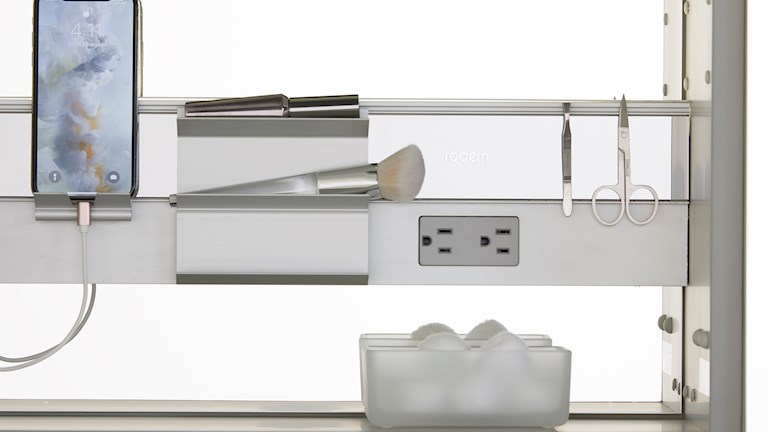 Functionality should never have to compromise stylishness.​ Form and function should flow together to create a whole that is greater than the sum of its parts.
For products that meet this lofty design ideal, designer Sharon Flatley turns to bathroom storage solutions that incorporate timeless design and innovative features. Functionality for interiors of vanities include pull-out drawers made to fit around plumbing obstructions, and built-in electrical outlets. Recessed medicine cabinets with interior lighting, outlets and other conveniences for cosmetics and grooming supplies. An example is mirrored interiors of cabinets like AiO allow for multi-functional viewing.
Furthermore, individuals are prioritizing their desire to remain "connected". High-tech features including USB charging ports and embedded Bluetooth audio product offerings are now available. And, with a minimalist profile and state-of-the-art connectivity, a stylish aesthetic is never compromised. 
---
Breaking Traditions: The New Beatnik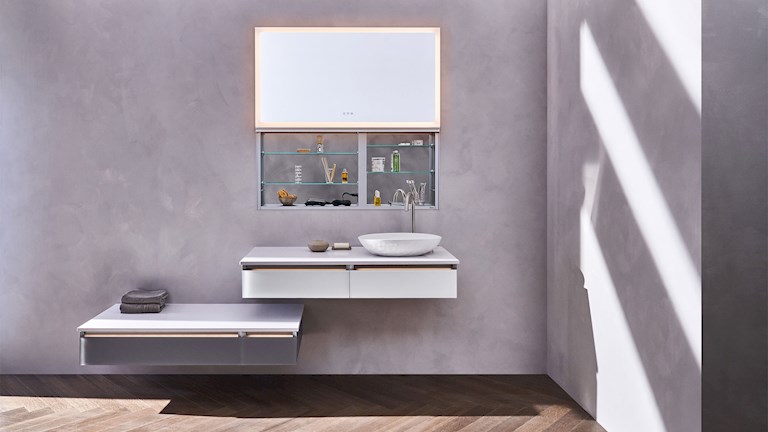 When we think of great artists, architects and designers, we remember those that broke with the established norms entirely to move their craft in bold, exciting new directions. This is what we like to refer to as the beatnik ideal: rejection of tradition to create an image so right and so cool that the style has withstood the test of time.
One great development in shattering norms was the emergence of the bathroom as venue for great design. Bathrooms were once only referred to in euphemisms, but thanks to courageous, forward-thinking designers, they have become a showcase room in a home of grand proportions, evoking style, ambiance, and personality.
These are the foundations of great design in the bathroom and in the home at-large. Learn from the greats. Seek out products and elements that are timeless, universal, stylish and functional. But above all, never be afraid to make it entirely your own.
---
Featured Products: