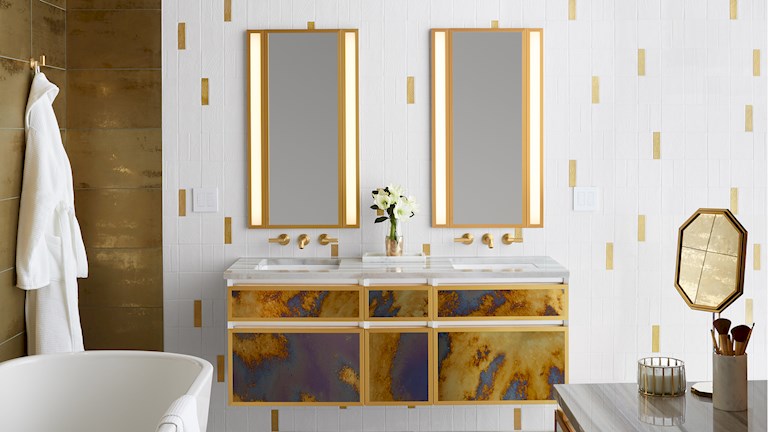 Get This Look:
ROBERN. KALLISTA. ANN SACKS. Individually, they stand for inspiring designs and innovative solutions. Collectively, they create a striking contrast within a space through the mixing of colors and textures. The skillful pairing of matte and polished golds with varying gray tones truly elevates- and simultaneously adds depth to any home environment.
---
ROBERN
From eye-catching accents to ergonomic drawers, the Profiles Vanity collection is more than just a customizable storage solution- it's an ideal centerpiece for design. Multiple storage options are available to maximize space and a stunning color palette, including matte gold, adds the finishing touch for a customized space.
Discover Profiles Collection
---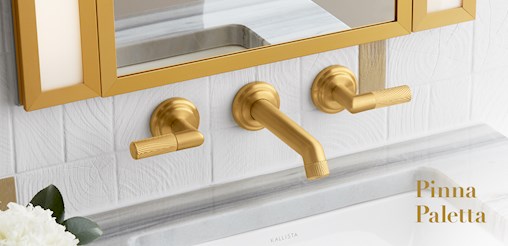 KALLISTA
Designed to catch the light and feel exquisite to the touch, the Pinna Paletta collection by Laura Kirar adds additional dimension to any bathroom setting with a unique tacticle experience. The specialty matte gold finish on the faucet allows the abstract textures that live on the handles and spout to shine in any setting.
Discover Pinna Paletta
---
ANN SACKS
An extruded porcelain tile inspired by the natural irregularities of handcrafted ceramic tile, Anello takes its design cues from wood's figuring to reflect its whorls, rings and natural crackles. A simple color palette of white and gold allows for the ability to mix and match tiles to make a statement.
Discover Anello Tile