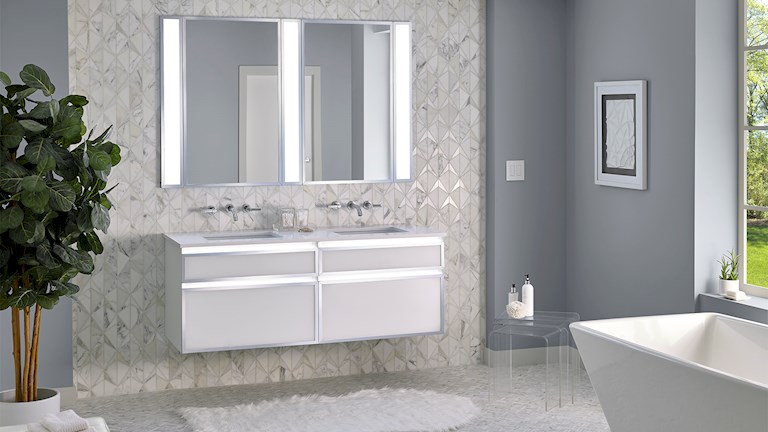 The way you light up a room could be what takes your design to the next level and on the right track to accomplish the day's tasks.
From getting ready in the day to winding down at night, the bathroom is the place we start our day and end our day. Proper lighting will make sure it is a fit for all those uses. A myriad of options exists for every room of the house. We've compiled the top choices for the bathroom space, and what styles and purposes to which each is best suited.
---
Task lighting is primarily functional with more concentrated light intended to illuminate a detailed task (e.g. grooming and make up application) without the harsh glare. It is used as an addition to other types of lights and is seldom used alone. These lights, which are used to augment a grooming space, come in several different forms, from large modular lights like our InLine and Profiles Collections, to the discreet built-in lighting of our AiO cabinets. Not only do these lighting solutions help making getting ready a breeze: they also add flair to a bathroom.
---
This light provides overall illumination for a room with a soft glow that envelops a space with enough light to function and provide a consistent level of lighting to allow safe navigation. Ambient lighting is often referred to as mood lighting and can have a decorative role.
---
Unsung heroes of the lighting world, night lights ensure visibility for wayfinding and illuminate the general space at night with low, diffused light that is soft on the eyes. Many of our products, including our Cartesian vanities and M Series cabinets, are available with seamlessly integrated night light features.
---
Which lighting option speaks to you? With so many options, the best choice is often a combination of styles to help create a truly unique space that's customized to your wants and needs.
Learn More: Lighting Design Considerations