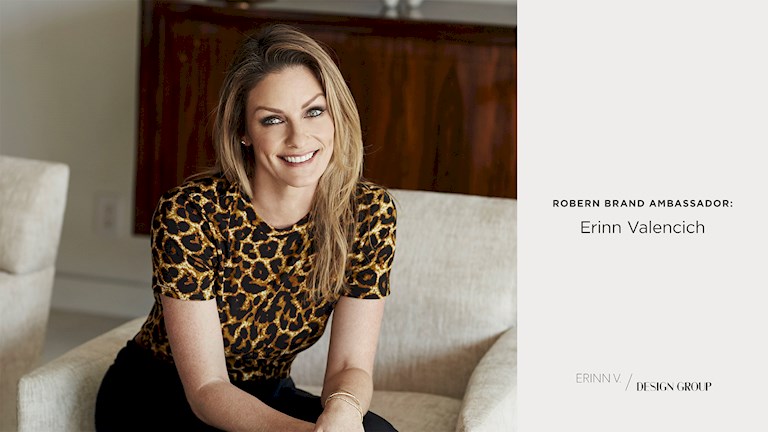 Erinn V. Design Group is an award-winning boutique design firm with a passion for creating stunning environments and livable furnishings. The firm's founder, Erinn Valencich's name is considered synonymous with classic California lifestyle and her distinctive approach to interior architecture has earned her design projects internationally. Erinn V. Design Group is based in Los Angeles and her work has been featured in Architectural Digest, Elle Décor, Traditional Home, Veranda, The New York Times, House Beautiful and HGTV to name a few. A true entrepreneur, Erinn also founded a bespoke line of bench-made furniture in 2005 driven by her passion for beautiful furnishings. In 2020, Erinn launched software platform, StyleRow, to help designers source from high-end brands and showrooms, streamline their workflow, and help them present their work to clients.
---
"Great reflections, plenty of counter space, and hidden storage is always a goal for us when designing a wonderful bathroom big or small." Erinn Valencich
---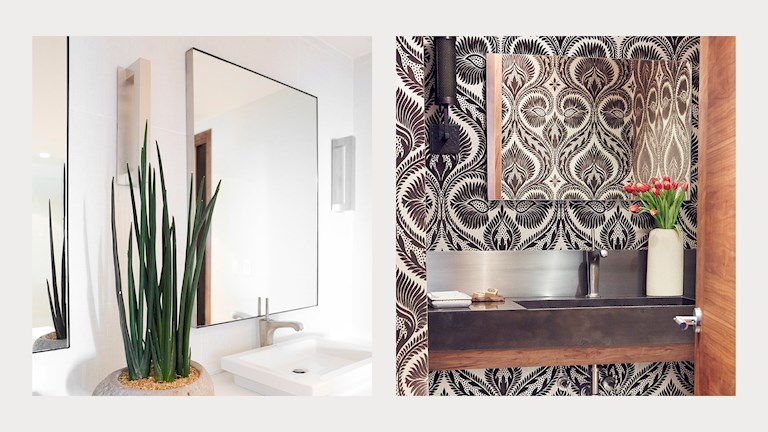 Q: I'm sure it's difficult to pick favorites, but is your firm currently working on any particularly inspiring design projects right now? What about this project is most exiting to you?
A: I am renovating a home that I purchased in Santa Barbara, which is so nice to be able to do whatever I want for a change - without having a client to please - that is refreshing! 
Otherwise, we are working on a long-time project in Greenwich, CT. A gorgeous new construction project with Steven Mueller Architects - just finishing the pool house. The clients are young and fabulous and really appreciate great design - so that makes it wonderful. We have another great client and project in St. Helena/Napa and San Francisco. We enjoy working around the country with great people on great projects. It's really a team sport! 
Q: When working with a client on a bathroom design, what seems to be their overall goal for that space? Have you seen a shift in priorities over the past years as it relates to bathroom design?
A: I think that design styles are always trending in one way or another every 4-5 years. Right now, I'm really loving a return to a slightly more "rustic/natural" vibe. The super modern cold bathroom look is over thankfully. As far as goals - I don't think those have changed. The space needs to be well lit - that's key. I love the Robern products for that reason.  Great reflections, plenty of counter space, and hidden storage is always a goal for us when designing a wonderful bathroom big or small.
Q: Why do you use Robern products within your designs? Are there any specific product features or overall qualities that are particularly important to you?
A: I appreciate the size and scale options. Many people use mirrors or art that's too small for a space, so having a big tall mirror in a bathroom - even if it's narrow - makes a massive impact on the design. The functionality is key too and the Robern medicine cabinets are the industry leader. Our clients love the lighting options, power capabilities to hide toothbrushes, etc. And the vanity designs are also gorgeous. We usually do custom vanities whenever possible - but Robern has changed my mind about buying a pre-made vanity with their great looks. We also like the rounded top mirrors - always chic in any powder room, regardless of style.
Q: What materials, surfaces, and finishes do you find yourself or your team using more lately? Are you gravitating more to certain colors, textures, or forms in your recent work and what are they?
A: Tons of warm vibrant marbles and stone! Any time we can use natural stone we do, a lot of slabs we get from Walker Zanger and Dal Tile. Dal has an incredible porcelain range that we like for bathrooms so that the face oils and creams and water doesn't etch. Natural walnuts, bleached, wire brushed and cerused oaks are hot. Tumbled stone on the floor and a handmade ceramic on the walls. This combination is always a winner.  Warm naturals are timeless - so for color palette that's what we do a lot of.  And then there is always black. Black venetian plaster walls are incredible in a small bathroom! 
Q: What are the main points of consideration when you are designing for wellness in any given space?
A: Ease of use and a clean aesthetic. You want things to feel spacious and clean. So having good storage that's hidden helps a bathroom not feel cluttered. It shouldn't feel utilitarian only - it needs to feel like an elegant 'room' in your home. Great lighting in unexpected places also helps add architectural interest to a bathroom. We do a lot of hidden rope lighting and try to avoid can lights whenever possible. Great windows out to a garden. I'm shocked how many bathrooms still use privacy glass - without a view a room feels like a prison. Who would want that!? A soft shade or a well-placed olive tree outside is always going to give a more welcoming vibe.
Q: We are noticing more and more importance being placed on "self-care". We know that you are a busy woman; what do you do for yourself to help you stay focused, relaxed, or more balanced?
A: I like to ride horses. I grew up on a farm and so getting outside is so important to me. I don't do it regularly enough; however, I bought two lovely horses last year and really enjoy getting out to see them or going for a hike or just clipping plants in the garden. Physical outdoor activities are a must!
---