Michele Alfano Shares Her Secret to Creating Personal, Wellness Spaces
Interior architectural designer and Robern Brand Ambassador Michele Alfano is renowned for creating warm and sensuous spaces that nurture, recharge, and amplify everyday life.
As the founder and creative director of Michele Alfano Design, she fuses her formal background in architecture with a deeply personal approach to design — a pioneering concept she calls POETIC MODERNISM®. Alfano begins each project by interviewing her clients to understand how they respond to various elements of nature, then uses this sensory information to guide her designs.
This passion for discovery was inspired by the work of her father, an experimental physicist. "Growing up around his lab, I saw how he tested optical theories and made discoveries of new light phenomena," she says. "His think tank has inspired my own creativity, which involves critically asking questions."
We talked with Alfano about her strategies for creating spaces that inspire awe and cultivate wellbeing — and the products and projects she's most inspired by right now.
---
"I believe if the design of spaces could be aligned to our inner voice and bodily responses, then our spaces will have a profound influence over our wellbeing." Michele Alfano, Michele Alfano Design
---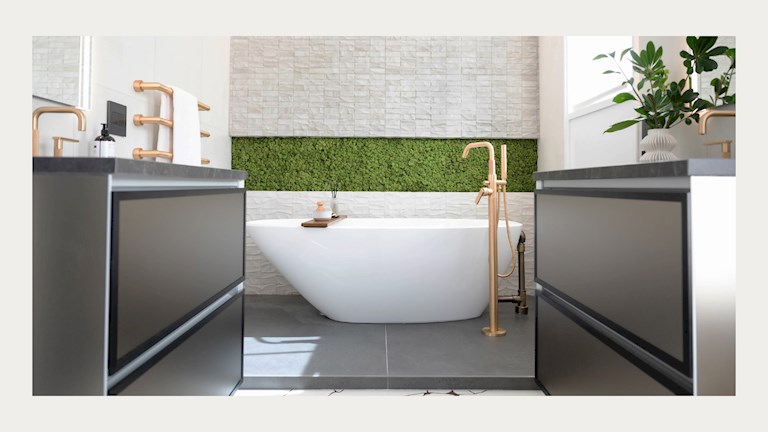 Q: Where does your passion for interior architecture and design come from?
A: In college, I was an applied math major. It wasn't until my studies abroad in Florence, Italy, that I became aware of my passion for architecture and design. I went on to get a Masters in Architecture, which led me to another semester abroad — this time to Barcelona, Spain, where I became familiar with the architect Gaudi and his philosophy of how humans interact with architecture. I believe emotion and wonder are essential to experience spaces!
Q: Where do you find inspiration for your work?
A: I find inspiration everywhere — from my clients, in magazines, books, city streets, art, and fashion. Lately I have been playing with AI to generate new ideas. As a creative, I wasn't sure how I would feel about the process, but the generation heavily weighs on one's creative prompts. Using technology to create products or spaces as an expression of my fused passions for art, fashion, and architecture has been fun to do.
Q: Can you elaborate on what POETIC MODERNISM® entails? What was your creative process behind the unique design philosophy?
A: Wanting to get to know my clients on a deeper level drove me to create POETIC MODERNISM®. Like poetry, the approach yields a language of positive emotions or awe that is then translated into spaces to nurture the human experience. 
I developed an interview that maps people's preferences in nature — specifically, the five universal elements of fire, earth, water, light, and space. These elements are the foundation of life. Embedded within the elements are underlying tools and design principles to learn from. Their answers will provide insights into their emotional preferences.
People generally think they know what they like, but I go deeper to understand how our body and mind are listening to what we like. I believe if the design of spaces could be aligned to our inner voice and bodily responses, then our spaces will have a profound influence over our wellbeing.
Essentially, designing with awe will result in poetic experiences that feed happiness, foster resilience, and fuel productivity — all leading to success in business and life.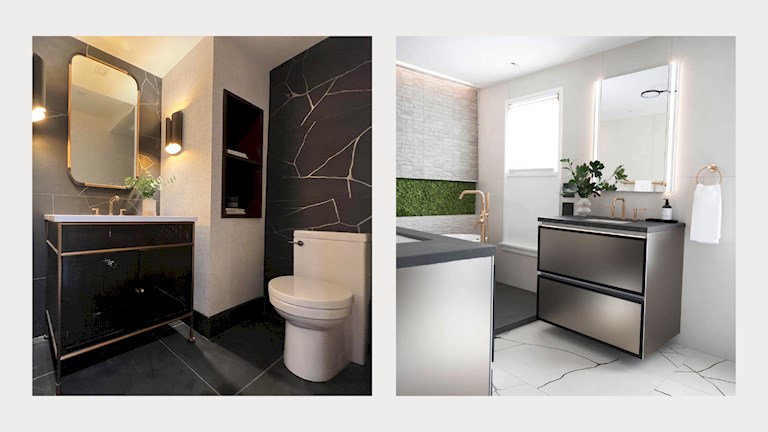 Q: One of your recent designs incorporated kintsugi, the Japanese art of repairing broken items with gold. Talk to us about how you incorporate wellness into your Kintsugi Spa Bathroom design and particularly, how you integrated lighting for an elevated wellness space?
A: To promote wellness, the Japanese mending of kintsugi is layered in the design as a lesson to find self-help and inspire wellness. Encouraging relaxation, we integrated kintsugi tiles throughout the bathroom and shower floor. Feeling exhausted from a long day, all you must do is go into your bathroom oasis and come out recharged and ready to go.
In the shower, steam and aroma provide healing properties for the body and mind. The addition of speakers enables soothing music to be played, enhancing the overall shower experience. Natural elements such as the moss wall and bronze finishes add warmth and texture to the space, while the sleek and modern fixtures provide a sense of luxury. The design elements work together seamlessly to create a harmonious environment. The freestanding tub provides a comfortable spot to soak and reflect, allowing the client to unwind from the stresses of daily life.
Must-haves for the design were the Robern Profiles Vanities and PL PORTRAY Medicine Cabinets. They not only promote function and beauty but also livability. Everyday routines are elevated with lighted mirrors, Bluetooth connectivity, and vanities customized with built-in outlets. 
Lighting played a vital role in achieving the spa-like environment. Vesper Lighting with dimming capability allows the client to customize the lighting to their preferences. Color temperature was also carefully considered to promote calmness — warm, soft white lighting was used to create an inviting atmosphere while avoiding bright lighting that can be jarring to the senses.
The layering of light was also used to create depth and texture in space. Recessed lighting provides ambient lighting throughout the bathroom, while modular lighting fixtures at the vanity add a decorative touch and additional task lighting for grooming. The client told us the design has been life-changing and they feel like they are on vacation in their own home.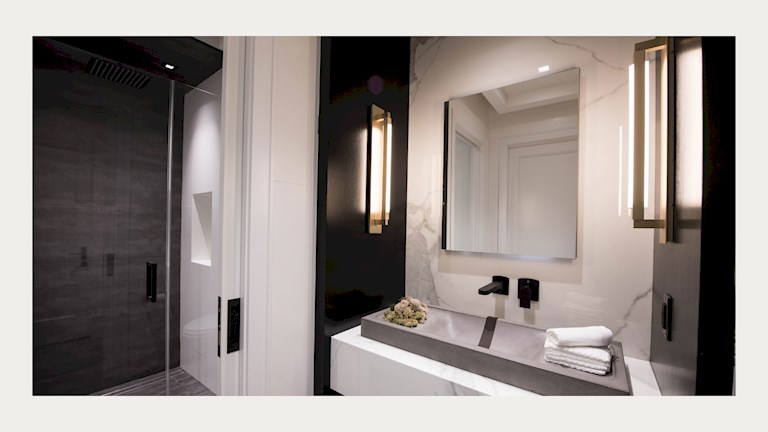 Q: As we approach the holiday season, many of us are interested in refreshing our homes for guests. Can you offer any tips for sprucing up a guest bathroom?
Invest in wallpaper. It is one of the easiest ways to transform a space. There are so many options from textured wall coverings — like a metallic grass cloth — to bold geometric or nature-inspired designs. It always comes as a fun surprise to guests.
Q: Your firm provides full-service planning, design, and product management for residential and commercial spaces. How do you infuse POETIC MODERNISM® into commercial projects?
A: Designing with awe applies to all spaces. It doesn't matter if the space is small, large, residential, or commercial. I call upon the senses and five elements to be the scaffolding for design and understand how its occupants will think, feel, and behave to improve everyday life experiences.
Q: You recently created a personal bath oasis that utilized the Mackey Vanity and Mixed Metal Mirror from our Craft Series Collection. How did these products help to fulfill the client's vision?
A: The client's vision for the home was to bring creativity and artful patterns of nature into everyday life to nourish the soul and bring happiness. With that in mind, the powder room walls are covered with cork wallpaper combined with matte black and bronze veined tile. The textured walls serve as an organic backdrop to Robern's products. The Craft Series Mackey and Mixed Metal Mirror present an air of handcraft and an earthy, industrial vibe with the perforated bronze paneling and aged brass finishes. It's the perfect fusion of materials to welcome guests.
---