It's All about the App
With keycode entry and remote access via smartphone, the IQ Digital Lock Box gives you total control over your personal items. Set medication reminders, get usage updates, and receive alerts if tampering is detected.
Remotely open IQ Digital Lock Box from your phone
Alerts

Built-in tamper detection triggers an audio alarm at the lock box and sends an alert to your app if the lock box is shaken or disrupted

3 axis tilt sensor
Shock & vibration monitor

Incorrect keycode notification
Door open, closed, and key entry notifications
Account change notification
Device setting notification

Set reminders

Never forget to take your medication or to remind a loved one to take their medication

Review the history of your IQ Digital Lock Box
---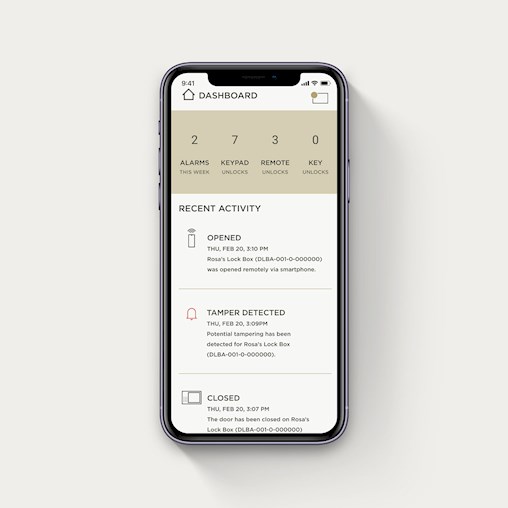 Privacy and Security at Your Convenience
Update your bathroom by adding high-quality storage and organization with a smart Lock Box for added security. The Robern IQ Digital Lock Box provides peace of mind by bringing safety, technology, and access together.
Virtually all safes are penetrable and vulnerable, yet the IQ Digital Lock Box is the only safe that can give 24/7 real-time security intelligence.
With Wi-Fi connectivity and real-time alerts sent to your smartphone, you'll never feel far from the things that matter most.
The IQ Digital Lock Box can be opened in multiple ways: the lock box touch keypad, the smartphone app, or with manufacturer provided backup keys.
If you prefer not to use a smartphone or cannot connect the safe to the Internet, the IQ Digital Lock Box has both audible and visual alerts that can be seen and heard directly from this unit.
Remote open the safe door from anywhere or have customer service open it up for you in the event you misplaced your keys and forgot your code.
Because access to medications is critically important, a pair of backup keys are provided with each safe in case of emergency.
By connecting the IQ Digital Lock Box to the Internet via Wi-Fi, it communicates security alerts and intelligent medication reminders via text, email, or the Robern IQ Digital Lock Box app in real-time.
---