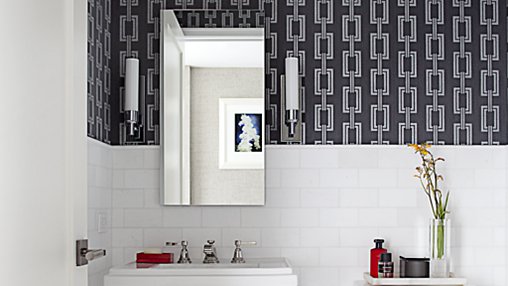 M Series Cabinets
Rich with possibilities for style and storage, this luxury cabinet is our most diverse line.
List Price starting at $1,099
Interior light turns on automatically when the door is opened and off when the door is closed
Cabinets include electric shelf, MP3 hook-up, and adjustable glass shelves
Explore adding discrete storage with Decorative cabinets
Modular configuration options allow you to create your ideal styling space
Upgrade options include programmable night light, mirror defogger and electric outlets
---
---
Cabinets
Integrated Electricity and USB

Power frequently used items such as electric razors, toothbrushes and hair dryers using one of two plugs mounted inside the cabinet. The USB port charges your mobile device nearby.

Programmable Night Light

Program the external LED to automatically provide nighttime illumination in 12-hour increments.

Defogger

Prevent steamy reflections with a 45 minute timer-enabled electronic defogger. The illuminated, door-mounted on/off switch allows for one-touch control.

Interior Illumination

Find the light from within with an interior light that turns on when the door is opened and automatically turns off when closed.

Magnetic Organization

Keep small metal implements neatly arranged and close at hand on the magnetic area provided in the rail of the cabinet, except for 12" width electric model.

Organization Shelves

A dedicated razor/phone holder and 3 tier tray come standard and house small items such as eyeglasses, contact lens cases and cosmetics.

Premium Construction

Durable rust-free anodized aluminum and glass construction resists intense moisture and ensures long-lasting beauty. Our Safeseal gasket and aluminum construction ensure a quiet, moisture-and dust-resistant interior.

Hinge Feature

Blum self-closing hinges provide a door opening angle of 170 degrees (110 degrees with provided stop).

Adjustable Shelves

Configure the interior of your cabinet to accomodate essential items of varying heights, from your electric toothbrush to your favorite fragrance. Clear glass shelves adjust in 2-inch increments to provide versatile storage options.

Finger Pull

Concealed finger pull surrounds the door edge for ease of opening.

Installation Type

Cabinets can be recessed, semi-recessed or surface-mounted (6" and 8" deep cabinets can be semi-recessed by 4"). If you choose to surface-mount or semi-recess install your cabinet, side kits are available to provide a finished look.

Certifications

Electrical components are ETL/UL Certified for damp locations.
Cabinets
Specifications
M Series Cabinet, 23-1/4" x 30" x 6", Flat Top, Bevel Edge, Right Hinge

M Series Cabinets

M Series Cabinet, 19-1/4" x 39-3/8" x 4", Flat Top, Bevel Edge, Left Hinge

M Series Cabinets

M Series Cabinet, 19-1/4" x 39-3/8" x 4", Flat Top, Bevel Edge, Right Hinge

M Series Cabinets

M Series Cabinet, 15-1/4" x 39-3/8" x 4", Flat Top, Bevel Edge, Left Hinge

M Series Cabinets

M Series Cabinet, 23-1/4" x 30" x 6", Flat Top, Polished Edge, Left Hinge

M Series Cabinets

M Series Cabinet, 15-1/4" x 30" x 6", Flat Top, Bevel Edge, Left Hinge

M Series Cabinets

M Series Cabinet, 19-1/4" x 39-3/8" x 4", Flat Top, Polished Edge, Left Hinge

M Series Cabinets

M Series Cabinet, 15-1/4" x 39-3/8" x 4", Flat Top, Bevel Edge, Right Hinge

M Series Cabinets

M Series Cabinet, 23-1/4" x 39-3/8" x 8", Flat Top, Bevel Edge, Left Hinge

M Series Cabinets

M Series Cabinet, 23-1/4" x 30" x 6", Flat Top, Polished Edge, Right Hinge

M Series Cabinets

M Series Cabinet, 15-1/4" x 30" x 6", Flat Top, Bevel Edge, Right Hinge

M Series Cabinets

M Series Cabinet, 23-1/4" x 39-3/8" x 8", Flat Top, Bevel Edge, Right Hinge

M Series Cabinets

M Series Cabinet, 19-1/4" x 39-3/8" x 4", Flat Top, Polished Edge, Right Hinge

M Series Cabinets

M Series Cabinet, 15-1/4" x 30" x 6", Flat Top, Polished Edge, Left Hinge

M Series Cabinets

M Series Cabinet, 23-1/4" x 39-3/8" x 8", Flat Top, Polished Edge, Left Hinge

M Series Cabinets

M Series Cabinet, 23-1/4" x 30" x 6", Flat Top, Bevel Edge, Left Hinge

M Series Cabinets

M Series Cabinet, 15-1/4" x 30" x 6", Flat Top, Polished Edge, Right Hinge

M Series Cabinets

M Series Cabinet, 19-1/4" x 30" x 6", Flat Top, Bevel Edge, Left Hinge

M Series Cabinets

M Series Cabinet, 23-1/4" x 39-3/8" x 8", Flat Top, Polished Edge, Right Hinge

M Series Cabinets

M Series Cabinet, 19-1/4" x 30" x 6", Flat Top, Bevel Edge, Right Hinge

M Series Cabinets

M Series Cabinet, 23-1/4" x 39-3/8" x 4", Flat Top, Bevel Edge, Left Hinge

M Series Cabinets

M Series Cabinet, 19-1/4" x 30" x 6", Flat Top, Polished Edge, Left Hinge

M Series Cabinets

M Series Cabinet, 23-1/4" x 39-3/8" x 4", Flat Top, Bevel Edge, Right Hinge

M Series Cabinets

M Series Cabinet, 23-1/4" x 30" x 8", Flat Top, Bevel Edge, Left Hinge

M Series Cabinets

M Series Cabinet, 11-1/4" x 39-3/8" x 6", Flat Top, Bevel Edge, Left Hinge

M Series Cabinets

M Series Cabinet, 11-1/4" x 39-3/8" x 6", Flat Top, Bevel Edge, Right Hinge

M Series Cabinets

M Series Cabinet, 15-1/4" x 39-3/8" x 4", Flat Top, Polished Edge, Left Hinge

M Series Cabinets

M Series Cabinet, 23-1/4" x 39-3/8" x 4", Flat Top, Polished Edge, Left Hinge

M Series Cabinets

M Series Cabinet, 19-1/4" x 30" x 6", Flat Top, Polished Edge, Right Hinge

M Series Cabinets

M Series Cabinet, 15-1/4" x 39-3/8" x 4", Flat Top, Polished Edge, Right Hinge

M Series Cabinets

M Series Cabinet, 11-1/4" x 39-3/8" x 6", Flat Top, Polished Edge, Left Hinge

M Series Cabinets

M Series Cabinet, 23-1/4" x 39-3/8" x 4", Flat Top, Polished Edge, Right Hinge

M Series Cabinets

M Series Cabinet, 11-1/4" x 39-3/8" x 6", Flat Top, Polished Edge, Right Hinge

M Series Cabinets

M Series Cabinet, 15-1/4" x 39-3/8" x 6", Flat Top, Polished Edge, Left Hinge

M Series Cabinets

M Series Cabinet, 15-1/4" x 39-3/8" x 6", Flat Top, Polished Edge, Right Hinge

M Series Cabinets

M Series Cabinet, 23-1/4" x 30" x 8", Flat Top, Bevel Edge, Right Hinge

M Series Cabinets

M Series Cabinet, 15-1/4" x 39-3/8" x 6", Flat Top, Bevel Edge, Left Hinge

M Series Cabinets

M Series Cabinet, 23-1/4" x 30" x 8", Flat Top, Polished Edge, Left Hinge

M Series Cabinets

M Series Cabinet, 15-1/4" x 39-3/8" x 6", Flat Top, Bevel Edge, Right Hinge

M Series Cabinets

M Series Cabinet, 23-1/4" x 30" x 8", Flat Top, Polished Edge, Right Hinge

M Series Cabinets

M Series Cabinet, 15-1/4" x 39-3/8" x 8", Flat Top, Bevel Edge, Left Hinge

M Series Cabinets

M Series Cabinet, 11-1/4" x 30" x 6", Flat Top, Bevel Edge, Left Hinge

M Series Cabinets

M Series Cabinet, 11-1/4" x 30" x 6", Flat Top, Bevel Edge, Right Hinge

M Series Cabinets

M Series Cabinet, 15-1/4" x 39-3/8" x 8", Flat Top, Bevel Edge, Right Hinge

M Series Cabinets

M Series Cabinet, 11-1/4" x 30" x 6", Flat Top, Polished Edge, Left Hinge

M Series Cabinets

M Series Cabinet, 15-1/4" x 39-3/8" x 8", Flat Top, Polished Edge, Left Hinge

M Series Cabinets

M Series Cabinet, 11-1/4" x 30" x 6", Flat Top, Polished Edge, Right Hinge

M Series Cabinets

M Series Cabinet, 15-1/4" x 39-3/8" x 8", Flat Top, Polished Edge, Right Hinge

M Series Cabinets

M Series Cabinet, 19-1/4" x 30" x 4", Flat Top, Bevel Edge, Right Hinge

M Series Cabinets

M Series Cabinet, 23-1/4" x 39-3/8" x 6", Flat Top, Polished Edge, Right Hinge

M Series Cabinets

M Series Cabinet, 19-1/4" x 30" x 4", Flat Top, Polished Edge, Left Hinge

M Series Cabinets

M Series Cabinet, 19-1/4" x 30" x 4", Flat Top, Polished Edge, Right Hinge

M Series Cabinets

M Series Cabinet, 23-1/4" x 39-3/8" x 6", Flat Top, Bevel Edge, Left Hinge

M Series Cabinets

M Series Cabinet, 23-1/4" x 39-3/8" x 6", Flat Top, Bevel Edge, Right Hinge

M Series Cabinets

M Series Cabinet, 19-1/4" x 30" x 4", Flat Top, Bevel Edge, Left Hinge

M Series Cabinets

M Series Cabinet, 23-1/4" x 39-3/8" x 6", Flat Top, Polished Edge, Left Hinge

M Series Cabinets

M Series Cabinet, 19-1/4" x 39-3/8" x 6", Flat Top, Bevel Edge, Left Hinge

M Series Cabinets

M Series Cabinet, 15-1/4" x 30" x 8", Flat Top, Bevel Edge, Left Hinge

M Series Cabinets

M Series Cabinet, 19-1/4" x 39-3/8" x 6", Flat Top, Bevel Edge, Right Hinge

M Series Cabinets

M Series Cabinet, 15-1/4" x 30" x 8", Flat Top, Bevel Edge, Right Hinge

M Series Cabinets

M Series Cabinet, 19-1/4" x 39-3/8" x 6", Flat Top, Polished Edge, Left Hinge

M Series Cabinets

M Series Cabinet, 19-1/4" x 30" x 8", Flat Top, Bevel Edge, Left Hinge

M Series Cabinets

M Series Cabinet, 15-1/4" x 30" x 8", Flat Top, Polished Edge, Left Hinge

M Series Cabinets

M Series Cabinet, 19-1/4" x 30" x 8", Flat Top, Bevel Edge, Right Hinge

M Series Cabinets

M Series Cabinet, 19-1/4" x 39-3/8" x 6", Flat Top, Polished Edge, Right Hinge

M Series Cabinets

M Series Cabinet, 15-1/4" x 30" x 8", Flat Top, Polished Edge, Right Hinge

M Series Cabinets

M Series Cabinet, 19-1/4" x 30" x 8", Flat Top, Polished Edge, Left Hinge

M Series Cabinets

M Series Cabinet, 15-1/4" x 30" x 4", Flat Top, Bevel Edge, Left Hinge

M Series Cabinets

M Series Cabinet, 15-1/4" x 30" x 4", Flat Top, Bevel Edge, Right Hinge

M Series Cabinets

M Series Cabinet, 19-1/4" x 30" x 8", Flat Top, Polished Edge, Right Hinge

M Series Cabinets

M Series Cabinet, 15-1/4" x 30" x 4", Flat Top, Polished Edge, Left Hinge

M Series Cabinets

M Series Cabinet, 15-1/4" x 30" x 4", Flat Top, Polished Edge, Right Hinge

M Series Cabinets

M Series Cabinet, 23-1/4" x 30" x 4", Flat Top, Bevel Edge, Left Hinge

M Series Cabinets

M Series Cabinet, 23-1/4" x 30" x 4", Flat Top, Bevel Edge, Right Hinge

M Series Cabinets

M Series Cabinet, 11-1/4" x 39-3/8" x 4", Flat Top, Bevel Edge, Left Hinge

M Series Cabinets

M Series Cabinet, 23-1/4" x 30" x 4", Flat Top, Polished Edge, Left Hinge

M Series Cabinets

M Series Cabinet, 11-1/4" x 39-3/8" x 4", Flat Top, Bevel Edge, Right Hinge

M Series Cabinets

M Series Cabinet, 11-1/4" x 39-3/8" x 4", Flat Top, Polished Edge, Left Hinge

M Series Cabinets

M Series Cabinet, 23-1/4" x 30" x 4", Flat Top, Polished Edge, Right Hinge

M Series Cabinets

M Series Cabinet, 11-1/4" x 39-3/8" x 4", Flat Top, Polished Edge, Right Hinge

M Series Cabinets

M Series Cabinet, 19-1/4" x 39-3/8" x 8", Flat Top, Polished Edge, Left Hinge

M Series Cabinets

M Series Cabinet, 19-1/4" x 39-3/8" x 8", Flat Top, Polished Edge, Right Hinge

M Series Cabinets

M Series Cabinet, 11-1/4" x 30" x 4", Flat Top, Bevel Edge, Left Hinge

M Series Cabinets

M Series Cabinet, 11-1/4" x 30" x 4", Flat Top, Bevel Edge, Right Hinge

M Series Cabinets

M Series Cabinet, 19-1/4" x 39-3/8" x 8", Flat Top, Bevel Edge, Left Hinge

M Series Cabinets

M Series Cabinet, 19-1/4" x 39-3/8" x 8", Flat Top, Bevel Edge, Right Hinge

M Series Cabinets

M Series Cabinet, 11-1/4" x 30" x 4", Flat Top, Polished Edge, Left Hinge

M Series Cabinets

M Series Cabinet, 11-1/4" x 30" x 4", Flat Top, Polished Edge, Right Hinge

M Series Cabinets
CAD Files
M Series Cabinet, 23-1/4" x 30" x 6", Flat Top, Bevel Edge, Right Hinge

M Series Cabinets FRONT

M Series Cabinet, 19-1/4" x 39-3/8" x 4", Flat Top, Bevel Edge, Left Hinge

M Series Cabinets FRONT

M Series Cabinet, 19-1/4" x 39-3/8" x 4", Flat Top, Bevel Edge, Right Hinge

M Series Cabinets FRONT

M Series Cabinet, 15-1/4" x 39-3/8" x 4", Flat Top, Bevel Edge, Left Hinge

M Series Cabinets FRONT

M Series Cabinet, 23-1/4" x 30" x 6", Flat Top, Polished Edge, Left Hinge

M Series Cabinets FRONT

M Series Cabinet, 15-1/4" x 30" x 6", Flat Top, Bevel Edge, Left Hinge

M Series Cabinets FRONT

M Series Cabinet, 19-1/4" x 39-3/8" x 4", Flat Top, Polished Edge, Left Hinge

M Series Cabinets FRONT

M Series Cabinet, 15-1/4" x 39-3/8" x 4", Flat Top, Bevel Edge, Right Hinge

M Series Cabinets FRONT

M Series Cabinet, 23-1/4" x 39-3/8" x 8", Flat Top, Bevel Edge, Left Hinge

M Series Cabinets FRONT

M Series Cabinet, 23-1/4" x 30" x 6", Flat Top, Polished Edge, Right Hinge

M Series Cabinets FRONT

M Series Cabinet, 15-1/4" x 30" x 6", Flat Top, Bevel Edge, Right Hinge

M Series Cabinets FRONT

M Series Cabinet, 23-1/4" x 39-3/8" x 8", Flat Top, Bevel Edge, Right Hinge

M Series Cabinets FRONT

M Series Cabinet, 19-1/4" x 39-3/8" x 4", Flat Top, Polished Edge, Right Hinge

M Series Cabinets FRONT

M Series Cabinet, 15-1/4" x 30" x 6", Flat Top, Polished Edge, Left Hinge

M Series Cabinets FRONT

M Series Cabinet, 23-1/4" x 39-3/8" x 8", Flat Top, Polished Edge, Left Hinge

M Series Cabinets FRONT

M Series Cabinet, 23-1/4" x 30" x 6", Flat Top, Bevel Edge, Left Hinge

M Series Cabinets FRONT

M Series Cabinet, 15-1/4" x 30" x 6", Flat Top, Polished Edge, Right Hinge

M Series Cabinets FRONT

M Series Cabinet, 19-1/4" x 30" x 6", Flat Top, Bevel Edge, Left Hinge

M Series Cabinets FRONT

M Series Cabinet, 23-1/4" x 39-3/8" x 8", Flat Top, Polished Edge, Right Hinge

M Series Cabinets FRONT

M Series Cabinet, 19-1/4" x 30" x 6", Flat Top, Bevel Edge, Right Hinge

M Series Cabinets FRONT

M Series Cabinet, 23-1/4" x 39-3/8" x 4", Flat Top, Bevel Edge, Left Hinge

M Series Cabinets FRONT

M Series Cabinet, 19-1/4" x 30" x 6", Flat Top, Polished Edge, Left Hinge

M Series Cabinets FRONT

M Series Cabinet, 23-1/4" x 39-3/8" x 4", Flat Top, Bevel Edge, Right Hinge

M Series Cabinets FRONT

M Series Cabinet, 23-1/4" x 30" x 8", Flat Top, Bevel Edge, Left Hinge

M Series Cabinets FRONT

M Series Cabinet, 11-1/4" x 39-3/8" x 6", Flat Top, Bevel Edge, Left Hinge

M Series Cabinets FRONT

M Series Cabinet, 11-1/4" x 39-3/8" x 6", Flat Top, Bevel Edge, Right Hinge

M Series Cabinets FRONT

M Series Cabinet, 15-1/4" x 39-3/8" x 4", Flat Top, Polished Edge, Left Hinge

M Series Cabinets FRONT

M Series Cabinet, 23-1/4" x 39-3/8" x 4", Flat Top, Polished Edge, Left Hinge

M Series Cabinets FRONT

M Series Cabinet, 19-1/4" x 30" x 6", Flat Top, Polished Edge, Right Hinge

M Series Cabinets FRONT

M Series Cabinet, 15-1/4" x 39-3/8" x 4", Flat Top, Polished Edge, Right Hinge

M Series Cabinets FRONT

M Series Cabinet, 11-1/4" x 39-3/8" x 6", Flat Top, Polished Edge, Left Hinge

M Series Cabinets FRONT

M Series Cabinet, 23-1/4" x 39-3/8" x 4", Flat Top, Polished Edge, Right Hinge

M Series Cabinets FRONT

M Series Cabinet, 11-1/4" x 39-3/8" x 6", Flat Top, Polished Edge, Right Hinge

M Series Cabinets FRONT

M Series Cabinet, 15-1/4" x 39-3/8" x 6", Flat Top, Polished Edge, Left Hinge

M Series Cabinets FRONT

M Series Cabinet, 15-1/4" x 39-3/8" x 6", Flat Top, Polished Edge, Right Hinge

M Series Cabinets FRONT

M Series Cabinet, 23-1/4" x 30" x 8", Flat Top, Bevel Edge, Right Hinge

M Series Cabinets FRONT

M Series Cabinet, 15-1/4" x 39-3/8" x 6", Flat Top, Bevel Edge, Left Hinge

M Series Cabinets FRONT

M Series Cabinet, 23-1/4" x 30" x 8", Flat Top, Polished Edge, Left Hinge

M Series Cabinets FRONT

M Series Cabinet, 15-1/4" x 39-3/8" x 6", Flat Top, Bevel Edge, Right Hinge

M Series Cabinets FRONT

M Series Cabinet, 23-1/4" x 30" x 8", Flat Top, Polished Edge, Right Hinge

M Series Cabinets FRONT

M Series Cabinet, 15-1/4" x 39-3/8" x 8", Flat Top, Bevel Edge, Left Hinge

M Series Cabinets FRONT

M Series Cabinet, 11-1/4" x 30" x 6", Flat Top, Bevel Edge, Left Hinge

M Series Cabinets FRONT

M Series Cabinet, 11-1/4" x 30" x 6", Flat Top, Bevel Edge, Right Hinge

M Series Cabinets FRONT

M Series Cabinet, 15-1/4" x 39-3/8" x 8", Flat Top, Bevel Edge, Right Hinge

M Series Cabinets FRONT

M Series Cabinet, 11-1/4" x 30" x 6", Flat Top, Polished Edge, Left Hinge

M Series Cabinets FRONT

M Series Cabinet, 15-1/4" x 39-3/8" x 8", Flat Top, Polished Edge, Left Hinge

M Series Cabinets FRONT

M Series Cabinet, 11-1/4" x 30" x 6", Flat Top, Polished Edge, Right Hinge

M Series Cabinets FRONT

M Series Cabinet, 15-1/4" x 39-3/8" x 8", Flat Top, Polished Edge, Right Hinge

M Series Cabinets FRONT

M Series Cabinet, 19-1/4" x 30" x 4", Flat Top, Bevel Edge, Right Hinge

M Series Cabinets FRONT

M Series Cabinet, 23-1/4" x 39-3/8" x 6", Flat Top, Polished Edge, Right Hinge

M Series Cabinets FRONT

M Series Cabinet, 19-1/4" x 30" x 4", Flat Top, Polished Edge, Left Hinge

M Series Cabinets FRONT

M Series Cabinet, 19-1/4" x 30" x 4", Flat Top, Polished Edge, Right Hinge

M Series Cabinets FRONT

M Series Cabinet, 23-1/4" x 39-3/8" x 6", Flat Top, Bevel Edge, Left Hinge

M Series Cabinets FRONT

M Series Cabinet, 23-1/4" x 39-3/8" x 6", Flat Top, Bevel Edge, Right Hinge

M Series Cabinets FRONT

M Series Cabinet, 19-1/4" x 30" x 4", Flat Top, Bevel Edge, Left Hinge

M Series Cabinets FRONT

M Series Cabinet, 23-1/4" x 39-3/8" x 6", Flat Top, Polished Edge, Left Hinge

M Series Cabinets FRONT

M Series Cabinet, 19-1/4" x 39-3/8" x 6", Flat Top, Bevel Edge, Left Hinge

M Series Cabinets FRONT

M Series Cabinet, 15-1/4" x 30" x 8", Flat Top, Bevel Edge, Left Hinge

M Series Cabinets FRONT

M Series Cabinet, 19-1/4" x 39-3/8" x 6", Flat Top, Bevel Edge, Right Hinge

M Series Cabinets FRONT

M Series Cabinet, 15-1/4" x 30" x 8", Flat Top, Bevel Edge, Right Hinge

M Series Cabinets FRONT

M Series Cabinet, 19-1/4" x 39-3/8" x 6", Flat Top, Polished Edge, Left Hinge

M Series Cabinets FRONT

M Series Cabinet, 19-1/4" x 30" x 8", Flat Top, Bevel Edge, Left Hinge

M Series Cabinets FRONT

M Series Cabinet, 15-1/4" x 30" x 8", Flat Top, Polished Edge, Left Hinge

M Series Cabinets FRONT

M Series Cabinet, 19-1/4" x 30" x 8", Flat Top, Bevel Edge, Right Hinge

M Series Cabinets FRONT

M Series Cabinet, 19-1/4" x 39-3/8" x 6", Flat Top, Polished Edge, Right Hinge

M Series Cabinets FRONT

M Series Cabinet, 15-1/4" x 30" x 8", Flat Top, Polished Edge, Right Hinge

M Series Cabinets FRONT

M Series Cabinet, 19-1/4" x 30" x 8", Flat Top, Polished Edge, Left Hinge

M Series Cabinets FRONT

M Series Cabinet, 15-1/4" x 30" x 4", Flat Top, Bevel Edge, Left Hinge

M Series Cabinets FRONT

M Series Cabinet, 15-1/4" x 30" x 4", Flat Top, Bevel Edge, Right Hinge

M Series Cabinets FRONT

M Series Cabinet, 19-1/4" x 30" x 8", Flat Top, Polished Edge, Right Hinge

M Series Cabinets FRONT

M Series Cabinet, 15-1/4" x 30" x 4", Flat Top, Polished Edge, Left Hinge

M Series Cabinets FRONT

M Series Cabinet, 15-1/4" x 30" x 4", Flat Top, Polished Edge, Right Hinge

M Series Cabinets FRONT

M Series Cabinet, 23-1/4" x 30" x 4", Flat Top, Bevel Edge, Left Hinge

M Series Cabinets FRONT

M Series Cabinet, 23-1/4" x 30" x 4", Flat Top, Bevel Edge, Right Hinge

M Series Cabinets FRONT

M Series Cabinet, 11-1/4" x 39-3/8" x 4", Flat Top, Bevel Edge, Left Hinge

M Series Cabinets FRONT

M Series Cabinet, 23-1/4" x 30" x 4", Flat Top, Polished Edge, Left Hinge

M Series Cabinets FRONT

M Series Cabinet, 11-1/4" x 39-3/8" x 4", Flat Top, Bevel Edge, Right Hinge

M Series Cabinets FRONT

M Series Cabinet, 11-1/4" x 39-3/8" x 4", Flat Top, Polished Edge, Left Hinge

M Series Cabinets FRONT

M Series Cabinet, 23-1/4" x 30" x 4", Flat Top, Polished Edge, Right Hinge

M Series Cabinets FRONT

M Series Cabinet, 11-1/4" x 39-3/8" x 4", Flat Top, Polished Edge, Right Hinge

M Series Cabinets FRONT

M Series Cabinet, 19-1/4" x 39-3/8" x 8", Flat Top, Polished Edge, Left Hinge

M Series Cabinets FRONT

M Series Cabinet, 19-1/4" x 39-3/8" x 8", Flat Top, Polished Edge, Right Hinge

M Series Cabinets FRONT

M Series Cabinet, 11-1/4" x 30" x 4", Flat Top, Bevel Edge, Left Hinge

M Series Cabinets FRONT

M Series Cabinet, 11-1/4" x 30" x 4", Flat Top, Bevel Edge, Right Hinge

M Series Cabinets FRONT

M Series Cabinet, 19-1/4" x 39-3/8" x 8", Flat Top, Bevel Edge, Left Hinge

M Series Cabinets FRONT

M Series Cabinet, 19-1/4" x 39-3/8" x 8", Flat Top, Bevel Edge, Right Hinge

M Series Cabinets FRONT

M Series Cabinet, 11-1/4" x 30" x 4", Flat Top, Polished Edge, Left Hinge

M Series Cabinets FRONT

M Series Cabinet, 11-1/4" x 30" x 4", Flat Top, Polished Edge, Right Hinge

M Series Cabinets FRONT