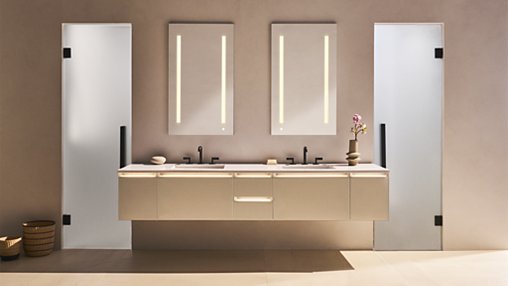 Cartesian Vanities
Discover the possibilities that allow you to challenge your design capabilities and explore farther.
List Price starting at $499
Available in 12", 24", 30" and 36" widths, 7-1/2" and 15" heights, 18-3/4" and 21-3/4" depth
Stack or gang your vanities together to create a modular experience to fit your needs
Side kits sold separately to allow for customization and flexibility
Drawer types: Plumbing Drawer, Full Drawer and Tip Out Drawer
Optional night light and available in 15 decorative glass options, including new Reeded textured glass
---
Vanities
Color & Texture

From moody to playful, calming to invigorating, nothing dictates the experience of a room like color and texture. Because the slightest change in tone or contour can completely change the perception of a surface, we spend countless hours developing and refining our palette and materials to achieve precise and purposeful impact so that you can create a styling space that makes a statement. Learn more, robern.com/color.

Durable Glass and Aluminum Construction

Durable rust-free anodized aluminum and glass construction - designed for disassembly and recycle, aluminum structural frame and drawer sides - resists intense moisture, ensuring long-lasting beauty.

Drawer Options

Available in plumbing, full and tip out options for concealed storage to keep all of your essentials close at hand. Plumbing drawer to allow clearance for drain (not available for 12" W drawer); tip out drawer (7-1/2" height - H1 only, not available for 12" W drawer) gives storage back by providing a drawer for smaller items and full drawer allows optimal storage solutions.

Slow-Close Drawers

Slow-close full-extension slides combined with the durability of aluminum construction ensure smooth operation of the vanity drawers that will last a lifetime.

Ergonomic Handle

Uniquely designed handle area allows for a comfortable feel and effortless operation.

White Glass Bottom Drawers

This shatter-proof bottom will not degrade or show wear. With the glass and aluminum construction of the drawers, when done with a hair dryer or curling iron, put directly into the drawer and know it will not burn or leave heat marks.

Night Light

The optional LED night light provides a soft light that illuminates the drawer interiors to help locate items in the middle of the night. Three color temperatures (selectable 2700K/4000K or 5000K) to color match with existing bathroom lighting and accompanying Robern lighted products. A night light accessory is available to add a night light to your drawers at a later date. One outlet will accomodate two night lights and are required for installation. Night light option is ETL certified to UL 2108, CSA Standard C22.2 No. 12.

Vanity Tops and Sinks

Optional Silestone Engineered Stone vanity tops are available in Lava Black, Stone Gray or Quartz White and include a separate white porcelain rectangular sink. White glass vanity tops with integrated glass sinks can help you build a look you'll love. Available with single hole or three hole (8" widespread) faucet drillings.

Glass Bin Storage

Glass bins are designed specifically for quick access to small items. 7-1/2" height (H1) vanities include five glass bins for plumbing drawers and four glass bins for full drawers; 15" height (H2) vanities include one glass bin with plumbing drawers.

Side Kits

Side kits are sold separately to allow for customization and are available individually or as pairs. You must choose one side kit or alcove kit for every exposed side.

Alcove Kits

Alcove Kits are used in place of side kits when installing the vanity into an alcove by adding a filler to cover the gap between the vanity and the wall, allowing for seamless vanity installation for a corner or an alcove.

Ganging Kits

Ganging Kits are required when combining two or more vanities and are available in four heighs and determined by the final configuration of the vanity height (7-1/2", 15", 22-1/2" or 30").