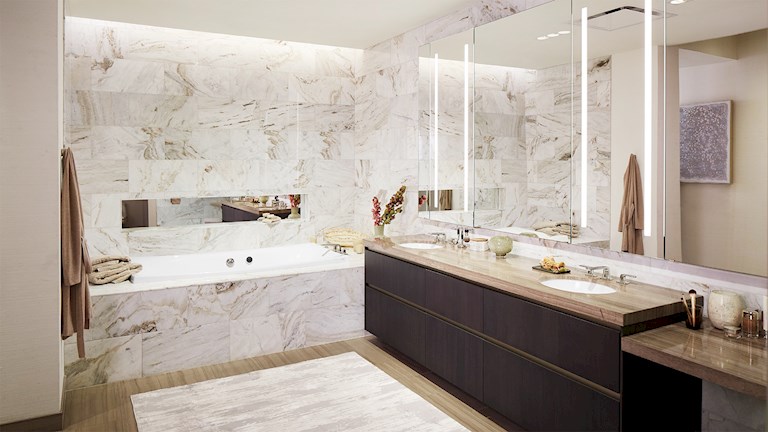 With a premier location in Chicago's idyllic Lakeshore East neighborhood, St. Regis Chicago is an architectural gem in the truest sense of the word.
Designed by award-winning architect Jeanne Gang, the tower's unique shape is inspired by the frustum — a geometric form found in crystal formations — with a glass exterior in varying shades of blue to reflect the colors of Lake Michigan and the Chicago River below.
In a building this stunning, no detail can be overlooked — and custom AiO medicine cabinets from Robern provided the perfect finishing touch for the luxurious residences within.
Location: St. Regis Chicago in Chicago, Illinois
Design Team: Hirsch Bedner Associates
Robern Products Used: Custom AiO 60" H Medicine Cabinets
---
Each residence features thoughtfully curated details inspired by the beauty of sapphire, amethyst, topaz and timeless fluorite.
---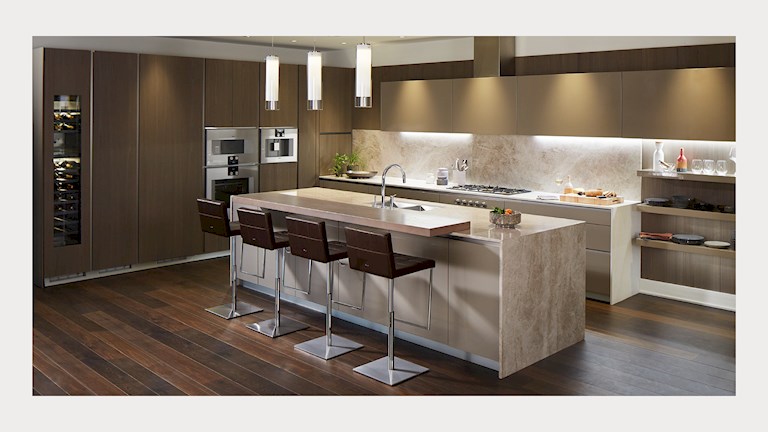 The Designer
Since 1965, world-renowned hospitality design firm Hirsch Bedner Associates has been creating signature interiors for luxury hotels, resorts, spas, casinos, restaurants, cruise ships, and residences.
When designing the luxury residences at St. Regis Chicago, HBA Los Angeles drew inspiration from the building's crystalline exterior to create exquisite interior spaces guided by the beauty of four gemstones — sapphire, amethyst, topaz and fluorite.
The Space
St. Regis Chicago is a mixed-use space which comprises luxury condominiums, a five-star hotel, and two restaurants. Luxury residences range from single-bedroom units to five-bedroom penthouses.
The elegant living spaces blend modern design with meticulously layered details like architectural lighting, high ceilings, natural stone walls, sweeping panoramic views, and state-of-the-art amenities.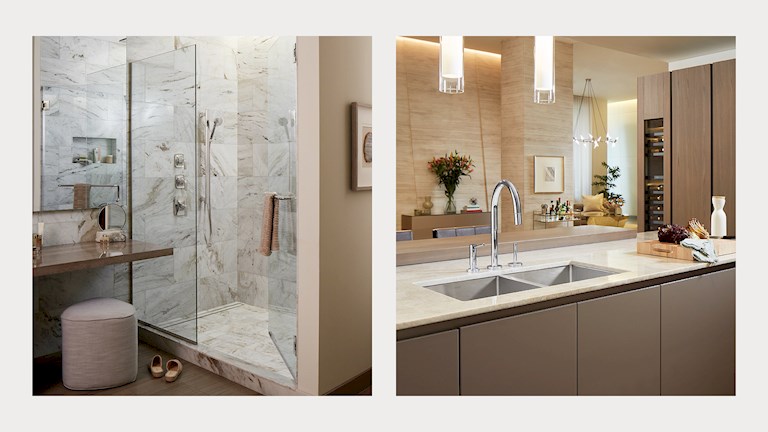 The Robern Difference
Hirsch Bedner Associates selected the AiO Lighted Medicine Cabinet from Robern to provide a seamless storage solution in the bathrooms. To make the most of the high ceilings, the collaborative design team at Robern created a custom 60-inch AiO cabinet, and multiple cabinets were paired together to create a statement-making wall array.
Combining functionality with cutting-edge technology, AiO cabinets enhance the daily routine for residents with built-in electrical outlets, USB charging ports, and LUM Lighting technology with one-touch dimming — epitomizing the St. Regis Chicago's principle of "choice without compromise."
---
Additional Design Portfolios