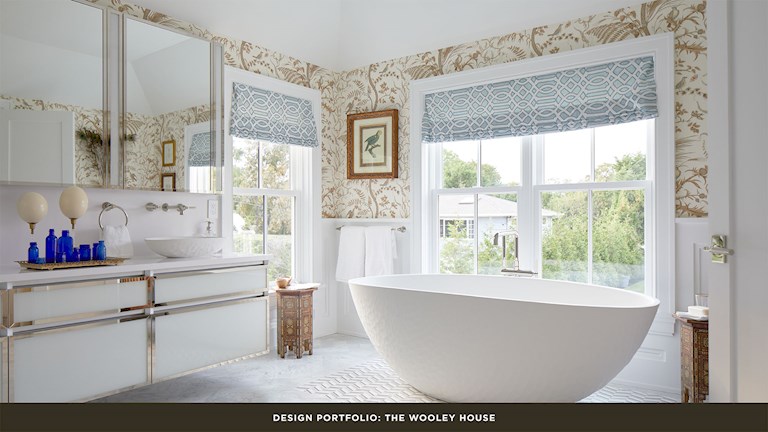 The historic Wooley House, located in the Village of Southampton on New York's Long Island, has the quaint charm you'd expect from a 19th century farmhouse. But a recent renovation — the collaborative effort of more than 24 designers — has transformed this historic home into a stunning modern living space.
Location: Southampton, New York
Developer: Jason Khan and Juan Londono, JGK Equities
Builder: Doug Cavallo, Cavallo Building Corp.
Interior Designer: Lucy Cuneo, Lucy Cuneo Lifestyle, Zandy Gammons and Liles Dunnigan, The Warehouse Interiors, Melanie Roy Design for Todd Merrill Studio
Robern Products Used: Profiles Medicine Cabinets, Profiles Lighting, Profiles Vanities, Vitality Lighted Mirrors, Cartesian Vanities
---
"I love preservation, which is why I took the project on, but it was a monumental challenge." Jason Khan, Owner
---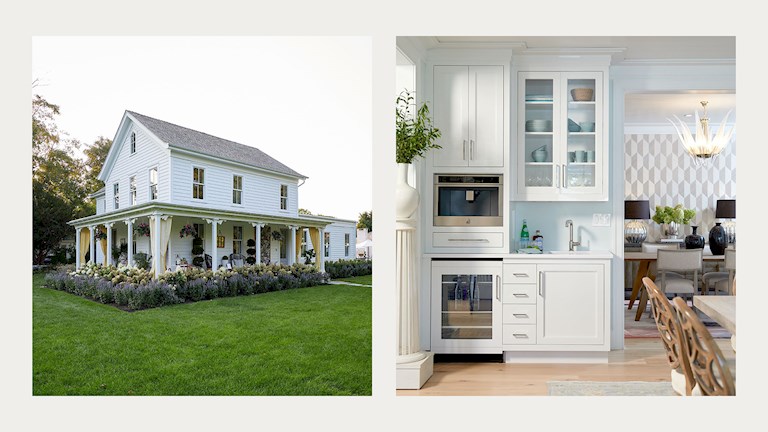 Homeowners Jason Khan and Juan Londono share a deep interest in renovating and reimagining historic homes, making the Wooley House a rewarding passion project for them. "I love preservation, which is why I took the project on, but it was a monumental challenge," Khan says.
The entire structure was relocated to a new foundation on the property, and an expansion was added to create a new lower level and an outdoor living area. Because of the home's historical significance and its designation as a contributing resource to the Village of Southampton, these renovations needed to adhere to strict historical guidelines and preserve the home's character.
The stunning restoration was featured as the 2021 Hampton Designer Showhouse, a showcase of premier design talent benefiting Stony Brook Southampton Hospital.
---
"The house had to be reimagined for today's living, and for a family to use it in a modern way." Jason Khan, Owner
---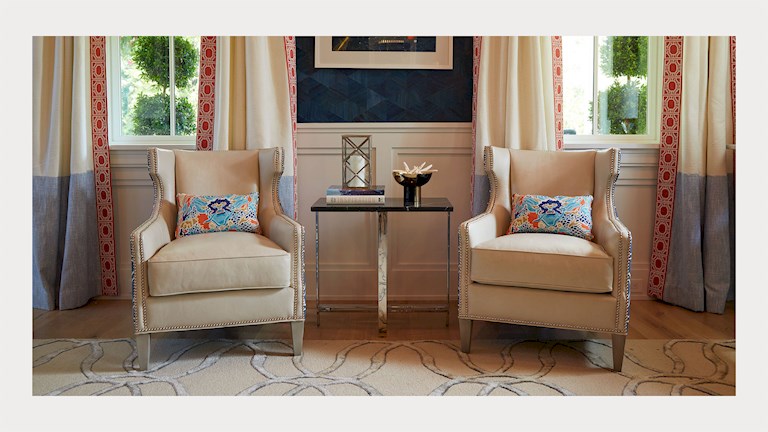 While many of the original architectural details were preserved — including the Italianate detailing on the front porch and the massive wood beams throughout the home — the interior of the home was beautifully updated to created a luxurious living space outfitted with state-of-the-art fixtures and features. "The house had to be reimagined for today's living, and for a family to use it in a modern way," Khan says.
Robern worked with the homeowners and design teams, offering product specifications to complement the home's timeless aesthetic while adding modern functionality.
Drawing from a vast portfolio — including modular products that can be curated to create semi-custom solutions for any design — the Robern team was able to recommend readily available and easily configurable solutions for three key areas of the home to not only make a visual impact, but also elevate the day-to-day functionality for the homeowners.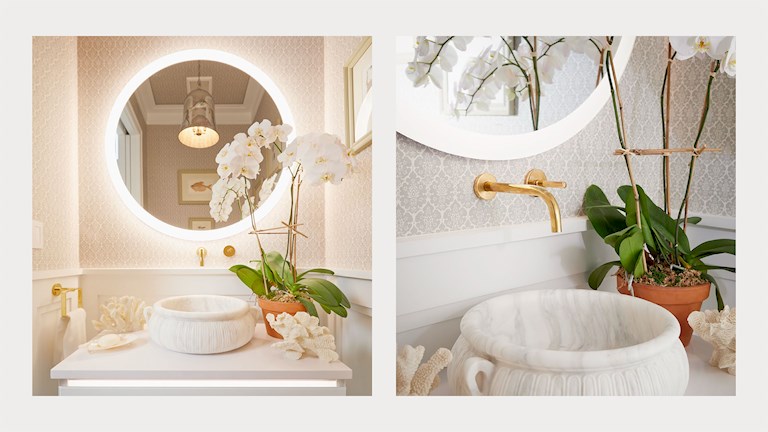 Powder Room
The powder room was designed by Lucy Cuneo, a renowned photographer and lifestyle expert known for her fun and inviting aesthetic. Cuneo selected a Robern Vitality lighted mirror and Cartesian vanity to bring bright task lighting and functional storage to her cozy, coastal-inspired design.
The round, perimeter-lit Vitality mirror adds to the relaxed feel of the space, creating a welcoming space for guests while providing the highest quality of lighting in its class. The floating Cartesian vanity in Matte White with a custom top provides gentle night lighting while complementing the carved marble vessel sink.
Primary Bath
Zandy Gammons and Liles Dunnigan, the design duo at The Warehouse Interiors, were tasked with designing the primary bath, which Gammons describes as "bold and unexpected."
A dedicated team at Robern worked with the designers to create a modular solution perfectly tailored to meet the everyday needs of the homeowners and provided a bill of materials to streamline the ordering process.
The Robern team specified Profiles Medicine Cabinets, Vanities, and Vertical Lighting to make a dramatic impact in this space. The distinctive polished nickel accents of the Profiles Collection reflect the eye-catching patterns and
textures used throughout the room.
Club Room
The lower level club room was a partnership between Melanie Roy, a full-service interior designer known for combining luxury with functionality, and Todd Merrill Studio, a contemporary fine art and design gallery with locations in NYC and Southampton.
Their goal was to create the "ultimate low-key luxe hangout space, with a focus on high craft and high glam." Merrill is a longtime champion of livable art, and the rec room is filled with bespoke furnishings that merge fine art, craftsmanship, and design.
For this eclectic space, Robern specified the modular Cartesian Vanity in a satin bronze finish. With its refined palette, premium construction, and versatile modularity, the Cartesian Collection provides understated and ample rec room storage that complements the surrounding fine art pieces, along with built-in night lighting to add ambiance.
---
Additional Design Portfolios