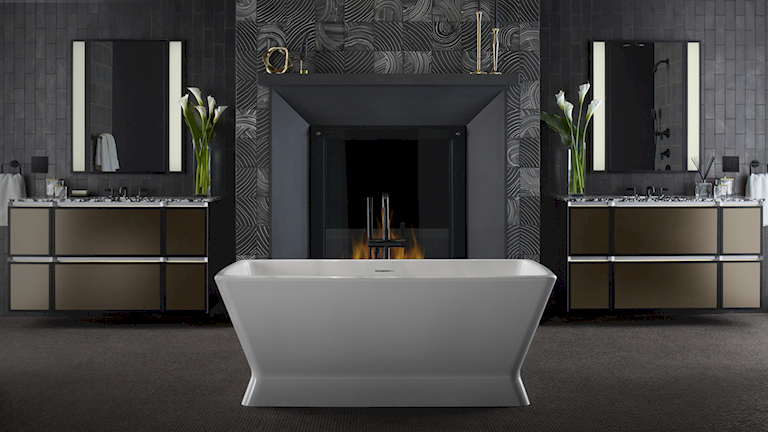 KALLISTA, Robern and ANN SACKS Collaborate in a Custom Approach to Interior Design
KOHLER, Wis. – KALLISTA, Robern and ANN SACKS, part of the Kohler Decorative Products Group, have delivered industry leading, design-driven products for decades.  This commitment to quality and design is steeped within each brand's DNA and the catalyst upon which all else follows – from seeking out the finest in materials and finishes to impeccable functionality, the latest in technology and unparalleled customer service.  By weaving in custom capabilities as a standard option within its repertoire, it raises the brands' collective offering and separates each from today's cookie cutter, mass production marketplace.
"Designers are increasingly utilizing a deeper degree of customization to take their interiors to an entirely new level of sophistication, while simultaneously navigating the responsibility of budget and deadline constraints," said Seth Stevens, Chief Designer - Decorative Products.  "We identified the need to shift our business approach to better support our industry tastemakers.  We have differentiated our decorative brands offering from the one-size-fits-all, 20th century model by incorporating bespoke capabilities as another facet within our product and sales model.  Ultimately, we are providing a client inspired, business-to-designer partnership to help addresses challenges, offer real-time solutions, and provide unrivaled support for our clients working with our unique product designs."
Robern has made its reputation within the industry on its extraordinary custom abilities and exacting technology.  KALLISTA has long forged a place within the annuals of product design and finish customization from its trademark living finishes, accessing PVD options to collaborating with designer on specific product needs.  ANN SACKS is renowned for its in-house designs handcrafted at its Portland, Ore. facility with custom sizes and full-spectrum array of glazes to match virtually any desired shade and space.  By combining proven strategies, successes and the design prowess each brand brings to the table, a solid approach to better serve important clientele began to take shape.
The result is a powerful collaboration that provides an endless toolbox of possibilities showcasing the brands' product lines and custom abilities, all thoughtfully supported by a dedicated staff for seamless execution and delivery.  A snapshot of this one-stop, whole home solution includes:
Streamlined Process.  Clients will have a single point of contact throughout the creative and specification process to ensure a seamless blend of the Kohler Decorative Products brands.
Enhanced Customization.  Full, partial or single product customization is now simply part of the overall KALLISTA, Robern, and ANN SACKS offerings Customers can define a design preference or need, and accommodate unique area configurations with confidence, so product selections become seamless in execution to capture a designer's vision and create an individual experience. Product quantities can vary pending on the customization.
Strategic Partnership with Industry Insight.  Identifying potential issues that could derail a project before it starts, such as compliance to individual state requirements and abilities to adjust height, length and width to better serve space and other construction challenges are imperative to our client's success.  
Collaborative efforts, endless possibilities.  The Decorative Products Group can now advance its product designs on a global scale and perspective by proactively seeking out new partnerships to support and enhance the brands' best-in-class technology and sophisticated design for a multi-tiered portfolio unmatched in today's market. 
Leveraging Kohler Co.'s legacy of design and cutting-edge technology.  A reputation that spans 145 years strong stands behind every brand under its broad business umbrella.
"Through vision, determination and responsiveness to meet a clear need within the industry, ANN SACKS, KALLISTA and Robern have developed a program that underscores its commitment to its clientele and the design acumen that drives the Kohler brands every day," said Bill Hunsberger – Sales Manager – North American Projects & Specifications, Decorative Products. "Tapping into its relationships within Kohler Co. and exploring new avenues of technology and design through industry and trade partnerships further aligns the goals our Kohler Decorative Group has set.  I could not be more pleased with the outcome."
---
About Robern
Robern believes that people's everyday routines should never feel ordinary. That's why its mission is to craft mirrors, vanities, medicine cabinets and lighting options that are beyond the expected—blending thoughtful design, innovative technology, impeccable craftsmanship and quality materials into products that will transform people's styling spaces and reflect their individual style.
Founded in 1968 in Bristol, Pennsylvania, Robern grew out of Rosa and Bernie Meyers' belief that individual style should be celebrated and fostered. Today, their pioneering approach to designing highly personalized styling spaces remains at the heart of what Robern does. Their commitment to craftsmanship and fine materials is evident in every piece Robern makes out of its Bristol headquarters.
In 1995, Robern joined the Kohler Co. family of businesses, building upon the brand's comprehensive and thoughtful approach to exceptional styling spaces. From its humble beginnings to a technological force within home design, Robern remains the answer for designers, architects and consumers seeking out the finest in modern, sophisticated cabinetry, vanities, mirrors and lighting. For additional information on Robern products, customers may call 1 (800) 877-2376 or visit www.robern.com.
About Kohler
Founded in 1873 and headquartered in Kohler, Wis., Kohler Co. is one of America's oldest and largest privately held companies. Kohler is a global leader in the manufacturer of kitchen and bath products, engines and power generation systems, cabinetry, tile and home interiors, and international host to award-winning hospitality and world-class golf destinations.
---