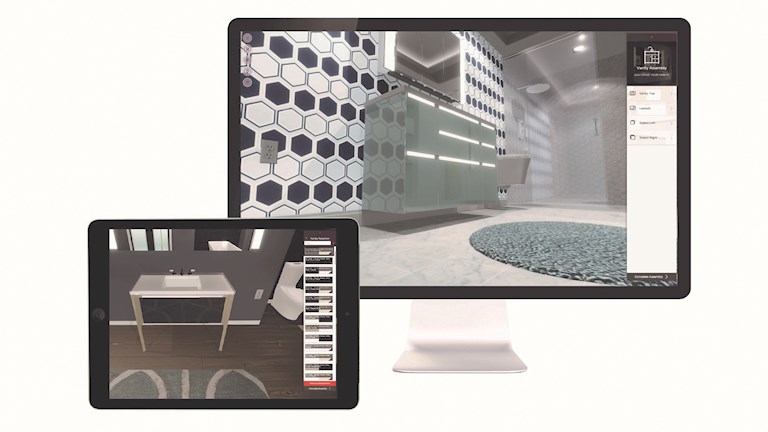 Robern Designer – Design Innovation at Your Fingertips
The New Robern Designer Tool Simplifies the Way to Visualize and Choose Robern Vanities, Mirrors, Medicine Cabinets and Lighting
Bristol, Penn. (January 9, 2018) – Robern, the leader in luxury styling spaces, understands that remodeling a bathroom can be an overwhelming process and today unveils a free tool—Robern Designer—that makes designing a styling space simple and fun. Robern Designer will be available March 2018.
The tool—which is first of its kind for bathroom design—empowers architects, designers, showrooms and homeowners to mix and match Robern vanities, mirrors, medicine cabinets and lighting in a virtual space that resembles their project and then visualize how all of the different design elements come together to create a beautiful finished room with more than 12.9 billion-bathroom configurations.
"People love that Robern's modular products give them so much design flexibility, but there's no way for them to see all of the different options without visiting several different showrooms," said Devon George, Director of Marketing, Robern. "People want a way to see all of the Robern product options out there and then easily visualize how all of their selections will look together in a finished space. With Robern Designer, we are taking the legwork and guesswork out of bathroom design by allowing people to play around with different Robern products in a cool and interactive 3D virtual showroom that resembles their space. All of our products are right there in the tool, and users can mix and match and rearrange them as many times as they want. Once they like what they see, they can download and share the image with their showrooms and design team. Robern Designer will even automatically pull together a bill of materials that specifies exactly which products and options they need."
To help bring Robern Designer to life, Robern has partnered with Marxent, the leader in augmented reality (AR) and virtual reality (VR) technology for home builders, retailers, and manufacturers. Marxent's award-winning VisualCommerce™ 3D Cloud platform allows customers to configure and visualize Robern products with photo-quality realism.
Robern Designer is so easy to use that any homeowner, designer, architect or showroom can build out their space and try different products and configurations. It approaches the design process from a variety of angles: 
INSPIRATION: With our guided approach, Robern Designer allows you to select the best products for your space and gives confidence that whichever pieces you select will be the perfect fit.
PRODUCT SELECTION: With simple menus and intuitive filters, Robern Designer will recommend the pieces that fit your space and your needs.
DESIGN: The simple, drag-and-drop tool lets you design your room in real-time, mixing and matching products, and seeing the results in 3D. You can even change the time of day to view the night light features.
ORDERING: When you're finished, use the tool to create a bill of materials and get connected to a showroom near you or request a quote.
"Robern Designer is a great way to visualize Robern products and how they play from each other," said Michele Alfano, founder and creative director of Michele Alfano Design. "Robern seems to have thought of everything with this tool, from features that allow you to see quotes and find the nearest showroom to the ability to save the image to your computer. It's a wonderful tool."
To access the Robern Designer program and take advantage of this innovative tool, including free training sessions, please go to robern.com/designer.
About Marxent
Marxent is the leader in markerless Augmented Reality, Virtual Reality and 3D solutions for major retailers and manufacturers in home furnishings, building products, home building (design/build) and industrial equipment. Marxent's VisualCommerce™ 3D Cloud is a content management and hosting platform for 3D products that scales to the enterprise and powers upstream solutions for product visualization and configuration at all points in the customer path to purchase, including Mobile with Markerless AR, VR Showroom and Web VR applications. With VisualCommerce™ retail solutions, buyers can visually configure, price and quote projects with multiple components and customizations. In addition to top retailers, companies tapping into the power of VisualCommerce™ include American Woodmark, USG, AZEK Building Products (AZEK, TimberTech) and Toll Brothers Inc. (TOL). For more information, visit www.marxent.com.
---
About Robern
At Robern, the bathroom is our favorite room.  It is our private space.  It is our sanctuary.  For more than 50 years, Robern has specialized in creating luxurious spaces with a powerful product portfolio that moves beyond the expected industry standard to transform rooms into interiors of impeccable elegance.  By taking a more holistic approach to the bathroom and its importance, not only aesthetically, but to overall health and wellbeing, Robern has become a driving force within residential and commercial design with an artful blend of sophisticated form, innovative technology, impeccable craftsmanship, and quality materials.
Founded in 1968 in Bristol, Penn. by Rosa and Bernie Meyers, Robern's mission remains grounded in the Meyers' belief that individual style should be celebrated and fostered. Today, their pioneering approach, commitment to craftsmanship, quality, attention to detail, and utilization of the finest materials available, remains foundational to the Robern brand and is evident in every piece still hand-assembled on-site at its Bristol headquarters today.
In 1995, Robern joined the Kohler Co. family of businesses, building upon the breadth and depth of the brand's comprehensive and thoughtful approach to creating exceptional styling spaces.  From its humble beginnings to a technological force within home design, Robern has become a leading choice for designers, architects, and consumers seeking out the finest in vanities, medicine cabinets, mirrors, and lighting.  For additional information on Robern products, customers may call 1 (800) 877-2376 or visit www.robern.com.
About Kohler
Founded in 1873 and headquartered in Kohler, Wisconsin, Kohler Co. is one of America's oldest and largest privately held companies comprised of more than 40,000 associates.  With more than 50 manufacturing locations worldwide, Kohler is a global leader in the design, innovation and manufacture of kitchen and bath products; luxury cabinetry, tile and lighting; engines, generators, and clean energy solutions; and owner/operator of two, five-star hospitality and golf resort destinations in Kohler, Wisconsin, and St. Andrews, Scotland. Kohler's Whistling Straits golf course recently hosted the 43rd Ryder Cup.  The company also develops solutions to address pressing issues, such as clean water and sanitation, for underserved communities around the world to enhance the quality of life for current and future generations.  For more details, please visit kohlercompany.com.
---