Robern launches products to Ensure Bathrooms are Both Seen and Heard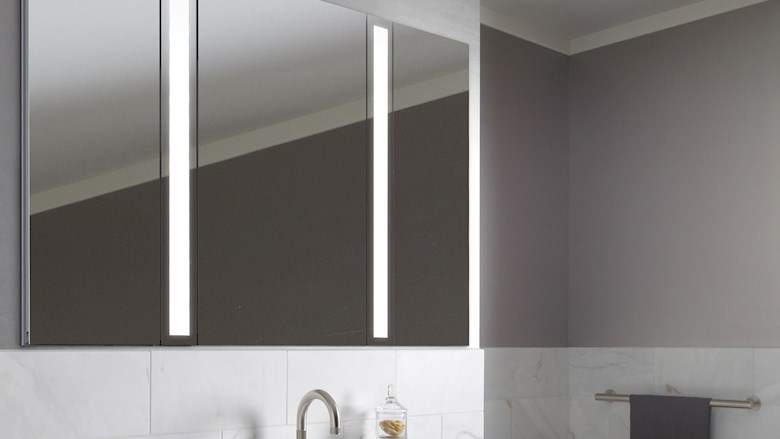 BRISTOL, PA. – September 8, 2015 – Robern, a leader in exceptional styling spaces, introduces new innovations in bathroom cabinetry and lighting solutions designed to redefine style and personalize any bathroom.
Audio for AiO™ Cabinet
Robern's AiO Cabinet, literally an all-in-one solution for organizing in style, is getting an update, ensuring it will be heard as well as seen. The AiO cabinet now offers an optional Bluetooth-compatible device for a quality sound experience built into the cabinet. It sports a clean, contemporary design, and already includes dimmable task lighting, electrical and USB outlets, and magnetic storage for metal grooming tools.
Decorative Glass Sconce
The popular Decorative Glass Sconce, known for adding chic drama to the bathroom, will now be offered in all of Robern's signature finishes, including 10 decorative glass colors, 6 digital wood patterns and 2 digital marble patterns. 
InLine Light
Ever focused on perfecting task lighting in the bathroom, Robern releases the InLine light, a fully dimmable task light available for the M Series and PL Series mirrored cabinet lines. Flush with the door of the cabinet, the InLine light provides variable lighting (between 3000 and 4000k) so users can adjust the color temperature to fit their needs.
Equally comfortable in residential and commercial properties, the InLine light has a sophisticated aesthetic that is design-neutral, making it a perfect fit for almost any décor. The LED light source promises to provide an energy-efficient long lasting source that delivers optimum output for any grooming task. 
---
About Robern
Robern believes that people's everyday routines should never feel ordinary. That's why its mission is to craft mirrors, vanities, medicine cabinets and lighting options that are beyond the expected—blending thoughtful design, innovative technology, impeccable craftsmanship and quality materials into products that will transform people's styling spaces and reflect their individual style.
Founded in 1968 in Bristol, Pennsylvania, Robern grew out of Rosa and Bernie Meyers' belief that individual style should be celebrated and fostered. Today, their pioneering approach to designing highly personalized styling spaces remains at the heart of what Robern does. Their commitment to craftsmanship and fine materials is evident in every piece Robern makes out of its Bristol headquarters. In 1995, Robern joined the Kohler Co. family of businesses, building upon the brand's comprehensive and thoughtful approach to exceptional styling spaces. From its humble beginnings to a technological force within home design, Robern remains the answer for designers, architects and consumers seeking out the finest in modern, sophisticated cabinetry, vanities, mirrors and lighting. For additional information on Robern products, customers may call 1 (800) 877-2376 or visit www.robern.com.
About Kohler
Founded in 1873 and headquartered in Kohler, Wisconsin, Kohler Co. is one of America's oldest and largest privately held companies comprised of more than 30,000 associates. With more than 50 manufacturing locations worldwide, Kohler is a global leader in the manufacture of kitchen and bath products; engines and power systems; premier furniture, cabinetry and tile; and owner/operator of two of the world's finest five-star hospitality and golf resort destinations in Kohler, and St Andrews, Scotland.
---