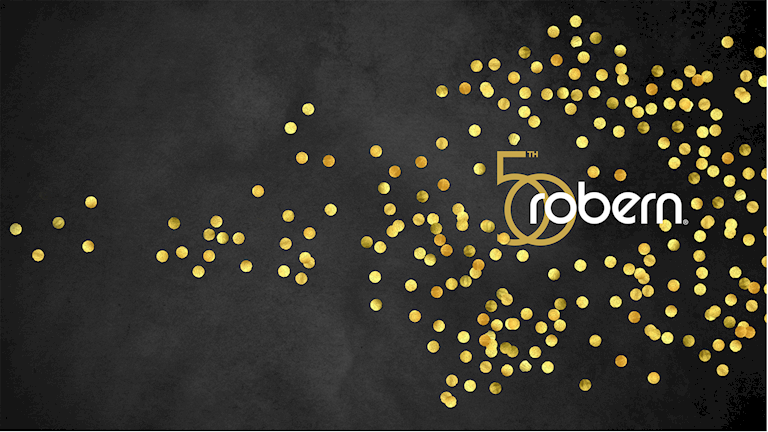 Robern 50 Years of the Unexpected
Bristol, Penn. – In 1968, entrepreneurs Rosa and Bernie Myers brought an idea for innovative cabinetry to a New York City apartment redesign project that required a variety of configurations. From that success, Robern was born.  In 1995, Robern joined the Kohler Co. family of businesses, keeping its headquarters and manufacturing facilities in Bristol, Penn.  As part of the Kohler Interiors Decorative Products sector, Robern built upon the brand's pioneering spirit and comprehensive, out-of-the-box approach to personal storage solutions, moving the mark with technologically advanced design elements not seen before in this category.
Through collaborative design and technology that transforms, Robern has created tailor-made bathroom solutions.  The Robern business model is steeped in four guiding principles – meaningful innovation, unparalleled craftsmanship, thoughtful design, and uncompromising quality – ideals that have been the foundation upon which Robern has framed its business ideology for the past 50 years.  Through experimentation, avid curiosity and an avant-garde spirit, Robern is committed to creating transformative everyday routines into welcomed daily experiences, its efforts positioning the company as a leader in inventive design within the industry.  
Robern finds its consumers' definition of luxury continue to evolve, valuing personal betterment for their families, homes and lifestyles above all else.  Robern stays the course that began 50 years earlier, striving to meet – and exceed – the sophisticated expectations of its clientele on every level.  By expanding its product portfolio with designs that resonate with personality, performance, and cutting-edge technology, Robern continues to break new ground with some of the most unique and intuitive products available in the marketplace today.  
From its humble beginnings to a technological force within home design, Robern remains the answer for designers, architects and consumers seeking out the finest in modern, sophisticated cabinetry, vanities, mirrors and lighting.
---
About Robern
At Robern, the bathroom is our favorite room.  It is our private space.  It is our sanctuary.  For more than 50 years, Robern has specialized in creating luxurious spaces with a powerful product portfolio that moves beyond the expected industry standard to transform rooms into interiors of impeccable elegance.  By taking a more holistic approach to the bathroom and its importance, not only aesthetically, but to overall health and wellbeing, Robern has become a driving force within residential and commercial design with an artful blend of sophisticated form, innovative technology, impeccable craftsmanship, and quality materials.
Founded in 1968 in Bristol, Penn. by Rosa and Bernie Meyers, Robern's mission remains grounded in the Meyers' belief that individual style should be celebrated and fostered. Today, their pioneering approach, commitment to craftsmanship, quality, attention to detail, and utilization of the finest materials available, remains foundational to the Robern brand and is evident in every piece still hand-assembled on-site at its Bristol headquarters today.
In 1995, Robern joined the Kohler Co. family of businesses, building upon the breadth and depth of the brand's comprehensive and thoughtful approach to creating exceptional styling spaces.  From its humble beginnings to a technological force within home design, Robern has become a leading choice for designers, architects, and consumers seeking out the finest in vanities, medicine cabinets, mirrors, and lighting.  For additional information on Robern products, customers may call 1 (800) 877-2376 or visit www.robern.com.
About Kohler
Founded in 1873 and headquartered in Kohler, Wisconsin, Kohler Co. is one of America's oldest and largest privately held companies comprised of more than 40,000 associates.  With more than 50 manufacturing locations worldwide, Kohler is a global leader in the design, innovation and manufacture of kitchen and bath products; luxury cabinetry, tile and lighting; engines, generators, and clean energy solutions; and owner/operator of two, five-star hospitality and golf resort destinations in Kohler, Wisconsin, and St. Andrews, Scotland. Kohler's Whistling Straits golf course recently hosted the 43rd Ryder Cup.  The company also develops solutions to address pressing issues, such as clean water and sanitation, for underserved communities around the world to enhance the quality of life for current and future generations.  For more details, please visit kohlercompany.com.
---