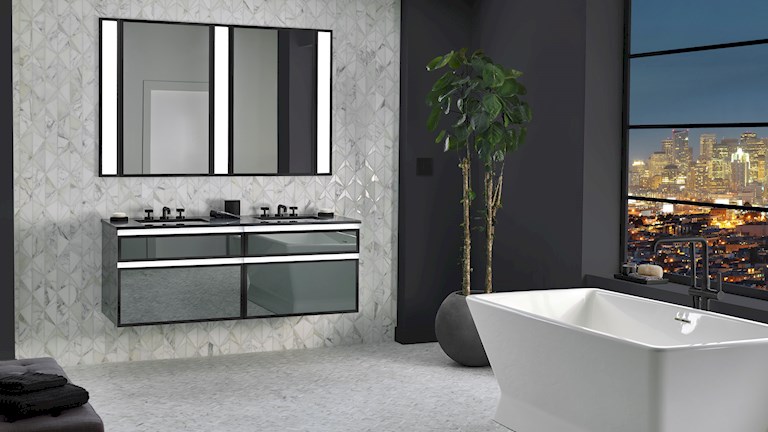 Robern Brings State-Of-Your-Art Styling With the Profiles Collection
Robern Elevates Modular Design to a Whole New Level of Sophistication and Sensibility with the Unveiling of the Profiles Collection
Bristol, Penn. – Robern officially unveiled the Profiles Collection at the 2018 Kitchen & Bath Industry Show, a comprehensive assortment of medicine cabinets, vanities, mirrors, and task lighting that affords trade professionals and consumers with a complete toolbox to customize any living space. Clean, modern styling and the latest in technology come together to create the Profiles Collection, an integrated approach to interior design offering ala carte cabinetry and vanity sizes, lighting options, and wide range of glass and metal finishes that provide stylish solutions for every lifestyle.
In the true spirit of avant-garde design, the Robern Profiles Collection started organically – inspired by clients and their individual expectations. Championed by longtime Robern studio head, Howard Katz, who after being with Robern for almost five decades, saw a pattern emerging after taking the lead on its custom Collaborative Design Services. Based upon this interactive partnership, Katz recognized a significant opportunity to differentiate Robern from other manufacturers, which ultimately became the catalyst behind Robern's work to provide a program that could meet the unique needs faced when executing complex, multi-space projects for clients with discerning tastes.
Katz identified that these projects required more than a cookie cutter approach, instead calling for versatility and flexibility to adapt to the many spatial configurations that come naturally with the job. It was Katz's passion and understanding of the Robern product portfolio coupled with Robern's many years of custom project work that ultimately became the cornerstones upon which the Profiles Collection was conceptualized. Almost two years in the works, Robern now comes to the marketplace with the Profiles Collection, a one-stop-shop of product choices no matter the project or space requirements.
Inspired elements of Art Deco design are woven into pared down Cubist styling to create the Profiles Collection modular offerings and incorporate high-function features and technological advances developed by Robern for its clientele for 50 years. From lighting, mirrors and medicine cabinets that can be ganged in dramatic presentation to vanities that offer integrated nightlights, in-drawer electrical outlets, slow close, tip out drawers, slim drawer inserts and organization kits offered in a range of glass and metal finishes, Robern offers a personalized approach. The Profiles Collection high-functioning technology and depth and breadth of product provide almost limitless options to transform any space, blurring the lines of traditional and contemporary styling for a look that remains timeless.
Metal Finishes
Robern also offers a wide range of metal finishes including Chrome and Polished Nickel plated finishes and Matte Black and Matte Gold anodized finishes. Robern's range of finish choices coordinate with sister brand, KALLISTA and KOHLER fixtures and fittings for even more options. The recent addition of the Robern anodized finishes again raises the bar. Known for its durability, color stability, ease of maintenance and chemically stable, non-toxic qualities, Robern unveiled Matte Black anodized finish in 2017 and is now following up with Matte Gold to coincide with its 50th anniversary and continue the pure custom story.
Profiles Medicine Cabinets
Form, function and versatility is the foundation upon which Robern has built its design reputation and is apparent throughout the Profiles medicine cabinets. Beyond the pared down aesthetic and classic lines, the medicine cabinets perform on every level. The medicine cabinets are offered in a range of sizes, with widths of 12 inches, 16 inches, 20 inches, and 24 inches; heights in 30-inch and 40-inch choices; and, 4-inch and 6-inch depths. The medicine cabinets also boast electrical outlets, USB charging ports, magnetic strips, interior lighting, magnification mirrors, and three complementing mirror designs. Exposed metal trim and four distinctive frame options are available in Chrome, Polished Nickel, Matte Gold, and Matte Black finishes.
Profiles Vanities
Sleek and sophisticated, the vanities offer a variety of glass colors from which to choose. The palette includes Stock choices of Mirror, Tinted Grey Mirror, White and Black; and longer lead time Classic shades of Matte White, Matte Grey, Matte Black, and Beach; and by Special Order Satin White, Satin Bronze or Ocean. Robern also offers Custom glass finishes in golden Arcobaleno Antique Mirror and silvered Plovere Di Stelle Antique Mirror.
Profiles Lighting
Profiles Lighting is available in warm, cool or tunable Kelvin color temperature options that can be adjusted to fit the moment or the surroundings. Whether preparing for the day or dressing for the evening, Robern provides dimmable and tunable lighting that puts every user in his or her best light. Robern lighting has a high lumen output and 90+ CRI (Color Rendering Index) to render remarkable, realistic color. The modular lights – ganged to Robern Profiles medicine Cabinets and Mirrors – are offered in 30-inch and 40-inch heights and 3.5-inch and 5-inch widths. The best-in-class LED lighting technology that stands behind every Robern product also assures seamless, dependable operation for years to come.
---
About Robern
At Robern, the bathroom is our favorite room.  It is our private space.  It is our sanctuary.  For more than 50 years, Robern has specialized in creating luxurious spaces with a powerful product portfolio that moves beyond the expected industry standard to transform rooms into interiors of impeccable elegance.  By taking a more holistic approach to the bathroom and its importance, not only aesthetically, but to overall health and wellbeing, Robern has become a driving force within residential and commercial design with an artful blend of sophisticated form, innovative technology, impeccable craftsmanship, and quality materials.
Founded in 1968 in Bristol, Penn. by Rosa and Bernie Meyers, Robern's mission remains grounded in the Meyers' belief that individual style should be celebrated and fostered. Today, their pioneering approach, commitment to craftsmanship, quality, attention to detail, and utilization of the finest materials available, remains foundational to the Robern brand and is evident in every piece still hand-assembled on-site at its Bristol headquarters today.
In 1995, Robern joined the Kohler Co. family of businesses, building upon the breadth and depth of the brand's comprehensive and thoughtful approach to creating exceptional styling spaces.  From its humble beginnings to a technological force within home design, Robern has become a leading choice for designers, architects, and consumers seeking out the finest in vanities, medicine cabinets, mirrors, and lighting.  For additional information on Robern products, customers may call 1 (800) 877-2376 or visit www.robern.com.
About Kohler
Founded in 1873 and headquartered in Kohler, Wisconsin, Kohler Co. is one of America's oldest and largest privately held companies comprised of more than 40,000 associates.  With more than 50 manufacturing locations worldwide, Kohler is a global leader in the design, innovation and manufacture of kitchen and bath products; luxury cabinetry, tile and lighting; engines, generators, and clean energy solutions; and owner/operator of two, five-star hospitality and golf resort destinations in Kohler, Wisconsin, and St. Andrews, Scotland. Kohler's Whistling Straits golf course recently hosted the 43rd Ryder Cup.  The company also develops solutions to address pressing issues, such as clean water and sanitation, for underserved communities around the world to enhance the quality of life for current and future generations.  For more details, please visit kohlercompany.com.
---