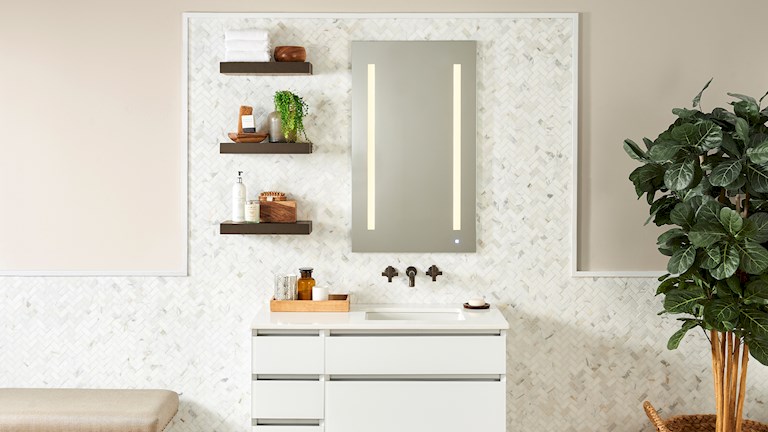 Robern Introduces Warm LED Lighting for Its Popular AiO Collection of Lighted Bathroom Cabinets and Mirrors
New Product Variation Designed in Response to Customer Demand
Bristol, Pa. (September 12, 2017) – To help architects, designers and homeowners match the lighting of their bathroom mirrors to the rest of their bathroom lighting, Robern is introducing a warm LED lighting option for its popular AiO Collection of lighted bathroom cabinets and mirrors.
The new warm color temperature AiO cabinets and mirrors provide light at 2,700 Kelvin. That color temperature better matches the color emitted by traditional incandescent bulbs that homeowners desire and often provides a softer reflection, empowering consumers to look and feel their best.
Robern integrated the warm LED lighting into the AiO Collection based on customer demand for lighted mirrors and cabinets that match the existing lighting in their styling spaces and bathrooms. Warmer lighting and the AiO were a natural fit for Robern customers: customers in the United States generally prefer warmer lighting, and demand for the AiO Collection has grown – especially in urban areas such as New York, Florida, California and Chicago.
"The new warm LED lighting options for Robern's AiO Collection are a perfect complement to the product line," says Devon George, Director of Marketing for Robern. "We at Robern pride ourselves on providing a breadth of options that fit into the everyday lives of each unique customer. Providing warm LED lighted mirrors is an important part of making the products that our customers need to create the inspiring bathrooms and styling spaces they desire."
All of the products in Robern's AiO Collection feature:
LUM Lighting — High-efficiency task lighting with on-mirror, capacitive one-touch dimming for the perfect intensity
OM Audio — Embedded Bluetooth audio that allows guests to easily connect smartphone devices for a quality sound experience
Other additions that create the ultimate guest experience, including a magnification mirror, a magnetic strip for storage of small tools such as tweezers, integrated electrical outlets and USB charging ports for easily recharging smartphone devices
This is the second major product announcement for Robern in September. On September 13, 2017, Robern announced its new Vitality line of lighted mirrors and cabinets.
---
About Robern
At Robern, the bathroom is our favorite room.  It is our private space.  It is our sanctuary.  For more than 50 years, Robern has specialized in creating luxurious spaces with a powerful product portfolio that moves beyond the expected industry standard to transform rooms into interiors of impeccable elegance.  By taking a more holistic approach to the bathroom and its importance, not only aesthetically, but to overall health and wellbeing, Robern has become a driving force within residential and commercial design with an artful blend of sophisticated form, innovative technology, impeccable craftsmanship, and quality materials.
Founded in 1968 in Bristol, Penn. by Rosa and Bernie Meyers, Robern's mission remains grounded in the Meyers' belief that individual style should be celebrated and fostered. Today, their pioneering approach, commitment to craftsmanship, quality, attention to detail, and utilization of the finest materials available, remains foundational to the Robern brand and is evident in every piece still hand-assembled on-site at its Bristol headquarters today.
In 1995, Robern joined the Kohler Co. family of businesses, building upon the breadth and depth of the brand's comprehensive and thoughtful approach to creating exceptional styling spaces.  From its humble beginnings to a technological force within home design, Robern has become a leading choice for designers, architects, and consumers seeking out the finest in vanities, medicine cabinets, mirrors, and lighting.  For additional information on Robern products, customers may call 1 (800) 877-2376 or visit www.robern.com.
About Kohler
Founded in 1873 and headquartered in Kohler, Wisconsin, Kohler Co. is one of America's oldest and largest privately held companies comprised of more than 40,000 associates.  With more than 50 manufacturing locations worldwide, Kohler is a global leader in the design, innovation and manufacture of kitchen and bath products; luxury cabinetry, tile and lighting; engines, generators, and clean energy solutions; and owner/operator of two, five-star hospitality and golf resort destinations in Kohler, Wisconsin, and St. Andrews, Scotland. Kohler's Whistling Straits golf course recently hosted the 43rd Ryder Cup.  The company also develops solutions to address pressing issues, such as clean water and sanitation, for underserved communities around the world to enhance the quality of life for current and future generations.  For more details, please visit kohlercompany.com.
---