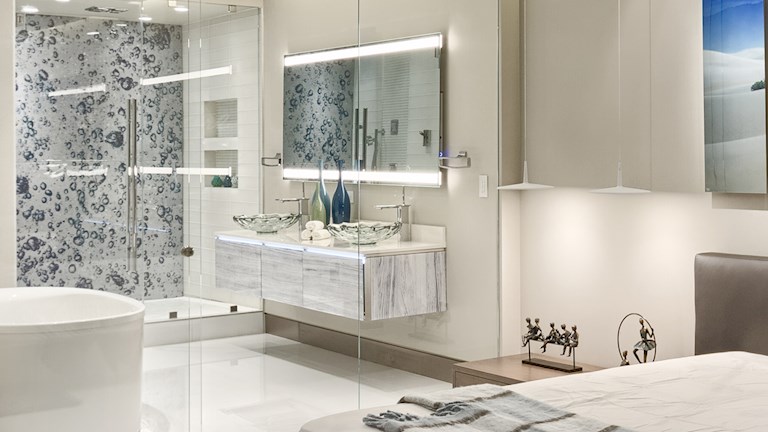 Robern Presents The Collection
A New Lighted Mirror Series Uniquely Designed for Large Scale Hospitality Installations
Bristol, Penn. – Broadening its range of lighted mirrors to specifically meet varying commercial project needs, Robern unveiled The Collection at HD Expo 2019 at Mandalay Bay, Las Vegas.  The lighted mirror series boasts over 140 different options, with seven light patterns and 42 different sizes.
The Collection is sold to the trade only, competitively set at an attractive, opening price point and reflects Robern's uncompromising light quality, modern design elements, and precision engineering.  Coupled with its unmatched customer service, The Collection is the perfect choice for large-scale hospitality projects.
The Collection Lighted Mirrors feature a breadth of options:
Seven mirror styles:  Perimeter, Edge Lit, Inset, Glow, Column, Horizontal Column, and Horizontal Edge Lit.
Warm, 3000K color temperature complementing overhead lighting and sconces so often used in hotel designs.
Precise light direction and superior output to eliminate dark shadows, allowing for bright, even task lighting and an illuminating reflection rich in saturated color tones.
Remarkable color rendering with a CRI (Color Rendering Index) of 90+ and R9 of 50+ for true, accurate color.
Durable rust-free anodized aluminum frame and glass construction with quality polished edge mirror.
A plug-and-hang system to make installation a breeze.  Power cords are installed for easy plug-in installation and pinch cleat mounting provides strength and simplicity to the installation process, eliminating the need for an electrician to install or remove.
Edge Lit and Column lighting patterns are solutions for Americans with Disabilities Act compliance.
Mirrors are constructed to operate in high humidity or damp spaces and are UL Certified for damp locations to UL 962 and CSA Standard C22.
To learn more about The Collection, please visit www.robern.com/hdexpo.
---
About Robern
Robern believes that people's everyday routines should never feel ordinary. That's why its mission is to craft mirrors, vanities, medicine cabinets and lighting options that are beyond the expected—blending thoughtful design, innovative technology, impeccable craftsmanship and quality materials into products that will transform people's styling spaces and reflect their individual style.
Founded in 1968 in Bristol, Pennsylvania, Robern grew out of Rosa and Bernie Meyers' belief that individual style should be celebrated and fostered. Today, their pioneering approach to designing highly personalized styling spaces remains at the heart of what Robern does. Their commitment to craftsmanship and fine materials is evident in every piece Robern makes out of its Bristol headquarters. In 1995, Robern joined the Kohler Co. family of businesses, building upon the brand's comprehensive and thoughtful approach to exceptional styling spaces. From its humble beginnings to a technological force within home design, Robern remains the answer for designers, architects and consumers seeking out the finest in modern, sophisticated cabinetry, vanities, mirrors and lighting. For additional information on Robern products, customers may call 1 (800) 877-2376 or visit www.robern.com.
About Kohler
Founded in 1873 and headquartered in Kohler, Wisconsin, Kohler Co. is one of America's oldest and largest privately held companies comprised of more than 30,000 associates. With more than 50 manufacturing locations worldwide, Kohler is a global leader in the manufacture of kitchen and bath products; engines and power systems; premier furniture, cabinetry and tile; and owner/operator of two of the world's finest five-star hospitality and golf resort destinations in Kohler, and St Andrews, Scotland.
---