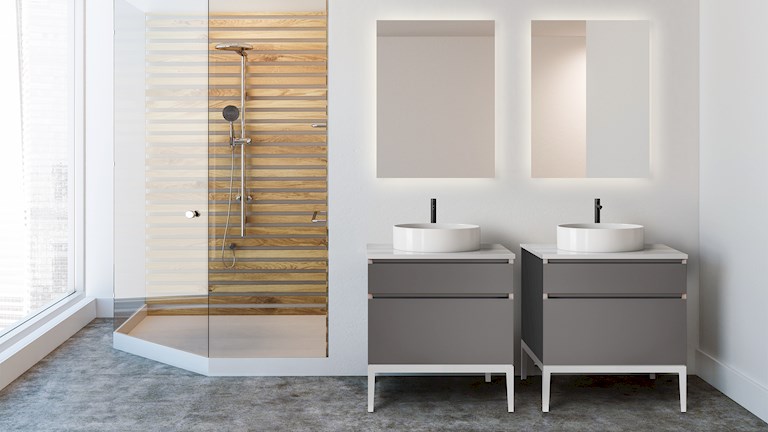 Robern Unveils Freestanding Vanities to the Cartesian Collection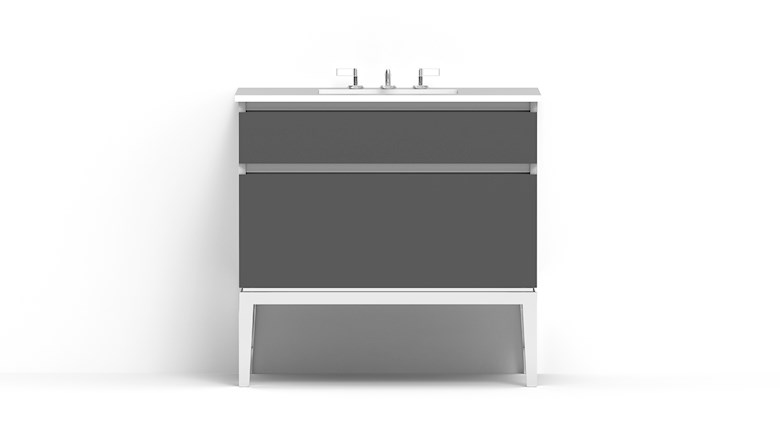 Bristol, Penn. – Robern transformed the modern luxury vanity market when it launched the Cartesian line of modular floating vanities in 2016, its Curated Cartesian vanities in 2017, and its Reeded Glass Vanity glass options in 2019. Robern now adds to this intuitive series with a new line of freestanding vanities. With preconfigured designs and limitless configurations, clean modern forms and thoughtful design features, the Cartesian Collection gives designers and consumers the ability to customize vanities based upon individual style preferences and space requirements.
Featuring the same design elements as the wall-hung modular Cartesian designs, the new freestanding version features Art Deco inspired sleek, slightly tapered and flared legs that are handcrafted from stainless steel and polished to a high sheen. Stainless Steel is rust and corrosion resistant with a smooth surface that is easy to clean. The inherent beauty of the steel's natural coloration serves as the perfect neutral to complement the vanity's Tinted Gray Mirror and White Essentials Colors and the Matte White, Matte Gray, and Reeded White Glass Classic Colors. The colors and finishes also coordinate beautifully with the Chrome and Polished Nickel finishes. The legs are positioned to sit slightly offset from the wall to accommodate baseboard moldings for smooth versatile placement and easy mobility within a room.
The Cartesian Freestanding Vanities are offered in 24-inch, 30-inch and 36-inch widths. Options include in-drawer electric and hot storage and a selectable LED night light that adjusts the color to match the styling space to a warm 2700K or 4000K cool temperature dependent upon preference. The night lights are UL listed for damp locations.
The Cartesian Collection has expanded other features within the modular collection to include false fronts and a leg accessory. False fronts were designed to ensure the integrity of the vanity's original visual appeal when a functioning drawer hindered sink placement. The addition of the leg accessory to Robern now provides consumers with the versatility to pair a leg with any freestanding vanity in any color combination that ranges in 24-inch, 30-inch and 36-inch widths and 21-inch depth.
---
About Robern
At Robern, the bathroom is our favorite room.  It is our private space.  It is our sanctuary.  For more than 50 years, Robern has specialized in creating luxurious spaces with a powerful product portfolio that moves beyond the expected industry standard to transform rooms into interiors of impeccable elegance.  By taking a more holistic approach to the bathroom and its importance, not only aesthetically, but to overall health and wellbeing, Robern has become a driving force within residential and commercial design with an artful blend of sophisticated form, innovative technology, impeccable craftsmanship, and quality materials.
Founded in 1968 in Bristol, Penn. by Rosa and Bernie Meyers, Robern's mission remains grounded in the Meyers' belief that individual style should be celebrated and fostered. Today, their pioneering approach, commitment to craftsmanship, quality, attention to detail, and utilization of the finest materials available, remains foundational to the Robern brand and is evident in every piece still hand-assembled on-site at its Bristol headquarters today.
In 1995, Robern joined the Kohler Co. family of businesses, building upon the breadth and depth of the brand's comprehensive and thoughtful approach to creating exceptional styling spaces.  From its humble beginnings to a technological force within home design, Robern has become a leading choice for designers, architects, and consumers seeking out the finest in vanities, medicine cabinets, mirrors, and lighting.  For additional information on Robern products, customers may call 1 (800) 877-2376 or visit www.robern.com.
About Kohler
Founded in 1873 and headquartered in Kohler, Wisconsin, Kohler Co. is one of America's oldest and largest privately held companies comprised of more than 40,000 associates.  With more than 50 manufacturing locations worldwide, Kohler is a global leader in the design, innovation and manufacture of kitchen and bath products; luxury cabinetry, tile and lighting; engines, generators, and clean energy solutions; and owner/operator of two, five-star hospitality and golf resort destinations in Kohler, Wisconsin, and St. Andrews, Scotland. Kohler's Whistling Straits golf course recently hosted the 43rd Ryder Cup.  The company also develops solutions to address pressing issues, such as clean water and sanitation, for underserved communities around the world to enhance the quality of life for current and future generations.  For more details, please visit kohlercompany.com.
---