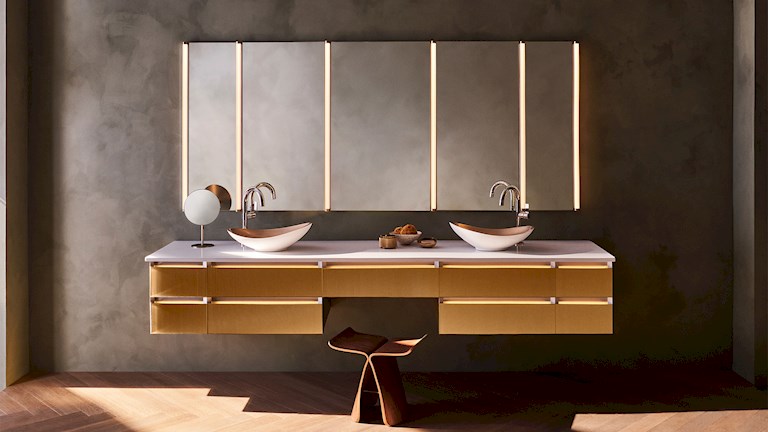 The Robern Cartesian Collection of Modular Vanities
Bristol, Penn. – Robern has updated its longstanding Cartesian Collection of versatile vanities with two new colors to its Classic Glass Palette – Matte Sand and Matte Slate – and an LED night lighting package to further personalize its adaptable, solutions-driven series.  Matte Sand and Matte Slate joins the Cartesian Classic Glass Palette's six existing shades, each based in nature, offering neutral choices that are calming and elegant.  In addition to the new colorways, Robern also elevated this iconic series by upgrading the collection with configurable storage solutions to keep essentials charged and coordinated and a programmable exterior night lighting package for added security and wellbeing.
From the company's start, Robern has built its reputation on producing sophisticated modular designs, with a broad range of products to custom fit commercial and residential spaces no matter how demanding the floor plan or intricate the schematic.  The Cartesian Collection was created with these ideals in mind and is inspired by the principles of the Infinite Coordinate System.  Also known as the Cartesian System, the revolutionary mathematical theory by 17th century philosopher, mathematician, and scientist, René Descartes, to define three-dimensional space, the eponymously named collection allows clients to choose from three different styles: Modular Vanities, Curated Vanities, and Freestanding Vanities.
A host of choices and options allow clients to configure the vanities for a refined aesthetic solution.  From selecting the width, size, and depth of vanity, the drawer type, choice of engineered stone tops – from dry top to double-sink configurations and multiple faucet drillings – and glass front finishes in 13 shades with reeded and flat front designs, to optional upgrades and side kits to complete each vanity seamlessly, Cartesian is thoughtfully engineered with a menu of options to meet every need.
Modular Vanities
The Cartesian Modular Vanities were designed to accommodate, with modern, clean lines and scalability whether singular or paired as nightstands, seamless storage in a well-appointed dressing area, or to bring glamour and high-tech functionality to the bathroom.  Wherever sophisticated storage is needed, Cartesian Modular Vanities provide the building blocks to create flexible solutions that fit flawlessly into any space. 
The vanities can be personalized with features designed to make everyday routines feel effortless.  Options range from organizational accessories, including full drawer and plumbing drawer inserts, to in-drawer electrical outlets, hot tool storage, hair styling organizers, and glass bins.  Customers can also upgrade the vanities by selecting the built-in, two color temperature 2,700/4,000K (Kelvin) selectable LED night lighting system.  The modern, floating design maximizes spaces and allows for easy cleaning underneath.  The Modular Vanities are also offered with an optional leg accessory to configure to a freestanding version, if desired.
Curated Vanities
The Curated Vanities expertly marry glass finishes with engineered stone tops to create refined aesthetic solutions – each piece designed to ensure a flawless fit to streamline design decisions with a simplified selection of vanity options.  Customers can select the ideal size, drawer layout, and coordinated color combinations from expertly derived, preconfigured options.  Optional accessories include in-drawer electric, hot tool storage, hair styling organizers, and glass bins.  The Curated Vanities can also be upgraded with the built-in, two color temperature 2,700/4,000K selectable LED night lighting system available to further enhance the discriminating designs.
Freestanding Vanities
Combining classic elegance with ease of installation, the Cartesian Freestanding Vanities are available in three sizes and five curated color combinations designed to coordinate beautifully with the Polished Stainless Steel finished tapered legs.  Beyond the night lighting system, the understated forms add traditional styling to the modern functionality of the Cartesian vanity with back legs engineered to accommodate baseboard moldings of up to 3/4" depth.
---
About Robern
At Robern, the bathroom is our favorite room.  It is our private space.  It is our sanctuary.  For more than 50 years, Robern has specialized in creating luxurious spaces with a powerful product portfolio that moves beyond the expected industry standard to transform rooms into interiors of impeccable elegance.  By taking a more holistic approach to the bathroom and its importance, not only aesthetically, but to overall health and wellbeing, Robern has become a driving force within residential and commercial design with an artful blend of sophisticated form, innovative technology, impeccable craftsmanship, and quality materials.
Founded in 1968 in Bristol, Penn. by Rosa and Bernie Meyers, Robern's mission remains grounded in the Meyers' belief that individual style should be celebrated and fostered. Today, their pioneering approach, commitment to craftsmanship, quality, attention to detail, and utilization of the finest materials available, remains foundational to the Robern brand and is evident in every piece still hand-assembled on-site at its Bristol headquarters today.
In 1995, Robern joined the Kohler Co. family of businesses, building upon the breadth and depth of the brand's comprehensive and thoughtful approach to creating exceptional styling spaces.  From its humble beginnings to a technological force within home design, Robern has become a leading choice for designers, architects, and consumers seeking out the finest in vanities, medicine cabinets, mirrors, and lighting.  For additional information on Robern products, customers may call 1 (800) 877-2376 or visit www.robern.com.
About Kohler
Founded in 1873 and headquartered in Kohler, Wisconsin, Kohler Co. is one of America's oldest and largest privately held companies comprised of more than 40,000 associates.  With more than 50 manufacturing locations worldwide, Kohler is a global leader in the design, innovation and manufacture of kitchen and bath products; luxury cabinetry, tile and lighting; engines, generators, and clean energy solutions; and owner/operator of two, five-star hospitality and golf resort destinations in Kohler, Wisconsin, and St. Andrews, Scotland. Kohler's Whistling Straits golf course recently hosted the 43rd Ryder Cup.  The company also develops solutions to address pressing issues, such as clean water and sanitation, for underserved communities around the world to enhance the quality of life for current and future generations.  For more details, please visit kohlercompany.com.
---