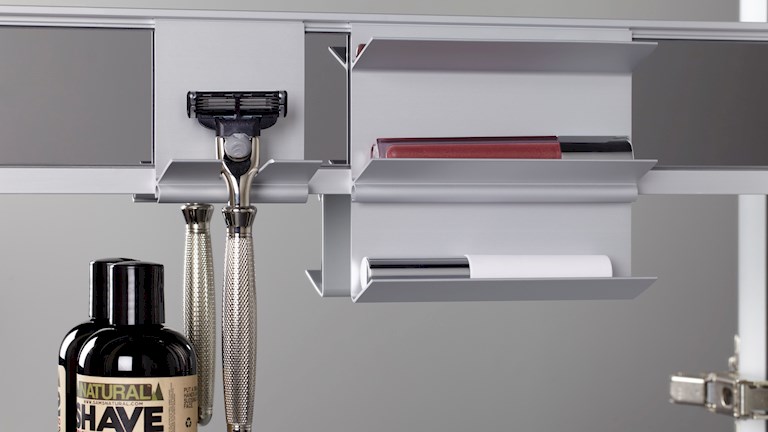 Robern Announces Upgrades to M Series Luxury Cabinet Line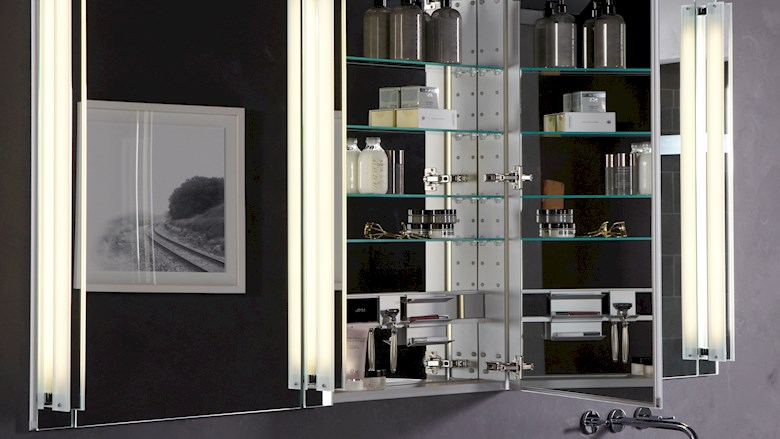 BRISTOL, Pa. – July 24, 2014 – Defined by sophisticated organization and storage solutions, the M Series cabinets from Robern feature new elements for styling convenience and customization.

"Americans spend more than an hour each day in the bathroom," says Andrew Lippman, Robern's marketing director. "Enhancements to Robern's M Series ensure that time is spent in a custom space designed for optimum function and beauty."

An automatic interior light illuminates the styling space and a new mounted magnetic strip that keeps metal grooming tools neatly arranged means no more digging through drawers for tweezers and clippers. A dedicated razor holder and adjustable shelves keep contacts, glasses and other daily use items close at hand. Customers can program the external LED nightlight in 12-hour increments or control it with a wall switch and, for added personalization, select a right- or left-handed cabinet door. Robern cabinets are modular and can be ganged or stacked to meet specific design and function needs.

As the leader in mirrored cabinets, the M Series upgrades are consistent with Robern's commitment to superior quality and function.
 
Robern features include:

Durable aluminum construction resists the intense moisture of the bathroom environment, ensuring long-lasting beauty.
Mirrored interiors speed up grooming by eliminating the need to continually open and close the cabinet door.
Door design is smooth-opening and self-closing, featuring front- and back-of-door mirrors.
Hinge swing uses adjustable, heavy-duty concealed hinges and offers three-way adjustment.
Interior electrical outlets for on-the-spot use of hairdryers and curling irons, or recharging electrical devices like razors, electric toothbrushes and cell phones.
Door defoggers eliminate the need for constant wiping of the mirror due to condensation in the bathroom.
Safety lock boxes secure prescription drugs from the reach of children and protect jewelry or other valuable items.
Safeseal™ gasketed frame protects the user from sharp cabinet edges and prevents dirt and moisture from entering the cabinet.
---
About Robern
At Robern, the bathroom is our favorite room.  It is our private space.  It is our sanctuary.  For more than 50 years, Robern has specialized in creating luxurious spaces with a powerful product portfolio that moves beyond the expected industry standard to transform rooms into interiors of impeccable elegance.  By taking a more holistic approach to the bathroom and its importance, not only aesthetically, but to overall health and wellbeing, Robern has become a driving force within residential and commercial design with an artful blend of sophisticated form, innovative technology, impeccable craftsmanship, and quality materials.
Founded in 1968 in Bristol, Penn. by Rosa and Bernie Meyers, Robern's mission remains grounded in the Meyers' belief that individual style should be celebrated and fostered. Today, their pioneering approach, commitment to craftsmanship, quality, attention to detail, and utilization of the finest materials available, remains foundational to the Robern brand and is evident in every piece still hand-assembled on-site at its Bristol headquarters today.
In 1995, Robern joined the Kohler Co. family of businesses, building upon the breadth and depth of the brand's comprehensive and thoughtful approach to creating exceptional styling spaces.  From its humble beginnings to a technological force within home design, Robern has become a leading choice for designers, architects, and consumers seeking out the finest in vanities, medicine cabinets, mirrors, and lighting.  For additional information on Robern products, customers may call 1 (800) 877-2376 or visit www.robern.com.
About Kohler
Founded in 1873 and headquartered in Kohler, Wisconsin, Kohler Co. is one of America's oldest and largest privately held companies comprised of more than 40,000 associates.  With more than 50 manufacturing locations worldwide, Kohler is a global leader in the design, innovation and manufacture of kitchen and bath products; luxury cabinetry, tile and lighting; engines, generators, and clean energy solutions; and owner/operator of two, five-star hospitality and golf resort destinations in Kohler, Wisconsin, and St. Andrews, Scotland. Kohler's Whistling Straits golf course recently hosted the 43rd Ryder Cup.  The company also develops solutions to address pressing issues, such as clean water and sanitation, for underserved communities around the world to enhance the quality of life for current and future generations.  For more details, please visit kohlercompany.com.
---