Perfect light is now within reach. The Vitality Lighted Collection offers thoughtful innovation, ease of installation, and the highest quality of lighting in its class - all in a sleek, sophisticated design that will elevate any styling space.
Cabinets
Elevate Your Daily Routine

With high-tech features and an innovative installation system, Vitality Lighted Medicine Cabinets make it easy to create a lasting impression. An in-cabinet outlet provides power where you need it most, while an optional magnification mirror lets you focus on the details. Personalize your storage with add-on accessories including glass bins, IQ Digital Lock Box, and tiered trays.

Perfect Light is Now Within Reach

Whether you·re primping, prepping, styling, or shaving, the perfect task lighting makes all the difference. With bright, consistent output and remarkably accurate color rendering, this cabinet eliminates harsh shadows and hot spots and promises rich, saturated tones for the truest reflection. Select the ideal brightness for any task, dimmable down to 1%.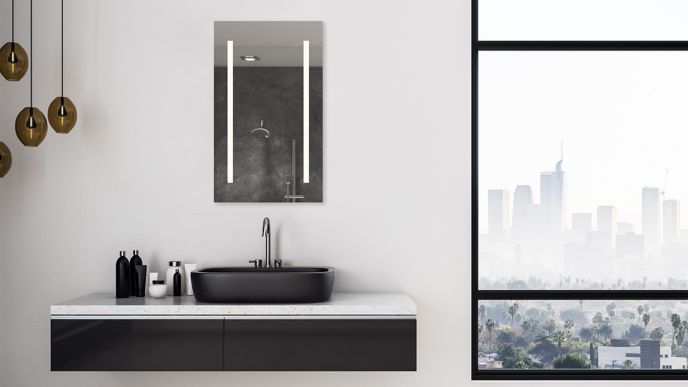 Maximize your bathroom space with integrated lighting and electrical outlets in a curated selection to meet your needs.
Lighted Mirrors
Shapes and Light Patterns

From subtle ambiance to bright task lighting, Vitality Lighted Mirrors are available in an array of light patterns to enhance your design with the optimal level of lighting.

Flip: 48" x 36" or 36" x 48"

Choose from a vertical or horizontal mounting orientation for a lighted mirror solution that perfectly fits your styling space design.

Supports Title 24 Compliance

Title 24 is an energy code required by California to reduce the overall consumption of energy use by luminaires. For Title 24 compliance in residential and commercial projects, Vitality Mirrors in Perimeter Lighting are certified as High Efficacy with up to 60% more lumen output* with a CRI value of 90+ and R9 of 50+. This means the Title 24 Certified LED mirror has up to 60% more lumen output than the standard model. This increases the overall brightness of warm white light that illuminates your space and reflection. For more information on Title 24, visit robern.com/title24.

Defogging

Defogging technology using a standard wall switch, ensures a clear reflection, so a steamy shower won't slow down your mornings.

Ease of Installation

Plug and Hang System makes installation effortless. Power cords are installed for easy plug-in installation, eliminating the need to bring back an electrician a second time to hardwire the mirror. An electrician is needed to install an outlet behind the mirror. The pinch cleat mounting system provides strength and simplicity to the installation process. Once mirror is received, install the pinch cleat mounting hardware, plug in the cords and hang. An additional benefit is that you can take the mirror with you if you move, by simply unplugging from the wall.
Cabinets
Add-on Accessories
Lighted Mirrors
Specifications
Vitality Lighted Mirror, 24" x 30" x 1-3/4", Rectangle, Perimeter Light Pattern, Title 24 Compliant

Vitality Lighted Mirrors

Vitality Lighted Mirror, 24" x 40" x 1-3/4", Rectangle, Perimeter Light Pattern, Title 24 Compliant

Vitality Lighted Mirrors

Vitality Lighted Mirror, 36" x 40" x 1-3/4", Rectangle, Perimeter Light Pattern, Title 24 Compliant

Vitality Lighted Mirrors

Vitality Lighted Mirror, 30" x 40" x 1-3/4", Rectangle, Perimeter Light Pattern, Title 24 Compliant

Vitality Lighted Mirrors

Vitality Lighted Mirror, 24" x 30" x 1-3/4", Rectangle, Inset Light Pattern

Vitality Lighted Mirrors

Vitality Lighted Mirror, 24" x 40" x 1-3/4", Rectangle, Inset Light Pattern

Vitality Lighted Mirrors

Vitality Lighted Mirror, 30" x 30" x 1-3/4", Rectangle, Inset Light Pattern

Vitality Lighted Mirrors

Vitality Lighted Mirror, 30" x 40" x 1-3/4", Rectangle, Inset Light Pattern

Vitality Lighted Mirrors

Vitality Lighted Mirror, 36" x 30" x 1-3/4", Rectangle, Inset Light Pattern

Vitality Lighted Mirrors

Vitality Lighted Mirror, 36" x 40" x 1-3/4", Rectangle, Inset Light Pattern

Vitality Lighted Mirrors

Vitality Lighted Mirror, 48" x 36" x 1-3/4", Rectangle, Inset Light Pattern

Vitality Lighted Mirrors

Vitality Lighted Mirror, 48" x 36" x 1-3/4", Rectangle, Inset Light Pattern

Vitality Lighted Mirrors

Vitality Lighted Mirror, 48" x 36" x 1-3/4", Rectangle, Perimeter Light Pattern

Vitality Lighted Mirrors

Vitality Lighted Mirror, 24" x 30" x 1-3/4", Rectangle, Perimeter Light Pattern

Vitality Lighted Mirrors

Vitality Lighted Mirror, 24" x 40" x 1-3/4", Rectangle, Perimeter Light Pattern

Vitality Lighted Mirrors

Vitality Lighted Mirror, 30" x 30" x 1-3/4", Rectangle, Perimeter Light Pattern

Vitality Lighted Mirrors

Vitality Lighted Mirror, 30" x 40" x 1-3/4", Rectangle, Perimeter Light Pattern

Vitality Lighted Mirrors

Vitality Lighted Mirror, 36" x 30" x 1-3/4", Rectangle, Perimeter Light Pattern

Vitality Lighted Mirrors

Vitality Lighted Mirror, 36" x 40" x 1-3/4", Rectangle, Perimeter Light Pattern

Vitality Lighted Mirrors

Vitality Lighted Mirror, 24" x 30" x 1-3/4", Rectangle, Edge Lit Light Pattern

Vitality Lighted Mirrors

Vitality Lighted Mirror, 30" x 30" x 1-3/4", Rectangle, Edge Lit Light Pattern

Vitality Lighted Mirrors

Vitality Lighted Mirror, 24" x 40" x 1-3/4", Rectangle, Edge Lit Light Pattern

Vitality Lighted Mirrors

Vitality Lighted Mirror, 36" x 40" x 1-3/4", Rectangle, Edge Lit Light Pattern

Vitality Lighted Mirrors

Vitality Lighted Mirror, 48" x 36" x 1-3/4", Rectangle, Edge Lit Light Pattern

Vitality Lighted Mirrors

Vitality Lighted Mirror, 24" x 30" x 1-3/4", Rectangle, Glow Light Pattern

Vitality Lighted Mirrors

Vitality Lighted Mirror, 24" x 40" x 1-3/4", Rectangle, Glow Light Pattern

Vitality Lighted Mirrors

Vitality Lighted Mirror, 30" x 30" x 1-3/4", Rectangle, Glow Light Pattern

Vitality Lighted Mirrors

Vitality Lighted Mirror, 36" x 40" x 1-3/4", Rectangle, Glow Light Pattern

Vitality Lighted Mirrors

Vitality Lighted Mirror, 48" x 36" x 1-3/4", Rectangle, Glow Light Pattern

Vitality Lighted Mirrors

Vitality Lighted Mirror, 30" x 30" x 1-3/4", Rectangle, Column Light Pattern

Vitality Lighted Mirrors

Vitality Lighted Mirror, 30" x 40" x 1-3/4", Rectangle, Column Light Pattern

Vitality Lighted Mirrors

Vitality Lighted Mirror, 36" x 30" x 1-3/4", Rectangle, Column Light Pattern

Vitality Lighted Mirrors

Vitality Lighted Mirror, 36" x 40" x 1-3/4", Rectangle, Column Light Pattern

Vitality Lighted Mirrors

Vitality Lighted Mirror, 48" x 36" x 1-3/4", Rectangle, Glow Light Pattern

Vitality Lighted Mirrors

Vitality Lighted Mirror, 48" x 36" x 1-3/4", Rectangle, Glow Light Pattern

Vitality Lighted Mirrors

Vitality Lighted Mirror, 24" x 30" x 1-3/4", Rectangle, Column Light Pattern

Vitality Lighted Mirrors

Vitality Lighted Mirror, 24" x 40" x 1-3/4", Rectangle, Column Light Pattern

Vitality Lighted Mirrors
CAD Files
Vitality Lighted Mirror, 24" x 30" x 1-3/4", Rectangle, Perimeter Light Pattern, Title 24 Compliant

Vitality Lighted Mirrors FRONT

Vitality Lighted Mirror, 24" x 40" x 1-3/4", Rectangle, Perimeter Light Pattern, Title 24 Compliant

Vitality Lighted Mirrors FRONT

Vitality Lighted Mirror, 36" x 40" x 1-3/4", Rectangle, Perimeter Light Pattern, Title 24 Compliant

Vitality Lighted Mirrors FRONT

Vitality Lighted Mirror, 30" x 40" x 1-3/4", Rectangle, Perimeter Light Pattern, Title 24 Compliant

Vitality Lighted Mirrors FRONT

Vitality Lighted Mirror, 30" Circle, Inset Light Pattern

Vitality Lighted Mirrors FRONT

Vitality Lighted Mirror, 40" Circle, Inset Light Pattern

Vitality Lighted Mirrors FRONT

Vitality Lighted Mirror, 30" Circle, Perimeter Light Pattern

Vitality Lighted Mirrors FRONT

Vitality Lighted Mirror, 40" Circle, Perimeter Light Pattern

Vitality Lighted Mirrors FRONT

Vitality Lighted Mirror, 24" x 30" x 1-3/4", Rectangle, Inset Light Pattern

Vitality Lighted Mirrors FRONT

Vitality Lighted Mirror, 24" x 40" x 1-3/4", Rectangle, Inset Light Pattern

Vitality Lighted Mirrors FRONT

Vitality Lighted Mirror, 30" x 30" x 1-3/4", Rectangle, Inset Light Pattern

Vitality Lighted Mirrors FRONT

Vitality Lighted Mirror, 30" x 40" x 1-3/4", Rectangle, Inset Light Pattern

Vitality Lighted Mirrors FRONT

Vitality Lighted Mirror, 36" x 30" x 1-3/4", Rectangle, Inset Light Pattern

Vitality Lighted Mirrors FRONT

Vitality Lighted Mirror, 36" x 40" x 1-3/4", Rectangle, Inset Light Pattern

Vitality Lighted Mirrors FRONT

Vitality Lighted Mirror, 48" x 36" x 1-3/4", Rectangle, Inset Light Pattern

Vitality Lighted Mirrors FRONT

Vitality Lighted Mirror, 48" x 36" x 1-3/4", Rectangle, Perimeter Light Pattern

Vitality Lighted Mirrors FRONT

Vitality Lighted Mirror, 24" x 30" x 1-3/4", Rectangle, Perimeter Light Pattern

Vitality Lighted Mirrors FRONT

Vitality Lighted Mirror, 24" x 40" x 1-3/4", Rectangle, Perimeter Light Pattern

Vitality Lighted Mirrors FRONT

Vitality Lighted Mirror, 30" x 30" x 1-3/4", Rectangle, Perimeter Light Pattern

Vitality Lighted Mirrors FRONT

Vitality Lighted Mirror, 30" x 40" x 1-3/4", Rectangle, Perimeter Light Pattern

Vitality Lighted Mirrors FRONT

Vitality Lighted Mirror, 36" x 30" x 1-3/4", Rectangle, Perimeter Light Pattern

Vitality Lighted Mirrors FRONT

Vitality Lighted Mirror, 36" x 40" x 1-3/4", Rectangle, Perimeter Light Pattern

Vitality Lighted Mirrors FRONT

Vitality Lighted Mirror, 24" x 30" x 1-3/4", Rectangle, Edge Lit Light Pattern

Vitality Lighted Mirrors FRONT

Vitality Lighted Mirror, 30" x 30" x 1-3/4", Rectangle, Edge Lit Light Pattern

Vitality Lighted Mirrors FRONT

Vitality Lighted Mirror, 24" x 40" x 1-3/4", Rectangle, Edge Lit Light Pattern

Vitality Lighted Mirrors FRONT

Vitality Lighted Mirror, 36" x 40" x 1-3/4", Rectangle, Edge Lit Light Pattern

Vitality Lighted Mirrors FRONT

Vitality Lighted Mirror, 48" x 36" x 1-3/4", Rectangle, Edge Lit Light Pattern

Vitality Lighted Mirrors FRONT

Vitality Lighted Mirror, 24" x 30" x 1-3/4", Rectangle, Glow Light Pattern

Vitality Lighted Mirrors FRONT

Vitality Lighted Mirror, 24" x 40" x 1-3/4", Rectangle, Glow Light Pattern

Vitality Lighted Mirrors FRONT

Vitality Lighted Mirror, 30" x 30" x 1-3/4", Rectangle, Glow Light Pattern

Vitality Lighted Mirrors FRONT

Vitality Lighted Mirror, 36" x 40" x 1-3/4", Rectangle, Glow Light Pattern

Vitality Lighted Mirrors FRONT

Vitality Lighted Mirror, 48" x 36" x 1-3/4", Rectangle, Glow Light Pattern

Vitality Lighted Mirrors FRONT

Vitality Lighted Mirror, 30" x 30" x 1-3/4", Rectangle, Column Light Pattern

Vitality Lighted Mirrors FRONT

Vitality Lighted Mirror, 30" x 40" x 1-3/4", Rectangle, Column Light Pattern

Vitality Lighted Mirrors FRONT

Vitality Lighted Mirror, 36" x 30" x 1-3/4", Rectangle, Column Light Pattern

Vitality Lighted Mirrors FRONT

Vitality Lighted Mirror, 36" x 40" x 1-3/4", Rectangle, Column Light Pattern

Vitality Lighted Mirrors FRONT

Vitality Lighted Mirror, 48" x 36" x 1-3/4", Rectangle, Glow Light Pattern

Vitality Lighted Mirrors FRONT

Vitality Lighted Mirror, 24" x 30" x 1-3/4", Rectangle, Column Light Pattern

Vitality Lighted Mirrors FRONT

Vitality Lighted Mirror, 24" x 40" x 1-3/4", Rectangle, Column Light Pattern

Vitality Lighted Mirrors FRONT