Experts in Color & Texture
From moody to playful, calming to invigorating, nothing dictates the experience of a room like color and texture. Because the slightest change in tone or contour can completely change the perception of a surface, we spend countless hours developing and refining our palette and materials to achieve precise and purposeful impact so that you can create a styling space that makes a statement.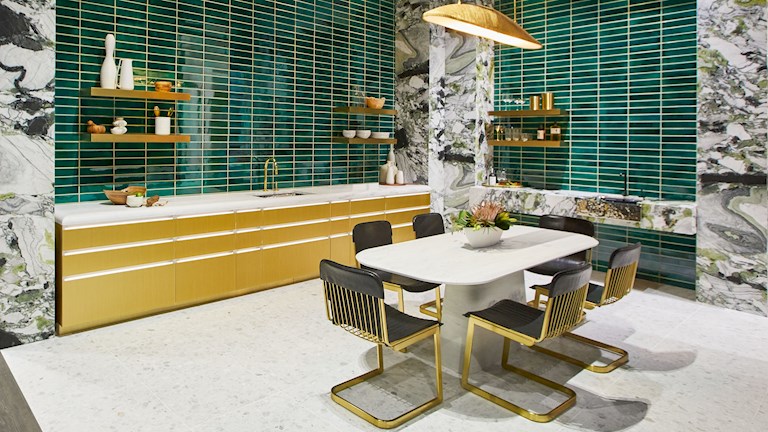 ---
Discover Our Reeded Glass
Introducing two Reeded Glass colors that are at once timeless and thoroughly modern. The textured glass surface undulates over brass or white backgrounds, refracting light to create a calming effect reminiscent of ripples in clear, tropical waters. Reeded Glass vanities add tactile and visual interest to any space, including kitchens, wet bars, media areas, bathrooms and powder rooms.
Reeded Brass
Warm and indulgent, Reeded Brass Glass carries a comfortable, welcoming sophistication that is on-trend in the new modernist design aesthetic, while simultaneously paying homage to the art deco movement of the early twentieth century. Our Reeded Brass Glass color was formulated to align closely with the natural color of brass, allowing for seamless pairing with brass faucets, hardware and other accents.
Available in CARTESIAN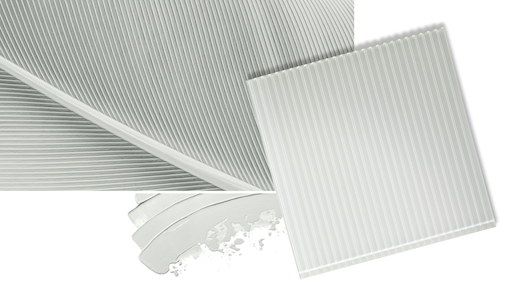 Reeded White
Eminently versatile and always invigorating, Reeded White Glass takes the classic white color and adds another dimension of depth and intrigue with the rolling glass lines. With its combination of clean edges, crisp color and soft surfaces the Reeded White Glass vanity becomes both the star of the room and a supporting character, calling attention to and enhancing the room's other elements in a cohesive design story.
Available in CARTESIAN
---
Essentials Palette
Just as a building's foundation supports the entire structure, our Essentials palette forms the foundation of a timeless yet modern desing aesthetic. Exceptionally versatile and robust, our Essentials colors distill style into their strongest, most basic elements, establishing a purity of form and expression while supporting a wide range of design choices.
---
Classic Palette
Finding its own unique design voice, our Classic palette adds subtle yet confident phrasing to the aesthetic conversation. From the softly understated and warm matte finishes to the elegantly textured, nature-inspired Reeded Glass, our Classic colors make a nuanced, sophisticated design statement.

---
Inspire Palette
Bold and sophisticated, our inspired palette proclaims a confident and charismatic expression that easily carries the lead role in a room's design narrative. Rich, sensuous colors are paired with exotic finishes and textures to establish three-dimensional poetry that resonates with emotion and optimism.

---