How it Works
Streamline the selection and design of your bathroom styling space with our free design tool, available for desktop. Simply enter the dimensions, select your products, mix and match finishes, and see the finished design in your layout.
Using the intuitive interface, you'll be able to view your configuration from every angle to truly visualize it in your space. Try the tool and see how Robern Visualizer can simplify the design and ordering process for you.
Begin Your Design
---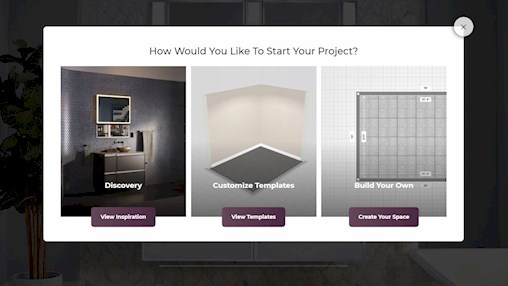 Getting Started
Search our library of preconfigured layouts and professional projects (Discovery), start from scratch and use preset room sizes (Customized Templates) or draw your own space to match your dimensions (Build Your Own).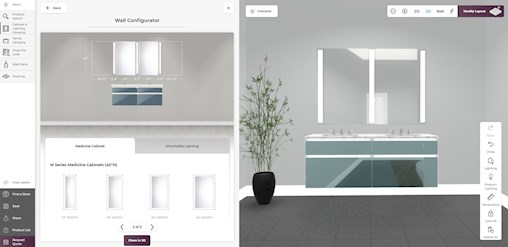 Selection
With a few clicks, mix and match products, colors, materials and add night lights to find the pieces that reflect your personal style. From the initial floor plan to the finishing touches, we will help you create a customized, functional styling space.
Order
Once you've finalized your design, Robern Visualizer will help you move seamlessly to the next step. Save and share your design, create a bill of materials, get linked to spec sheets and installation guides, and connect with a showroom that can fulfill your order.
---
System Requirements:
Browsers supporting Robern Visualizer: Google Chrome and Firefox
Robern Visualizer works best: 64 bit computer (larger memory capacity)
2-Button mouse with a scroll wheel recommended
HELP ME TROUBLESHOOT
---
Robern Visualizer Resources
Having problems using Robern Visualizer? Would you like to learn how to easily explore Robern Visualizer and get the most out of the tool?

Troubleshooting Guide

Each season, Robern Visualizer is updated with new features and improvements. Stay up-to-date on Robern Visualizer.

New Features
Webinar training allows you to concentrate in a dedicated e-learning environment, without having to leave the office.

Webinar Training

In-person training gets you away from your desk, from your phone and allows you to concentrate in a dedicated learning environment.

In-Person Training