Expand your possibilities with Craft Series, a curated line of expertly crafted vanities, coordinating linen cabinets, decorative medicine cabinets and mirrors. Combining inspired design, the organic beauty of wood construction, and unique metalwork, Robern has created a richly varied collection that complements a wide range of design styles.
---
Islamorada Collection
Make a glamorous statement with the bold elegance of art deco design. The luxe painted finish is available in jewel-toned Nori or sophisticated Sand, and aged brass hardware features eye-catching stepped detailing.
---
Sinca Collection
Textured oak blends with the beauty of brushed metal. Chamfered drawers reveal coordinating metal accents, while solid wood and stainless steel framing provide structure and durability.
---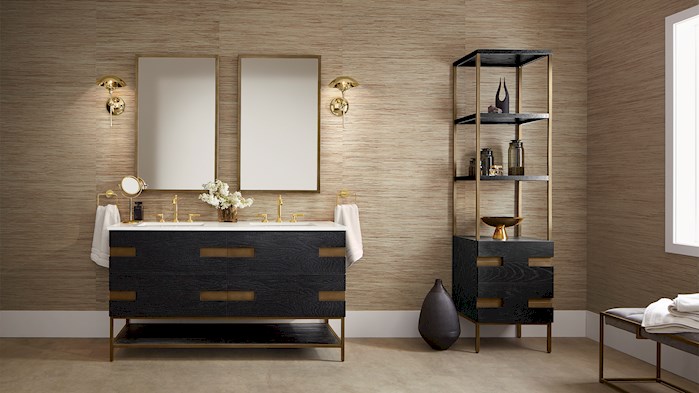 Sendai Collection
A stunning fusion of metal and wood, Sendai merges the raw materials of early industrial spaces with the warmth of oak for a balanced design that adds serenity to your space.
---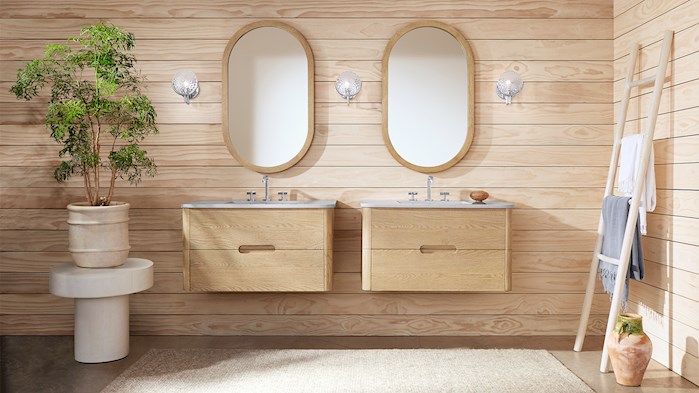 Helden Collection
Echoing the tones and textures of nature, the weathered oak finish and softly curved edges evoke the effortless luxury of a chic coastal escape. Carved drawer pulls and a minimalist floating installation complete the light and airy aesthetic.
---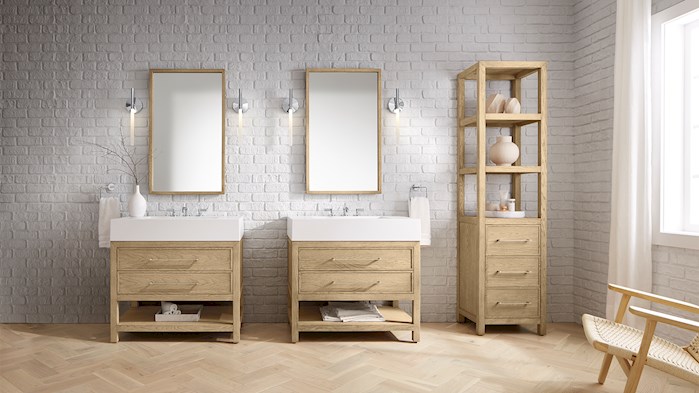 Skaarsgard Collection
Light woods, open shelving, brushed metal hardware, and subtle mitered details create a soft minimalism that reflects the clean, uncluttered sensibility of Nordic design.
---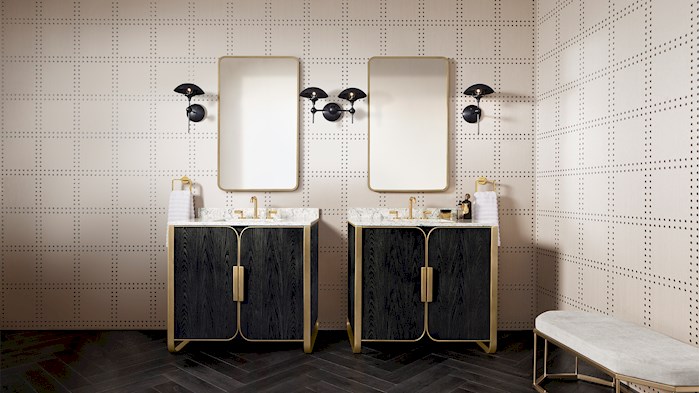 Bergman Collection
The sophistication of Hollywood glam meets modern-day functionality with stunning design elements like rounded oak paneling, high-contrast accents, and stainless steel sleigh legs.
---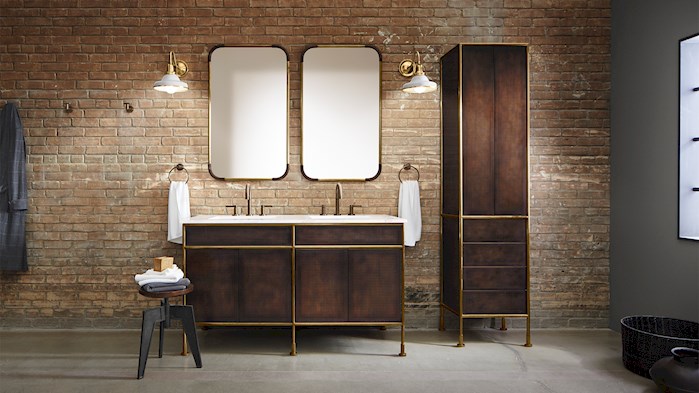 Mackey Collection
Stainless steel perforated paneling, distressed finishes, and contrasting metalwork lend unexpected elegance to this factory-inspired design.
---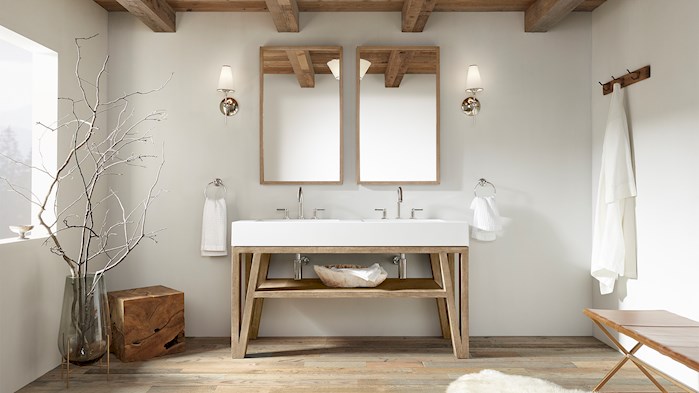 Bodo Collection
Inspired by the warm and inviting luxury of a rustic modern ski retreat, the Bodo vanity embraces the rugged elements of the outdoors with a raw wood finish and truss beam design.
---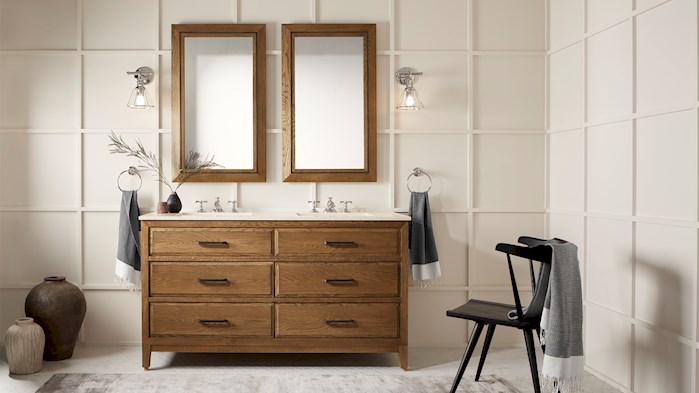 Chestnut Hill Collection
Reminiscent of New England neighborhoods steeped in history and culture, Chestnut Hill combines a pared-down traditional aesthetic with durable solid oak frame construction for a warm and refined style that stands the test of time.
---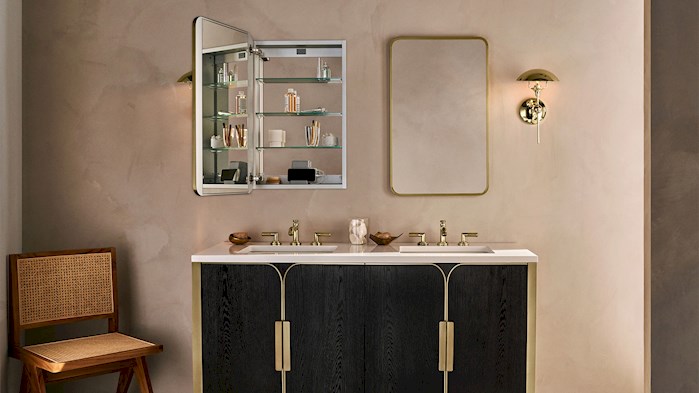 Craft Series Medicine Cabinets
Go beyond minimalism with rich finishes, natural materials, and textural elements that add depth to your design — without sacrificing the modern functionality you expect from Robern storage solutions.
---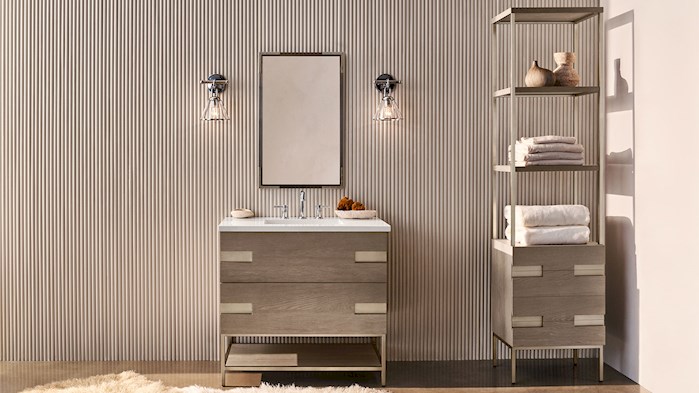 Craft Series Mirrors
Add the finishing touch with decorative mirrors designed to complement the Craft Series collections, but versatile enough to make a stunning statement in any space.
---