The Ann Sacks Curated Bath collection has been created to represent the ultimate synthesis of design, craft and quality. Bringing together the finest product selections – comprised of Robern vanities, mirrors and linen cabinets, Kallista fixtures and Ann Sacks marble surfaces. Sold exclusively at Ann Sacks Showrooms.
---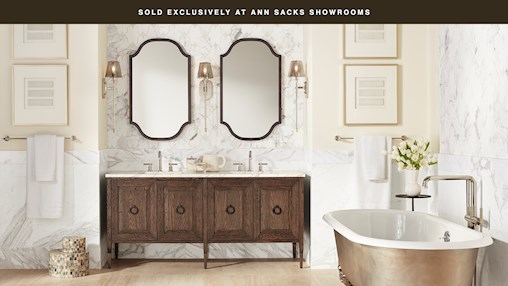 Willowmere Collection
A marriage of polished city styling with the more relaxed Connecticut lifestyle, the Willowmere Collection embodies a timeless and traditional style.
---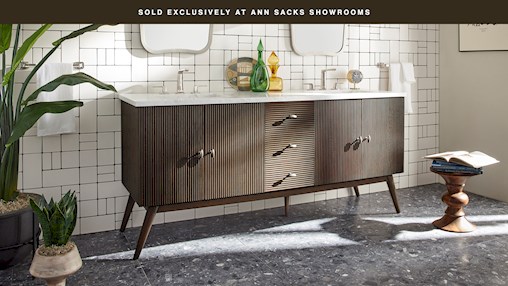 Wyndale Collection
With an emphasis on the innate beauty of the materials, the reeded vertical lines and sleek craftsmanship of the Wyndale Collection epitomizes mid-century modern design principles.
---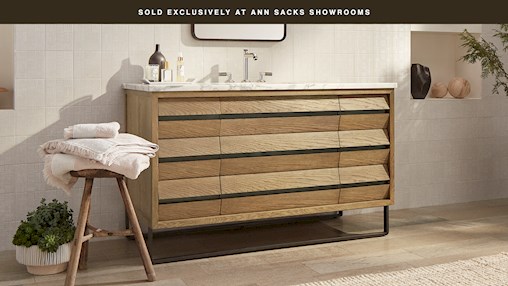 Alisal Collection
Inspired by the infinite beauty of the California coastline, the Alisal Collection is an interior landscape of organic touchpoints, layered textures, and a palette of natural wood tones.
---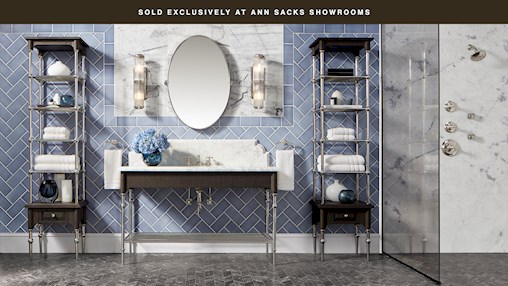 Stanwyck Collection
A combination of modern, a hint of traditional, and a flourish of Art Deco influence – the Stanwyck collection is a celebration of the inspirational melting pot that is Manhattan.
---
Cornell Collection
The proportions and lines of the Cornell collection connects American design across the 20th century, with an aesthetic that is modern and clean. The confident and minimal design is inspired by the interiors in New York City's famed Soho district.
---
Claudette Collection
Recalling the golden days of Hollywood, the Claudette collection pays homage to the glamorous and sophisticated interiors of the silver screen.
---
Rosebrook Collection
Tactile, inviting and effortlessly chic, with subtle Parisian references and curved details, the Rosebrook collection exudes timeless elegance.
---
Visit an Ann Sacks Showroom
ANN SACKS – Austin

1011 W 5th Street, Ste 110

Austin, TX 78703

Phone: 512-322-9979

ANN SACKS – New York

37 East 18th Street

New York, NY 10003

Phone: 212-529-2800

ANN SACKS – Boston

21 Drydock Avenue, Suite #120E

Boston, MA 02210

Phone: 617-737-2300

ANN SACKS – New York

204 East 58th Street

New York, NY 10022

Phone: 212-588-1920

ANN SACKS – Chicago

222 Merchandise Mart, Ste 100B

Chicago, IL 60654

Phone: 312-923-0919

ANN SACKS - Portland

402 NW Ninth Avenue

Portland, OR 97209

Phone: 503-233-0611

ANN SACKS – Dallas

1616 Oak Lawn

Dallas, TX 75207

Phone: 214-742-8453

ANN SACKS – San Francisco

#2 Henry Adams Street, Ste 125

San Francisco, CA 94103

Phone: 415-252-5889

ANN SACKS – Denver

545 S Broadway, Ste 100

Denver, CO 80209

Phone: 303-282-9300

ANN SACKS – Seattle

2201 Westlake Avenue, Ste 103

Seattle, WA 98121

Phone: 206-441-8917

ANN SACKS – Houston

2800 Kirby Drive, Ste A-122

Houston, TX 77098

Phone: 713-522-0805

ANN SACKS – Troy

1700 Stutz Drive, Ste 91

Troy, MI 48084

Phone: 248-643-3393

ANN SACKS - Laguna

23811 Aliso Creek Road, Ste 162

Laguna Niguel, CA 92677

Phone: 949-831-3333

ANN SACKS – Vancouver, BC

1616 West 2nd Avenue, Ste 101

Vancouver, BC, CA V6J 1H4

Phone: 604-742-2015

ANN SACKS - Los Angeles

8935 Beverly Boulevard

Los Angeles, CA 90048

Phone: 310-273-0700

ANN SACKS – Washington, D.C.

1629 14th Street, NW

Washington, DC 20009

Phone: 202-299-0014

ANN SACKS – Miami

61 NE 40th Street

Miami, FL 33137

Phone: 305-572-1212

ANN SACKS – Woodlake

765 I Woodlake Road

Kohler, WI 53044

Phone: 920-452-7250